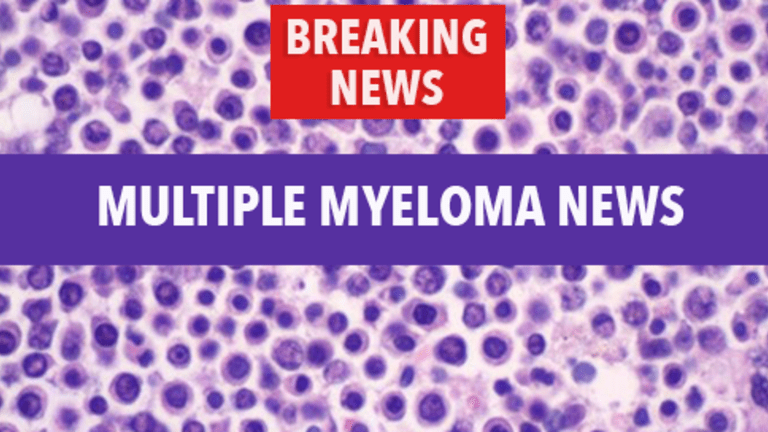 Initial Treatment with Thalidomide Superior to Chemotherapy VAD for MM
Initial Treatment with Thalidomide Superior to Chemotherapy VAD for Multiple Myeloma
Initial Treatment with Thalidomide Superior to Chemotherapy VAD for Multiple Myeloma
According to a recent study reported in the journal Blood, data indicates that thalidomide may be superior to the chemotherapy combination referred to as VAD as initial treatment for multiple myeloma.
Multiple myeloma is a cancer involving important immune (infection-fighting) cells called plasma cells. Plasma cells aid the body in fighting infection by producing specialized proteins called antibodies that have the ability to target and/or kill foreign cells. In multiple myeloma, cancerous plasma cells produce abnormal and excessive antibodies that do not have the ability to properly fight infection. In addition, the cancerous plasma cells accumulate in the bone marrow, suppressing the normal formation and function of other cells that are necessary for normal production of blood cells and immune functions. The excessive accumulation of cancer cells in the bone marrow ultimately leads to the formation of tumors in the bone and to the breakdown of bone. Furthermore, the cancerous plasma cells secrete dysfunctional antibodies, referred to as M proteins, which can be measured in the blood. Once multiple myeloma returns following prior therapy, it is referred to as recurrent. Patients with recurrent multiple myeloma have limited effective treatment options that are easily tolerated.
Thalidomide is a substance known for its anti-angiogenesis properties, as well as its effects on the immune system to help fight cancer. Angiogenesis is the formation of new blood vessels in the body and is a crucial component for the development of cancer. Blood vessels are needed to supply cancer cells with essential nutrients from the blood. Anti-angiogenesis is the inhibition of the formation of new blood vessels. By stopping blood vessels from forming, cancer cells are "starved" of nutrients, ultimately inhibiting cancer development and growth. Previous clinical studies have demonstrated that thalidomide achieves significant anti-cancer responses in patients with recurrent multiple myeloma, and clinical trials are ongoing to determine its true clinical role in the treatment of multiple myeloma, as well as its effects on the immune system in fighting cancer.
Researchers from Italy recently conducted a clinical trial to compare thalidomide to the chemotherapy regimen VAD (vincristine, doxorubicin, dexamethasone) in patients with newly diagnosed multiple myeloma. This trial included 200 patients who received either thalidomide or VAD prior to an autologous stem cell transplant. An autologous stem cell transplant involves the collection of a patient's stem cells (immature blood cells) prior to therapy, and re-infusion of the stem cells following therapy so that normal blood cell levels can be maintained. Approximately 75% of patients treated with thalidomide achieved an anti-cancer response, compared with approximately 50% of patients treated with VAD. In both groups of patients, mortality rates were 6% during treatment.
The researchers concluded that thalidomide appears superior to VAD as treatment prior to autologous stem cell infusion in patients with newly diagnosed multiple myeloma. Patients with newly diagnosed multiple myeloma may wish to speak with their physician regarding their individual risks and benefits of utilizing thalidomide as part of their treatment regimen.
Reference: Cavo M, Zamagni E, Tosi P, et al. Superiority of thalidomide and dexamethasone over vincristine-doxorubicin-dexamethasone (VAD) as primary therapy in preparation for autologous transplantation for multiple myeloma. Blood 2005;first edition paper, prepublished online March 10, 2005;DOI 10.1182/blood-2005-02-0522.
Copyright © 2018 CancerConnect. All Rights Reserved.