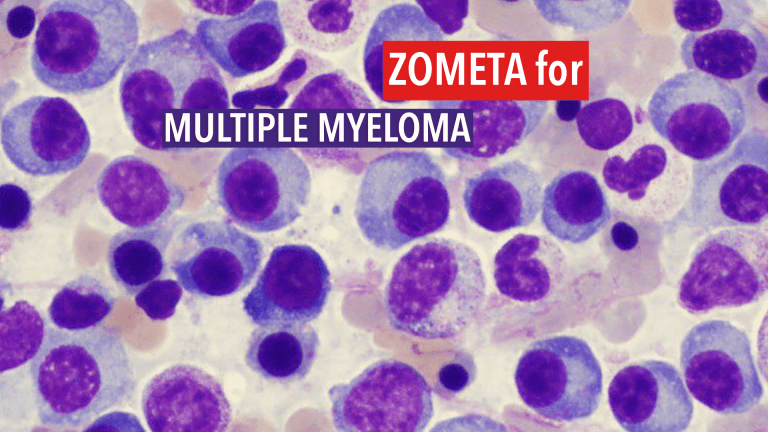 Improved Survival with Zometa in Multiple Myeloma
Improved Survival with Zometa in Multiple Myeloma
It appears that treatment of patients with newly diagnosed multiple myeloma with Zometa® (zoledronic acid) may improve overall survival and progression-free survival. These findings were recently reported in TheLancet.
Multiple myeloma is a cancer of plasma cells, which are a special type of white blood cell that are part of the body's immune system. Patients with multiple myeloma have increased numbers of abnormal plasma cells that may produce increased quantities of dysfunctional antibodies detectable in the blood and/or urine.
Zometa is a bisphosphonate drug that is commonly used to reduce the risk of bone complications from bone metastases or multiple myeloma. In previous studies, Zometa has also shown potential anticancer activity.
To evaluate whether, in addition to preventing skeletal-related events, Zometa can extend survival among patients with multiple myeloma, researchers conducted a Phase III clinical study that included 1,970 patients from 120 cancer centers in the UK. Participants had newly-diagnosed disease and were 18 years or older. The researchers aimed to determine overall survival, progression-free survival, and overall response rate of Zometa compared with another bisphosphonate called clodronate. Results were available for 1,960 patients (981 receiving Zometa and 979 receiving clodronate).

At a median follow-up of 3.7 years, patients in the Zometa group had a reduction in mortality of 16% compared with the clodronate group.
Median overall survival was 5.5 months longer among those receiving Zometa.
Progression-free survival was improved by 12% among the Zometa group.
Median progression-free survival was two months longer in the Zometa group.
Zometa more effectively prevented skeletal-related events.
Both Zometa and clodronate were well tolerated.
The impact of Zometa on survival was independent of its impact on skeletal-related events.
The researchers concluded that Zometa may improve overall survival among patients with newly diagnosed multiple myeloma. They suggest that Zometa is used as first-line treatment for this patient population, as the bisphosphonate may control disease as well as prevent skeletal-related events.
Reference: Morgan GJ, Davies FE, Gregory WM, et al. First-line treatment with zoledronic acid as compared with clodronate in multiple myeloma (MRC Myeloma IX): a randomised controlled trial. The Lancet [early online publication]. December 4, 2010.