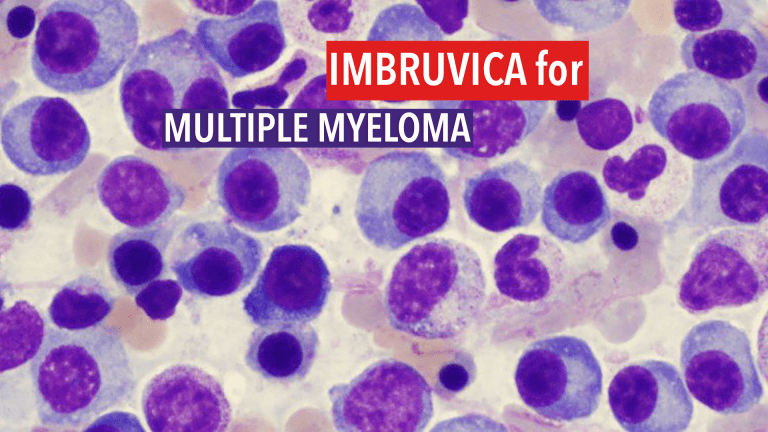 Imbruvica® Demonstrates Clinical Activity in Relapsed Multiple Myeloma
Imbruvica® Demonstrates Clinical Activity in Relapsed or Refractory Multiple Myeloma.
CancerConnect News-According to new data reported at the 56th American Society of Hematology (ASH) Annual Meeting and Exposition, Imbruvica® (ibrutinib) demonstrated activity in the treatment of patients with relapsed or relapsed/refractory multiple myeloma.
Multiple myeloma is a cancer of plasma cells. Plasma cells are a special type of white blood cell that are part of the body's immune system. Plasma cells normally live in the bone marrow and make proteins, called antibodies, which circulate in the blood and help fight certain types of infections. Plasma cells also play a role in the maintenance of bone by secretion of a hormone called osteoclast activating factor, which causes the breakdown of bone. Patients with multiple myeloma have increased numbers of abnormal plasma cells that may produce increased quantities of dysfunctional antibodies detectable in the blood and/or urine. These abnormal antibodies are referred to as paraproteins or monoclonal proteins in the blood (M proteins) or urine (Bence Jones protein).
Multiple Myeloma Information Center
Imbruvica® is a selective inhibitor of Bruton's tyrosine kinase, a component of the B-cell receptor signaling pathway that plays a key role in the development and progression of myeloma. In other words, the targeted therapy attacks the pathway that mediates disease progression.
In the current clinical trial doctors evaluated potential Imbruvica® dosing regimens either as a single agent or in combination with dexamethasone in the treatment of 69 individuals with relapsed or refractory multiple myeloma.
Heavily pretreated patients (median of 4.5 prior lines of therapy) who received Imbruvica® daily in combination with dexamethasone experienced the highest clinical benefit rate of 25%, including one partial response and four minor responses. The reported anti-myeloma activity in this heavily pretreated population of patients suggests that Imbruvica® should be further evaluated earlier in the overall management of myeloma to determine its true benefit.
**Reference:**Vij R, Huff C, Bensinger W, et al. Ibrutinib, Single Agent or in Combination with Dexamethasone, in Patients with Relapsed or Relapsed/Refractory Multiple Myeloma (MM): Preliminary Phase 2 Results Presented at the 56th Annual Meeting of the American Society of Hematology, December 6-9, 2014. Abstract 31.