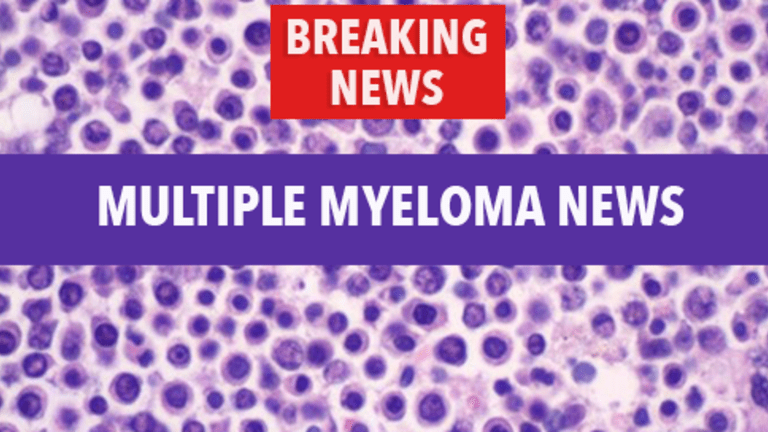 Genasense™ may Reverse Chemotherapy Resistance in Multiple Myeloma
Genasense™ may Reverse Chemotherapy Resistance in Multiple Myeloma
According to results presented at the 2002 annual meeting of the American Society of Hematology, Genasense™ may reverse resistance to chemotherapy in patients with multiple myeloma.
Multiple myeloma is a cancer involving important immune (infection-fighting) cells called plasma cells. Plasma cells aid the body in fighting infection by producing specialized proteins called antibodies that have the ability to target and/or kill foreign cells. In multiple myeloma, cancerous plasma cells produce abnormal and excessive antibodies that do not have the ability to properly fight infection. In addition, the cancerous plasma cells accumulate in the bone marrow, suppressing the normal formation and function of other cells that are necessary for normal production of blood cells and immune functions. The excessive accumulation of cancer cells in the bone marrow ultimately leads to the formation of tumors in the bone and to the breakdown of bone. Furthermore, the cancerous plasma cells secrete dysfunctional antibodies, referred to as M proteins, which can be measured in the blood. Once multiple myeloma stops responding to standard therapies, it is referred to as "refractory". Patients with refractory multiple myeloma are currently left with few effective treatment options and long-term survival is suboptimal.
Standard treatment regimens for multiple myeloma often include chemotherapy. A common chemotherapy regimen used consists of Oncovin® (vincristine), Adriamycin® (doxorubicin) and high-dose dexamethasone, known as VAD. One obstacle in achieving sustained responses to chemotherapy is that multiple myeloma cells can build resistance to chemotherapy's toxic effects, so they continuing to grow and spread during treatment. One mechanism through which this resistance occurs is called Bcl2 expression. Bcl2 is a protein that exists in delicate balance with other related proteins and one of its known functions is to prevent cells from apoptosis (death). Through several mechanisms not entirely understood, Bcl2 proteins protect cancer cells from the lethal effects of chemotherapy. Various types of cancer are associated with high levels of Bcl2 proteins.
An agent still in clinical trials called Genasense™ (G3139, oblimersen) utilizes a unique approach to treat cancer. Genasense™ inhibits the production of Bcl2 protein by binding to the specific molecules that are responsible for producing Bcl2 protein. This binding action stops production of Bcl2 proteins within a cell, effectively making the cell sensitive to chemotherapy agents. Previous studies have demonstrated that Genasense™ amplifies the cytotoxicity (ability to kill cancer cells) of many chemotherapy agents for a variety of different blood cancers. In addition, recent lab tests have suggested that Genasense™ may also be effective alone, directly inducing apoptosis of cancer cells even in the absence of other agents.

Cooking for Life
A new cookbook offers recipes bursting with flavor and health-boosting nutrients.
A recent small clinical trial evaluated Genasense™ plus VAD in 5 patients with multiple myeloma. Patients in this trial had cancer that progressed while being treated with VAD and had cancer progression following a stem cell transplant. Four out of the 5 patients had also stopped responding to treatment with thalidomide. Following therapy with Genasense™ plus VAD, 3 patients achieved an anti-cancer response and one patient achieved disease stabilization. The average duration of anti-cancer response has lasted longer than 6 months; further follow-up is needed to determine the true clinical duration of response. Side effects caused by Genasense™ plus VAD were no different than the common side effects caused by VAD itself except for increased fatigue.
These researchers concluded that although this was a small preliminary clinical trial, response to Genasense™ plus VAD from this group of heavily pre-treated patients appears promising for the treatment of multiple myeloma. Clinical trials evaluating Genasense™ in a variety of cancers are ongoing and may provide a reversal of resistance to differing therapies. Patients with refractory multiple myeloma may wish to speak with their physician about the risks and benefits of participating in a clinical trial further evaluating Genasense™ or other promising therapeutic approaches.
Reference: Van de Donk N, Kamphuis M, Frankel S, Bloem A, Lokhorst H. A phase I/II study of Bcl-2 antisense (G3139) combined with vincristine, adriamycin and dexamethasone (VAD) in patients with refractory multiple myeloma.
Proceedings from the 2002 Annual Meeting of the American Society of Clinical Oncology. Abstract #3208. December 2002.
Copyright © 2018 CancerConnect. All Rights Reserved.