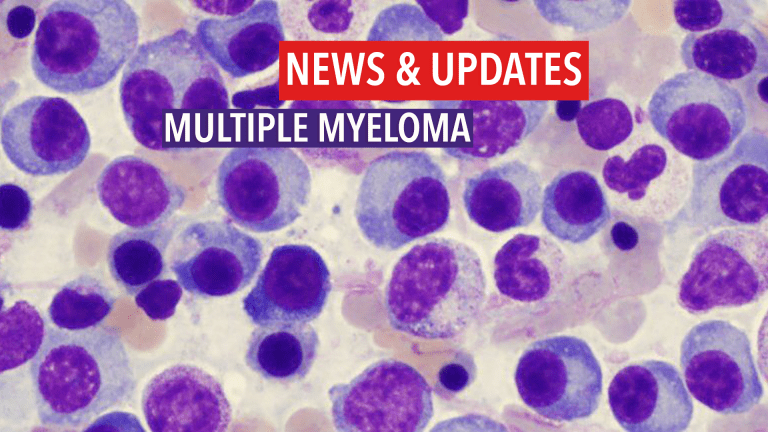 CC-93269 Has Activity in Relapsed/Refractory Multiple Myeloma
CC-932269 is a bispecific antibody being developed for Multiple Myeloma that appears to have anti-myeloma activity.
by Dr. C.H. Weaver M.D. 12/2019
The initial result of CC-93269 is a bispecific antibody that targets B-cell maturation antigen (BCMA) and CD3 T cells were presented at the 2019 ASH Annual Meeting.
CC-93269 was designed to target the BCMA antigen on myeloma cells and the CD3 antigen on the surface of T-cells. This dual targeting activates and redirects a myeloma patient's existing T-cells to engage and eliminate myeloma targeted cells with BMCA by releasing cytotoxic proteins into the B-cells.
As of October 28, 2019 a total of 30 patients with heavily pretreated multiple myeloma had received CC-93269. All patients had been exposed to a proteasome inhibitor and an immunomodulatory drug, 96.7% of patients had received an anti-CD38 monoclonal antibody and 76.7% had undergone autologous stem cell transplantation.
The most common side effects were neutropenia, anemia, infections, and thrombocytopenia. Three quarters of patients developed some level of CRS which was most frequently associated with the first dose of CC-93269. CRS was effectively managed with dexamethasone and Actemra (tocilizumab). Four deaths occurred during study follow-up, one of which was attributed to CRS. The other three causes of death (sepsis, sudden cardiac death, and general health deterioration due to progressive myeloma) were not thought to be related to the study drug.
Overall 89% of patients responded to treatment an average of 4 weeks from initiation of therapy, and 92% of responders achieved MRD negativity. Clinical trial enrollment is ongoing to determine and optimal dose of CC-93269 for additional evaluation in phase II clinical trials.
Reference
Costa LJ, Wong SW, Bermúdez A, et al. First clinical study of the B-cell maturation antigen (BCMA) 2+1 T cell engager (TCE) CC-93269 in patients (pts) with relapsed/refractory multiple myeloma (RRMM): interim results of a phase 1 multicenter trial. Abstract #143. Presented at the 2019 ASH Annual Meeting, December 7, 2019; Orlando, FL.