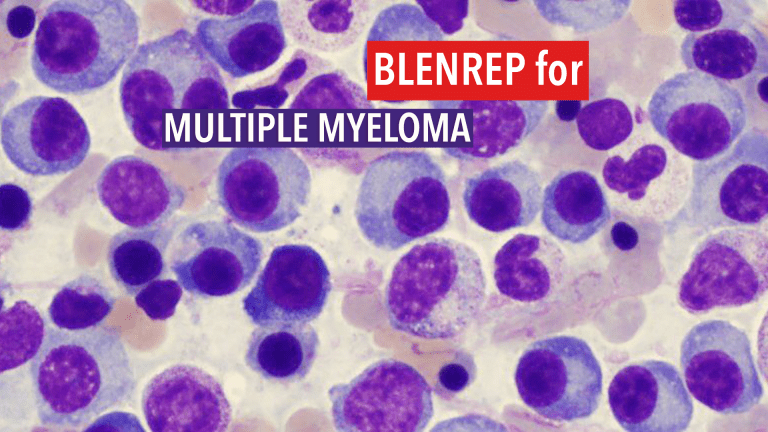 Blenrep (belantamab mafodotin) for Multiple Myeloma
Blenrep targets BCMA in myeloma; has concerns of ocular side effects and failed to delay disease progression in pivotal trial.
by Dr. C.H. Weaver M.D. 11/2022
Blenrep (belantamab mafodotin-blmf) produced sustained clinically meaningful responses in patients with relapsed or refractory multiple myeloma, according to findings from the DREAMM-2 clinical trial presented at the American Society of Clinical Oncology Annual Meeting in May 2020. The results of this trial led to US FDA approval as a monotherapy treatment for adult patients with relapsed or refractory multiple myeloma who have received at least four prior therapies including an anti-CD38 monoclonal antibody, a proteasome inhibitor and an immunomodulatory agent. A confirmatory trial comparing Blenrep to a combination of pomalidomide and dexamethasone however failed to confirm Blenrep's superiority over this standard treatment. 
About Blenrep (belantamab mafodotin)
Blenrep is a monoclonal antibody-drug conjugate, a type of precision cancer medicine that directly targets a B-cell maturation antigen (BCMA) a protein on the surface on myeloma cells. The normal function of BCMA is to promote plasma cell survival and it has been shown to also be important for myeloma cell growth and survival. Blocking the BCMA antigen leads to diminished myeloma cell growth. Upon administration Blenrep selectively binds to BCMA on myeloma cell surfaces. Upon internalization it then binds to tubulin and inhibits its polymerization, which results in G2/M phase arrest and induces tumor cell apoptosis.
At the 2020 meeting researchers presented an update on heavily pretreated, relapsed or refractory multiple myeloma patients treated with single-agent Blenrep. The overall response rate was 31% in the 2.5 mg/kg group and 35% in the 3.4 mg/kg group of patients and the very good partial response rates were 19% and 24%. They estimated that the 1-year overall survival rate was 53%, and the median remission duration was about 11 months.
Treatment was generally well tolerated with the most common side effects being low blood counts however the researchers did report keratopathy – a type of corneal inflammation in the eye also occurred but did not go into detail regarding this potentially significant side effect.
Eye Toxicity
It is concerning that more than 70% of patients treated with either of two doses of the drug developed keratopathy or changes to the corneal epithelium of the eye, and after 9 months of follow-up, more than half of patients with keratopathy still had the condition according to FDA staff comments in a briefing document prepared for the Oncologic Drugs Advisory Committee (ODAC). Additionally, 21% of patients stopped driving because of vision problems, and 20% either had extreme difficulty reading or gave it up altogether.
BLENREP will be available through participation in the BLENREP Risk Evaluation and Mitigation Strategy (REMS), which was developed to ensure appropriate use of the medicine. The programme requires education for all physicians prescribing BLENREP and their patients regarding the ocular risks associated with treatment as well as monitoring. Additional information about the BLENREP REMS can be found at www.blenreprems.com or 1-855-209-9188.
References
Pivotal DREAMM-2 study: Single-agent belantamab mafodotin (GSK2857916) in patients with relapsed/refractory multiple myeloma (RRMM) refractory to proteasome inhibitors (PIs), immunomodulatory agents, and refractory and/or intolerant to anti-CD38 monoclonal antibodies (mAbs).