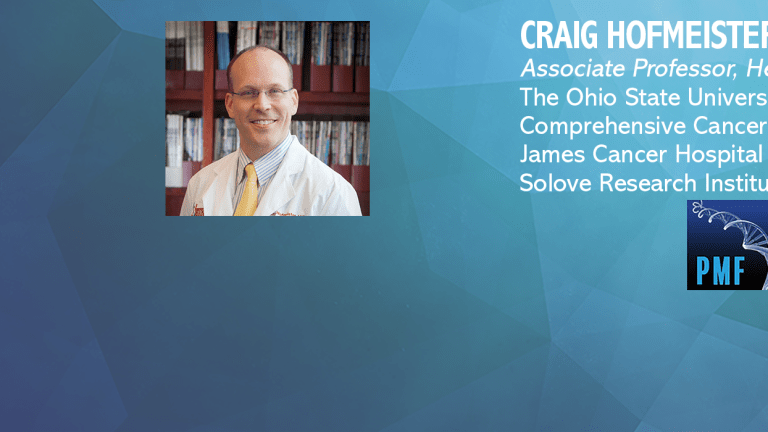 Ask the Expert: Multiple Myeloma
Dr. Craig Hofmeister, MD guest-moderated on CancerConnect for a question-and-answer session in the Multiple Myeloma
Ask the Expert: Multiple Myeloma
Dr. Hofmeister is an Associate Professor in the Division of Hematology at the OSUCCC – James. Dr. Hofmeister specializes in clinical translational research in multiple myeloma. He has published several studies in peer-reviewed medical journals and his clinical research interests include the development of novel therapeutic agents for multiple myeloma. Click here to learn more about Dr. Hofmeister.
​
Question about Role of Stem Cell Transplant & Newly Approved Drugs: With all the new drugs that have been approved; what is the role of stem cell transplant?
Dr. Hofmeister: Stem cell transplant will likely remain a key part of the treatment regimen for patients with low-risk disease.
Question about Newly Approved Drugs and Stem Cell Transplant: Will any of the newly approved drugs potentially replace stem cell transplant?
Dr. Hofmeister: Yes, but which drugs and for which patients is still controversial.
Question about Multiple Myeloma Research: What is new and promising in multiple myeloma? I know a lot of drugs have recently been approved, just curious where the research is going.
Dr. Hofmeister: The field is moving toward combining antibodies, things like PD-1 inhibitors with CD38 antibodies. We hope that these drugs will be better tolerated and more effective than any of the previous generation. We are also seeing targeted genetic therapies, where immune cells are reprogrammed to target one or a number of specific proteins (BCMA or SLAMF7 as examples); this therapy is very expensive on a per-treatment basis, but it moves the field closer to curing more than a handful of patients.
Question about Drug Combinations: Many doctors are keen on drug combinations, it seems. To the patient, however, it just seems like the more possible side effects to be encountered. Are the combinations often significantly more effective?
Dr. Hofmeister: You are absolutely correct. The majority of times, when we add more drugs, patients suffer more side effects. Some combinations offer significant benefit – for instance, in newly diagnosed transplant-ineligible patients, the 3-drug combination of Velcade®, Revlimid® and dexamethasone kept the myeloma quiet longer and consequently prolonged survival compared to only Revlimid® and dexamethasone (2-drug combination). Individualizing these decisions makes sense – I tend to start patients with 2-drugs and, if tolerated, consider a 3-drug combination pending tolerance and response.
Question about Criteria for Diagnosing Multiple Myeloma: Are there specific criteria for diagnosing MM?
Dr. Hofmeister: Yes. The CRAB criteria (Calcium, Renal (kidney) disease, Anemia and/or Bone lesions.) If a patient has the CRAB criteria or an approximately 75 percent risk of developing these CRAB criteria over 24 months, the patient has multiple myeloma and should be treated.
Question about Stem Cell Transplant Prognosis and Maintenance Therapy: If I am 56 and in fairly good shape and went through a stem cell transplant in November of 2015 and take daily Revlimid, is there a better chance at a longer life expectancy (how many years might I expect to live?) than without the transplant and daily medication?
Dr. Hofmeister: A transplant alone provides 30 months of disease stability on average, and 50 months of disease stability if transplant is suffixed with maintenance Revlimid®. For patients without high-risk disease (i.e., patients without resilient myeloma that quickly becomes resistant to treatment), we believe that the more treatment they receive, the longer their disease will stay quiet. At the moment, Revlimid® maintenance after transplant is the best plan until we prove in randomized clinical trials that more is better.
Question about Headaches: I have had multiple treatments for multiple myeloma starting in 2013 (Revlimid/dexamethasone, then dexamethasone alone). I relapsed about 18 months ago and tried Velcade® which did not control my disease and then switched to Kyprolis® which I am still on. For the last two months I have had headaches- mainly around the right eye and forehead- off and on during the day. Negative lab reports from MRI of head & sinus & spinal tap but highly elevated PTH (97). I have been off of Kyprolis for the last 5 weeks. Are headaches a side effect of Kyprolis?
Dr. Hofmeister: Headaches could be a side effect of Kyprolis®, especially since high blood pressure is a known complication. In my patient population, I haven't seen headaches in patients with a normal blood pressure – if your disease is uncontrolled, you could have a cluster of myeloma cells in and around your right eye causing the pain.
Question about Iron Supplements & Medications for Platelet Recovery: Is it safe to take iron supplements to help with chemo induced anemia and Thrombocytopenia to help blood count recover after stem-cell transplant? Also, what type of medications are specifically targeted at helping platelets recover?
Dr. Hofmeister: Iron supplements should be used only for patients who are iron deficient. There is some good data that patients with kidney damage who are receiving a hormone (erythropoietin) to stimulate the bone marrow to make more red cells need to have full iron stores – meaning the iron 'tank' needs to be full.
To keep platelets up, usually we use smaller doses or more effective drugs. There are drugs that increase the production of platelets, eltrombopag (Promacta®) and romiplostim (Nplate®), and these drugs make sense in rare situations.
Question about Neuropathy: Do B vitamins or magnesium help alleviate neuropathy?
Dr. Hofmeister: No. The only proven intervention for neuropathy is prevention.
Question about Daratumumab and Blood Brain Barrier: Can daratumumab, an antibody Immunotherapy pass through the blood brain barrier to treat brain or skull cancer?
Dr. Hofmeister: While our current crop of immunomodulatory drugs (IMiDs®) do cross the blood brain barrier, there is no data on elotuzumab or daratumumab.
Question about Xgeva® (Denosumab) and Zometa® (Zoledronic Acid): Can you compare the benefits of Xgeva versus Zometa. How does the bone building work?
Dr. Hofmeister: It's not really bone building, but rather slowing down the bone destruction. A comparative trial has not reported results, so I can't really compare them other than for side effects. Xgeva is still used rarely in myeloma, as the only reported experience suggested a higher mortality in Xgeva-treated patients compared to placebo – I don't believe these results because they analyzed only a small portion of the patients treated who happened to have myeloma.
Question about Dexamethasone: I am 77 years old and have recovered from plasmacytoma and multiple bone lesions after radiation & Velcade. I am now on daily Revlimid. Initially I was taking dexamethasone also, but one oncologist recommended stopping it, as the blood values are very normal, while another said I should continue the steroid. Is there any data to support whether or not I should continue the steroid? Also, since the blood reports are good for the last year+, is their data to support that I should stay on maintenance Revlimid or stop? Is permanent remission possible in some cases?
Dr. Hofmeister: I would refer you to the FIRST trial, where patients were divided between those who received melphalan + prednisone + thalidomide, Revlimid® + dexamethasone for 18 months, and Revlimid® + dexamethasone until progression. This trial demonstrated improved duration of response the longer patients received Revlimid® + dexamethasone.
Dexamethasone is the drug we love to hate. It is bad for every cell in your body, and patients feel it, but it approximately doubles the effectiveness of any anti-myeloma drug it is combined with. Except in patients after autologous transplant, I generally keep going with the weekly dexamethasone (8-20 mg per week).
Question about Pain: I am dealing with acute and continuous pain; could ASCT help relieve pain?
Dr. Hofmeister: The short answer is no. If your disease is completely controlled, you're in remission and you are wondering whether autologous stem cell transplant will improve your pain, it won't. If your disease is not in complete remission and an autologous transplant could put your disease in remission, then there is a possibility of improved pain control in that situation.
Question about Smoldering Myeloma: If the Beta 2 Microglobulin is extremely high, what does that tell me about "smoldering myeloma"?
Dr. Hofmeister: Beta2 microglobulin has not been identified as an independent predictor of when the smoldering myeloma will transition to myeloma. High-risk cytogenetics and specific genetic changes in the mutated plasma cells on bone marrow biopsy are clearly predictive. The size of the monoclonal protein, the type of monoclonal (igG vs. IgA), and the serum free light ratio are all independent markers of risk of transition from smoldering to active multiple myeloma.
Question about Initial Treatment for Stage III Multiple Myeloma: It seems as though there are so many drugs to treat myeloma now I am really confused. I have stage 3 disease and am 55; is there a "best" initial treatment (good kidney function)?
Dr. Hofmeister: We believe that daratumumab (or similar CD38 antibody)+Kyprolis® (proteasome inhibitor) + Revlimid® (IMiD) + dexamethasone is likely the best initial therapy. The only caveats are that this 4-drug regimen has never been tested in humans, will be outrageously expensive and won't be curative. Ugh. For patients with low-risk disease, 3-drug therapy with a proteasome inhibitor (Velcade® or Kyprolis®), Revlimid® and dexamethasone is probably the "best." For patients with high-risk disease, we don't have adequate treatments.
The Ask The Expert Series is made possible by support from The Personalized Medicine Foundation, Incyte Oncology, Abbvie, and CancerConnect. The "Ask The Expert" series is not medical advice nor is it a substitute for your doctor. It should serve as a guide to facilitate access to additional information and enhancement of a shared decision making process with your treating physician.