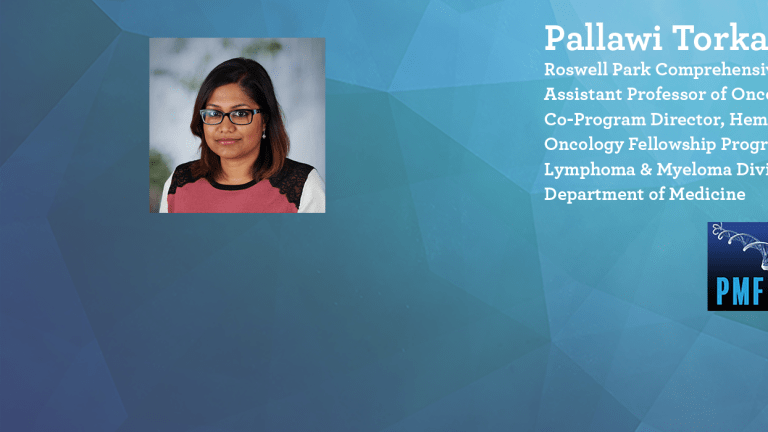 Ask The Expert About CAR T and Stem Cell Transplant for Blood Malignancies
Ask The Expert about stem cell transplant and CAR T cell therapy during the COVID pandemic.
The Personalized Medicine Foundation and CancerConnect are pleased to provide patients and caregivers the opportunity to ask questions about stem cell transplant and CAR T cell therapy during the COVID pandemic. Dr. Pallawi Torka MD is the Co-Program Director, Hematology Oncology Fellowship Program Lymphoma & Myeloma Division Medical Oncology Roswell Park Comprehensive Cancer Center.
Please submit your questions you will be notified when the responses are posted. Click here to submit your question.
COVID Vaccine Related Questions
Are you recommending the vaccine to your patients with myeloma?
Having cancer regardless of treatment status is a risk factor for worse outcome from infections including influenza and COVID-19. The short answer is yes once COVID-19 vaccines become more widely available. In terms of prioritization, and according to CDC guidelines, cancer patients will be part of the phase II wave of vaccination which has begun.
Timing of Vaccination
It is recommended that all patients with cancer receive the COVID-19 vaccine, however there are some individuals who may need to wait to ensure that their immune system responds to the vaccine. The NCCN advises patients who have undergone an allogeneic or autologous transplant or chimeric antigen receptor T (CAR-T) cell therapy should wait a minimum of 3 months to receive the vaccine. (1)
Are both vaccine doses necessary?
According to data released on March 12th the Pfizer-BioNTech vaccine provides less protection in cancer patients after a single dose in cancer patients than healthy individuals but the second dose of the vaccine at three weeks improves protection significantly.
Pfizer currently recommends 21 days between vaccine doses but because the UK's vaccine strategy currently involves a 12-week gap between doses doctors were able to assess vaccinated individual's immune response following a single dose.
The immune response to the vaccine was evaluated in 54 healthy volunteers and 151 elderly patients with cancer or leukemia by measuring blood antibody and T cells levels to determine the level of immune response generated against the coronavirus.Three weeks after one dose of the vaccine an antibody response was found in 39% of solid cancer patients and just 13% of people with blood cancer. The response in healthy volunteers was 97%.
In the solid cancer patients who received a second dose three weeks after the first, the antibody response shot up to 95% within two weeks of the boost. Further evidence of the need for a boost was shown by the fact that antibody levels only increased to 43% in people with solid cancers and 8% in those with blood cancer five weeks after their first dose. It was 100% in healthy volunteers.
The data provides the first real-world evidence of immune effectiveness following one dose of the Pfizer vaccine in immunocompromised patients. Following the first dose, most cancer patients remained immunologically unprotected up until at least five weeks following primary injection. The poor one dose effectiveness can be rescued with an early booster at day 21.
These results suggest that the vaccines may well not protect patients with cancer as well as those without cancer and that cancer patients should continue to observe social distancing and shielding. The study did not evaluate single dose vaccines but suggests delayed immune responses in cancer patients are probable. (2)
Is it safe to receive a COVID-19 vaccine if someone has undergone a stem cell transplant?
In patients who have had a stem cell transplant, their immune systems are incapable of reacting to a vaccine for at least three months following the actual transplant - most centers recommend delaying all vaccines for at least three months following stem cell transplant,
My 29 yo son has lambda light chain MM. He received CAR-T BCMA in a clinical trial late last year. Should he get the mRNA Coronavirus vaccine or might it interfere with his T cell efficacy or duration of producing clones?
This is a complicated situation and the best person to make that call will be your son's treating physician. In the trials of safety and efficacy of the corona virus vaccines, immunocompromised patients such as your son were not included. In general, mRNA vaccines are considered safe and do not carry a risk of causing actual COVID (in contrast to live attenuated vaccines), however, mRNA vaccines could theoretically cause a hyper-inflammatory response. Whether or not, that will affect T cell efficacy or duration of producing clones is unknown. The American Society of Hematology (ASH) and American Society of Transplant and Cellular Therapy (ASTCT) are recommending that based on current evidence demonstrating high efficacy and safety in the general population, currently available mRNA SARS-CoV-2 vaccines could be offered as early as three (3) months following CAR T cell therapies, although efficacy may be reduced compared to results in general populations. If your son was treated on a clinical trial, the guidelines may be different. I would suggest going by whatever guidelines your son's clinical trial team has issued.
Is it safe to do CAR T for relapsed multiple myeloma during covid?
CAR-T therapy can lead to suppression of the immune system for a variable amount of time and thus theoretically increase the risk of acquiring severe COVID. Having said that, having myeloma itself puts one at high risk for bad outcomes with COVID. In a recent retrospective analysis (), investigators found that age, high risk MM, renal disease and suboptimal MM control were independent predictors of adverse outcome with COVID infection. In that study, neither history of transplant, including within a year of COVID-19 diagnosis, nor other anti-MM treatments were associated with outcomes. This data is reassuring and suggests that controlling myeloma optimally should be the goal, even in this pandemic. Patients should not hesitate to get the most appropriate treatment for their myeloma due to the fear of COVID. I would recommend to follow the same principles for choosing CAR-T therapy.
Has the FDA approved a CAR T treatment for myeloma?
As of 2/10/2021, there is no FDA approved CAR-T treatment for myeloma however most major cancer programs doing CAR T are evaluating it for myeloma in clinical trials. Update here...
Is Stem Cell Transplant safe during COVID?
Many leading cancer centers continue to perform stem cell transplants safely during the pandemic - albeit with a number of new precautions. Learn more here....
My spouse has multiple myeloma. In remission one year. Takes 10mg revlimid for 21 days & 40mg dexamethasone once a week. Dr wants to stop dexamethasone. Is this a good idea?
Your doctor obviously thinks so and it makes sense. Long term use of steroids is associated with suppression of the immune system and other side effects and Revlimid alone is good maintenance therapy.
The "Ask The Experts About COVID-19 and Cancer" Series
References​
The Ask The Expert Series is made possible by support fromThe Personalized Medicine Foundation, Incyte Oncology, Abbvie, and CancerConnect. The "Ask The Expert" series is not medical advice nor is it a substitute for your doctor. It should serve as a guide to facilitate access to additional information and enhancement of a shared decision making process with your treating physician.