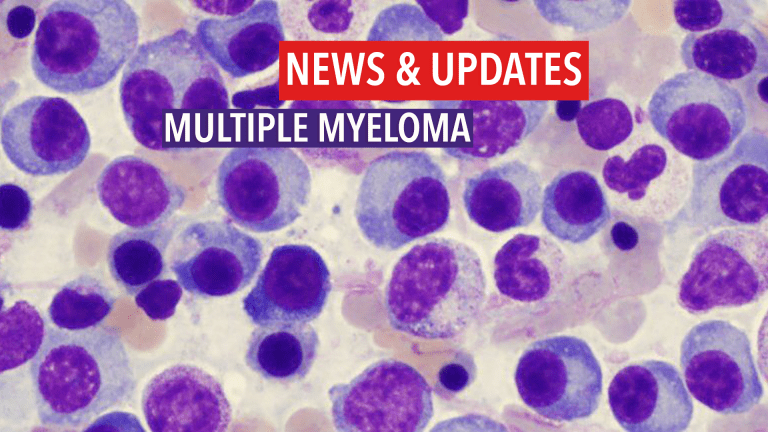 AbbVie & the International Myeloma Foundation Partner to Study Genetic Mutation
AbbVie and the International Myeloma Foundation Partner to Study Role of a Genetic Mutation in Multiple Myeloma
AbbVie are a research and development-based global biopharmaceutical company, and the International Myeloma Foundation (IMF) today announced they have entered into a collaboration to conduct a landmark retrospective chart review study to better understand and help manage multiple myeloma (MM), the second most common blood cancer.1
"There are significant knowledge gaps about multiple myeloma, and among these gaps is the role of genetic mutations in response to treatment, and the related outcomes for patients," said Brian G.M. Durie, M.D., IMF chairman. "This study has the potential to provide valuable real-world evidence that can help advance care for patients, and we are proud to join forces with AbbVie to further advance efforts in research and education in multiple myeloma."
The primary objective of the study is to determine the overall survival of patients with MM and the t(11;14) translocation, which is present in an estimated 16 to 24 percent of FISH-tested MM cases.2,3 IMF researchers from at least 30 participating sites across the world will retrospectively review and characterize the outcomes of 1,500 patients with the t(11;14) translocation identified on FISH, making this study one of the largest and most comprehensive MM studies to date. Secondary objectives include response rates, progression-free survival, time to progression, time to next treatment, duration of responses and overall survival with different regimens among patients with the t(11;14) translocation. Additional secondary objectives include determining prognostic factors for overall survival among MM patients with t(11;14) translocation and to identify the spectrum of co-existing genetic abnormalities among this patient population.
"The partnership with the International Myeloma Foundation underscores our commitment to meaningfully advance the understanding of blood cancers, and continue identifying scientific approaches that have the potential to improve care for patients with multiple myeloma," said Neil Gallagher, M.D., Ph.D., vice president and head, global oncology development, AbbVie. "We look forward to the findings and to continue strengthening our ongoing research efforts to provide transformative therapies for patients with multiple myeloma and other blood cancers."

About Multiple Myeloma
Multiple myeloma (MM) begins in the plasma cells in bone marrow. When plasma cells (a type of white blood cell) in the marrow become cancerous, they can grow uncontrollably and produce abnormal proteins (sometimes known as M proteins) and may also cause tumors, typically developing in the bone. When a patient has multiple plasma cell tumors, they have MM.4 An estimated 86,000 patients with MM are diagnosed globally each year.5 Approximate median survival ranges from 29 months to 62 months depending on stage at diagnosis.6
About the International Myeloma Foundation
Founded in 1990, the International Myeloma Foundation (IMF) is the first and largest foundation focusing specifically on multiple myeloma. The Foundation's reach extends to more than 525,000 members in 140 countries worldwide. The IMF is dedicated to improving the quality of life of myeloma patients while working toward prevention and a cure by focusing on four key areas: research, education, support, and advocacy. The IMF has conducted more than 250 educational seminars worldwide, maintains a world-renowned InfoLine, and in 2001, established the International Myeloma Working Group (IMWG), a collaborative research initiative focused on improving myeloma treatment options for patients. In 2012, the IMF launched the Black Swan Research Initiative®, a groundbreaking research project aimed at curing myeloma.
1 Kazandjian D. Multiple myeloma epidemiology and survival: A unique malignancy. Semin Oncol 2016;43:676-681.
2 Lakshman A, et al. Natural history of t(11;14) multiple myeloma. Leukemia. 2017;32:131-138.
3 Sonneveld P, Avet-Loiseau H, Lonial S et al. Treatment of multiple myeloma with high-risk cytogenetics: a consensus of the International Myeloma Working Group. Blood 2016;127:2955-2962.
4 American Cancer Society. What is Multiple Myeloma? . Accessed February 2018.
5 Becker N. Epidemiology of Multiple Myeloma. Recent Results Cancer Res. 2011;183:25-35.
6 American Cancer Society. Survival Rates by Stage for Multiple Myeloma.. Accessed February 2018. USA Outdoors