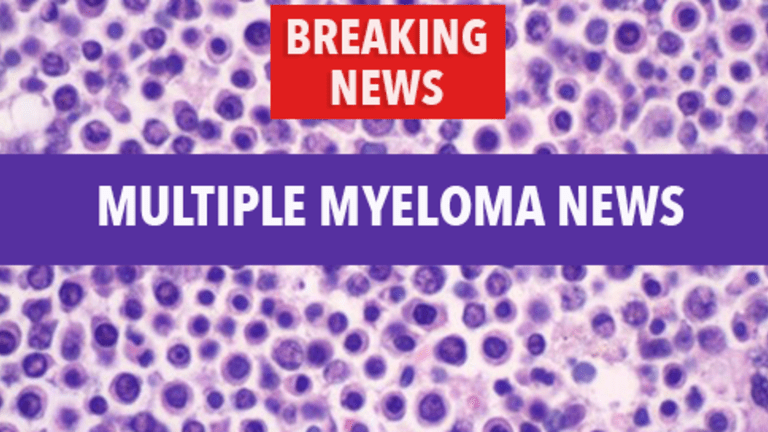 A New Option for High-risk Multiple Myeloma?
A New Option for High-risk Multiple Myeloma?
Six years ago, Todd Hirai learned why all the physical therapy he'd received for his baseball injury hadn't eased his back pain. He hadn't wrenched his back in the batting cage after all, said the scan glowing on his orthopedist's computer screen. Hirai saw the bright spots scattered across the MRI, lighting up his bones like a nightmarish swarm of fireflies. It looked, explained the orthopedist, like cancer.
As the Seattle-area father of three tried to wrap his mind around this news, a medical team was waiting just outside the door to admit him into the hospital and start the process of trying to save his life from what was swiftly confirmed to be multiple myeloma.
Hirai soon learned that his cancer's genetic abnormalities placed him in a high-risk category, one that is associated with an average of less than three years' survival. After discussions with his doctors, Hirai enrolled in a clinical trial through Fred Hutchinson Cancer Research Center of a complex combination protocol, one that researchers believed might help patients like him.
"It was my only real shot at survival at that point," Hirai said.
After years of following up with Hirai and his cohort on that small trial, a team of 12 Fred Hutch researchers published their promising results Thursday in the journal Blood Advances. They hope these findings will be a springboard to a more in-depth study of this approach. The team found that trial participants like Hirai with newly diagnosed, high-risk multiple myeloma have a longer-than-expected average survival time after undergoing the trial's three-part treatment sequence — two different types of bone marrow transplant in succession followed by a cancer-suppressing drug.
While the trial was not designed to offer a definitive answer about the benefits of this approach, the results offer a useful new clue toward solving a long-standing controversy in the multiple myeloma field, said the investigators: namely, whether a transplant from a donor could be beneficial for patients with this disease and, if so, for which patients.
"Our take-home message is that [this protocol] should probably be looked at in a larger, prospective and, ideally, randomized study — and that there might be some potential with this approach … for newly diagnosed patients with high-risk myeloma," said the Hutch's Dr. Marco Mielcarek, the trial's principal investigator. For such patients "we should keep an open mind and consider allogeneic [donor] transplants followed by some form of maintenance therapy," he said.
A multitude of medical advances over the past decade have resulted in big improvements in treatment for myeloma — but less so for the high-risk form. As research on this approach continues, these early findings will help inform treatment options that physicians in the Fred Hutch/University of Washington Cancer Consortium can offer to newly diagnosed high-risk patients, the investigators said.
"Some people have said that it's settled, whether there's a role for any type of allogeneic transplant in myeloma, and say it shouldn't be done. But I think our findings, in concert with other recent data, suggest that this type of allogeneic transplant needs to be further explored in patients with high-risk multiple myeloma," said Dr. Damian Green, a myeloma physician-scientist at Fred Hutch who cared for some of the trial participants and contributed to the data analysis.
"The management of multiple myeloma is becoming more and more complex as we understand the subtleties of the disease. We're trying to better tailor treatment for those nuances," Green said. "At academic centers such as ours, we have the luxury of being able to dig deep into understanding the disease and then, in partnership with our patients, coming up with new approaches to treat their myeloma."
'Could we cure patients?'
The trial enrolled 31 patients with high-risk multiple myeloma. Most, like Hirai, were newly diagnosed with aggressive cancers, but seven enrollees had myelomas that had relapsed or persisted despite earlier treatment.
First, the patients received a standard-of-care procedure for their disease, a type of bone marrow transplant called autologous transplant. In autologous transplant, patients' cancerous bone marrow is destroyed with high-dose chemotherapy. Afterward, they receive an infusion of their own blood-forming stem cells — which had been removed beforehand and tested to ensure they were cancer-free — to repopulate what the chemo had killed off.
After a few months' recovery, trial participants got low-dose radiation to prepare their bodies for the next step: a different type of transplant, called allogeneic transplant, in which patients receive blood-forming stem cells from a tissue-type matched donor, who might be a family member or an unrelated volunteer.
The goal of the allogeneic transplant was completely different. In the form of allogeneic transplant tested in this trial, the patient's own marrow and immune system are initially just suppressed, not destroyed. So the donor cells aren't simply given as replacements (although they eventually do replace the patient's). Instead, their job is to act as a cancer surveillance system. Because the donated cells come from a different person, the donor immune cells can recognize the patient's cancer cells as "foreign" — and kill them in the same way your immune system goes after invading bacteria.
Allogeneic transplant has tantalized investigators in the myeloma field because it offers patients the chance of a long-lasting cure, thanks to the new cancer-killing immune system it provides. But the procedure has significant risks. And research to date hasn't clearly shown whether the benefits outweigh the risks in patients with the most aggressive myelomas.
"Autologous transplantation — even though there's no debate around the world that it improves progression-free and overall survival in patients with myeloma — doesn't cure patients," Mielcarek said. "So the question was, by giving allogeneic transplant as a second step, could we cure patients?"
Because it takes a while for the new donor immune system to take hold effectively, trial participants received a third step: nine months of a myeloma-killing drug called bortezomib (Velcade) to provide temporary protection against any reemerging cancer cells until the new immune system was up and running.
In theory, Mielcarek said, "the long-term control and, potentially, cure comes through that new immune system from the donor."
Long-lasting results a 'pleasant surprise,' but follow-up needed
The protocol was tough on Hirai. The autologous transplant wasn't so bad, he said. But after his allogeneic transplant, it took him a year to feel like he was back on his feet. His weight dropped to just 130 pounds and he landed in the hospital a few times because of complications — his new donor cells, in addition to attacking his cancer cells, were also attacking his healthy cells, a condition called graft-vs.-host disease. And the drug, bortezomib, caused so much nerve pain — a common side effect — that he was forced to go off it early.
But during that ordeal, his new immune system — donated by a California college student — started to take hold.
Of the 31 patients enrolled in the Phase 2 trial between 2009 and 2014, Hirai was one of only 21 who made it through the whole sequence to start the drug therapy, whether due to personal choice or medical complications. The research team calculated the procedure's outcomes based on the entire group of 31, giving them a more real-life view on how their group fared. ("We're not cherry-picking," Mielcarek said.)
The results were very different in two types of patients on the trial, they found. Only two of the seven patients with relapsed or treatment-resistant cancers (29 percent) would survive to at least four years, the researchers estimated.
In the other group of 24 patients like Hirai with newly diagnosed cancers, however, the researchers extrapolated that more than half (61 percent) would survive to at least four years. For Hirai, it's now been six years since his ordeal started — years longer than many others with his aggressive type of cancer get.
Mielcarek was "pleasantly surprised" to see these data emerge as the study went on. He noted that the relapse rate in this group seems to have stabilized over the last couple of years the team has been tracking participants, and, as tracking continues, he hopes to see this trend continue as well.
Even if the researchers found 30 to 40 percent survival after seven to 10 years, "this would be pretty significant," Mielcarek said. "That would not be expected with this group of high-risk patients."
While the results are "provocative," Green noted that it's not yet clear how the different elements of this treatment series contribute to patient outcomes. For example, bortezomib and other new myeloma drugs have been shown to offer a survival benefit on their own. Teasing out the interplay of these different elements is another important way that controlled studies could help in coming years, he said.
New milestones ahead
Hirai doesn't let himself believe he's in full remission. "I know how quickly it can change," he said.
Most days are good, though some side effects linger. "But the rest are ok — so I'll take it," he said. He's focusing on spending time with family and friends and has celebrated the high school graduations of two of his kids so far, a big goal when he began treatment. After so many years of devastating uncertainty, he's beginning to be able to plan things several months in advance — such as his trip this Thanksgiving to visit the family of his bone marrow donor, now like a "little sister" to him.
The results of the trial Hirai participated in were published on his 52nd birthday. But there's another birthday he likes to think of: The day that marks each year of new life he's gained with his new donor immune system. In this respect, his life has just begun.
The researchers behind the trial are also looking ahead. This week, Green travels to a meeting of myeloma specialists, where he's proposing to his fellow experts that they collaborate on a larger, randomized trial of an updated version of the approach tested in this trial. His hope is that they can get more-solid proof that a similar strategy to the type that seems to have helped Hirai can help other patients like him in the future.
"There is the need to have that study, and we are working with partners at multiple different centers to get such a trial open," Green said. "Is there interest in further exploring this approach? Yes. And we are going to try to facilitate the process to do it."
Susan Keown, a staff writer at Fred Hutchinson Cancer Research Center, has written about health and research topics for a variety of research institutions, including the National Institutes of Health and the Centers for Disease Control and Prevention.
Copyright © 2018 CancerConnect. All Rights Reserved.