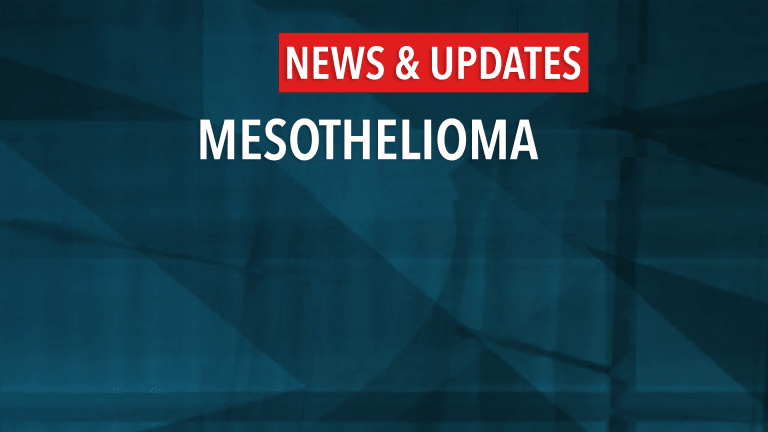 Vinorelbine Produces Responses in Malignant Pleural Mesothelioma
Vinorelbine Produces Responses in Malignant Pleural Mesothelioma
Vinorelbine, a chemotherapy agent used for the treatment of lung cancer, appears to produce anti-cancer responses and improve the quality of life for patients with malignant pleural mesothelioma, according to a recent article published in the Journal of Clinical Oncology.
Malignant pleural mesothelioma is a rare cancer that develops in the tissues that comprise the lining of a lung (pleura). The majority of individuals who develop malignant pleural mesothelioma have experienced chronic exposure to asbestos during the course of their lives. This type of cancer is considered to be resistant to standard therapies, which consist of surgery, chemotherapy and/or radiation therapy. The majority of available chemotherapeutic regimens produce an anti-cancer response rate of approximately 20% or less. Unfortunately, most of these patients ultimately experience a return of their disease. Due to these poor survival statistics, researchers are continually evaluating new treatment approaches in an ongoing attempt to improve upon present treatment outcomes. Additionally, much attention has recently been focused on improving the quality of life for these patients by alleviating symptoms caused by this disease, such as pain, difficulty breathing, low activity tolerance, fatigue, psychological well-being and overall well-being.
Vinorelbine is a chemotherapy agent that has demonstrated significant anti-cancer activity and improved the quality of life for patients with non-small cell lung cancer. Recently, researchers conducted a clinical trial to evaluate its effects in the treatment of malignant pleural mesothelioma. Twenty-nine patients with pleural malignant mesothelioma were treated with vinorelbine as a single agent. Approximately 80% of these patients experienced anti-cancer responses measured by tumor shrinkage or stabilization of disease. Additionally, the majority of patients reported an improvement in their quality of life, particularly lung-related symptoms, other physical symptoms and psychological symptoms. Moreover, vinorelbine was very well tolerated in these patients.
Since treatment options for malignant pleural mesothelioma are currently limited and produce suboptimal outcomes, these clinical trial results are encouraging as they implicate expanded treatment options for this disease. Due to the fact that patients appear to tolerate vinorelbine well, researchers conducting this trial suggest that further clinical trials evaluating vinorelbine in addition to other anti-cancer agents are warranted in order to produce extended survival time for patients with this disease.
Patients with malignant pleural mesothelioma may wish to speak with their physicians about the risks and benefits of participating in a clinical trial further evaluating vinorelbine alone or in combination with other agents. Sources of information about ongoing clinical trials include comprehensive, easy-to-use listing services provided by the National Cancer Institute (cancer.gov
Journal of Clinical Oncology, Volume 18, No 23, pp 3912-3917, 2000