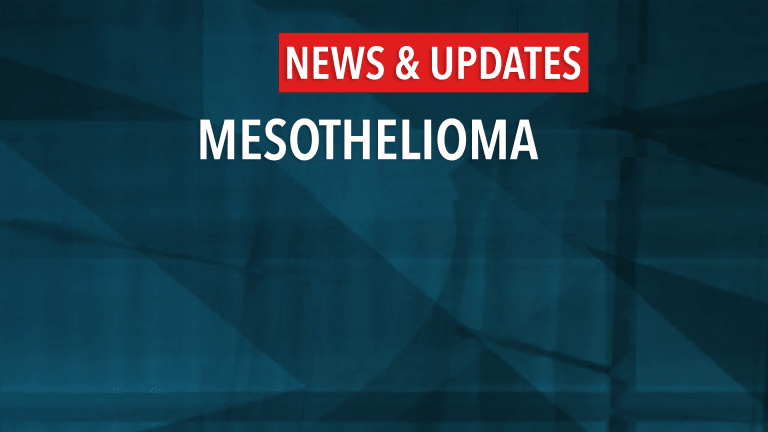 Sequential Chemotherapy for Pleural Mesothelioma Promising
Sequential Chemotherapy for Pleural Mesothelioma Promising
According to results published in the journal Lung Cancer, sequential administration of chemotherapy including cisplatin (Platinol®) and gemcitabine (Gemzar®) followed by mitoxantrone (Novantrone®), methotrexate (Rheumatrex®), and mitomycin (Mutamycin®) is an active regimen and improves quality of life in patients with mesothelioma that cannot be surgically removed.
Malignant pleural mesothelioma is a rare cancer that develops in the tissue that covers the lungs and lines the interior of the chest. It is often caused by chronic exposure to asbestos. The majority of patients are not diagnosed until the disease has progressed to an advanced stage and treatment with surgery or radiation is not an option. Patients with this disease often have a decreased quality of life due to symptoms such as shortness of breath, cough, pain, fatigue, and the inability to eat.
Mesothelioma is fairly resistant to most therapies, including surgery, chemotherapy, and/or radiation therapy. Therefore, finding a chemotherapy regimen that can improve quality of life or survival is essential for improving care in this population.
Although mesothelioma is regarded as being relatively resistant to chemotherapy, recent studies have shown that significant improvements in quality of life may be possible with newer chemotherapy approaches. Platinol and Alimta® (pemetrexed) are two agents that are commonly used for the treatment of mesothelioma.
Researchers from Italy recently conducted a clinical trial to evaluate the sequential administration of two active chemotherapy regimens in the treatment of advanced mesothelioma. This trial included 54 patients who were treated with cisplatin plus gemcitabine, followed by mitoxantrone, methotrexate, and mitomycin. The results are described below:
30% of patients achieved a complete or partial disappearance of cancer.
60% of patients' disease stabilized.
The median time to cancer progression was 9.5 months.
The median duration of survival was over one year (13 months).
Survival at one year was 63%.
Over half of the patients treated had improvements in pain and shortness of breath.
The researchers concluded that treatment including cisplatin/gemcitabine followed by mitoxantrone/methotrexate/mitomycin produces a benefit in patients with advanced mesothelioma. However, further trials directly comparing this treatment approach to others using newer chemotherapy agents or treatment of patients upon signs of disease progression are warranted to determine the true clinical benefit of this approach.
Patients diagnosed with mesothelioma may wish to speak with their physician regarding their individual risks and benefits of participating in a clinical trial further evaluating new therapeutic approaches. Sources of information regarding ongoing clinical trials include the National Cancer Institute (www.cancer.gov).
Reference: Pito C, Marino A, De Pangher V, et al. Sequential chemotherapy with cisplatin/gemcitabine (CG) followed by mitoxantrone/methotrexate/mitomycin (MMM) in patients with malignant pleural mesothelioma: A multicenter Italian Phase II Study (SITMP-1). Lung Cancer. 2006;52:199-206.