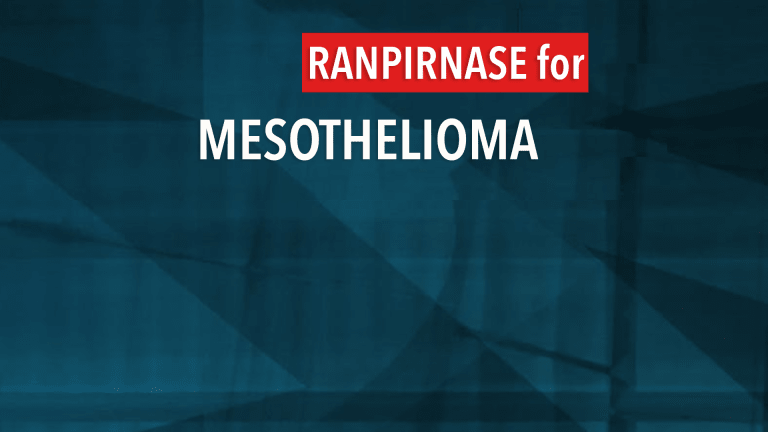 Ranpirnase Effective in Malignant Mesothelioma
Ranpirnase Effective in Malignant Mesothelioma
According to a recent article published in the Journal of Clinical Oncology, ranpirnase (Onconase) appears to be an effective novel treatment option for malignant mesothelioma.
Malignant pleural mesothelioma is a rare cancer that develops in the tissues that comprise the lining of a lung (pleura). The majority of individuals who develop malignant pleural mesothelioma have experienced chronic exposure to asbestos during the course of their lives. This type of cancer is considered to be resistant to standard therapies, which consist of surgery, chemotherapy and/or radiation therapy. The majority of available chemotherapeutic regimens produce an anti-cancer response rate of approximately 20% or less, with a minority of patients surviving one year following diagnosis. Due to these poor survival statistics, researchers are continually evaluating new treatment approaches in an ongoing attempt to improve upon present treatment outcomes.
Ranpirnase, a ribonuclease, is a novel therapeutic agent that is entering the final phases of clinical trials prior to FDA approval for evaluation of the treatment of malignant mesothelioma. Ranpirnase is a small protein that is isolated from the eggs of Rana pipiens – a leopard frog. Ranpirnase initially binds to the surface of cells in the body and becomes internalized into the cells. It works by degrading a protein (tRNA) that is produced more readily when cells are growing and replicating. The irreparable degradation of tRNA can directly kill a cell or can signal a cell to stop replicating. Since cancer cells replicate more frequently and tend to have higher levels of tRNA than normal cells in the body, they are more susceptible to the effects of ranpirnase.
A multi-institutional clinical trial was recently conducted to evaluate ranpirnase in 81 patients with malignant mesothelioma. All patients had cancer that was considered inoperable and was progressing at the time of initiation of the trial. Thirty-five patients experienced a stabilization of their cancer and six patients had a regression of their cancer. Survival rates for all patients at one and two years following therapy were 42% and 26.8%, respectively. Importantly, the 41 patients who responded to therapy had one and two year survival rates of 61% and 40.8%, respectively. Ranpirnase was given once a week on an outpatient basis. Treatment was generally well tolerated, with the most common side effects being weakness, swelling of the hands and feet and joint pain.

These results indicate that ranpirnase appears to be an effective and safe treatment option for patients with malignant mesothelioma. This is an important finding as patients with progressive and/or inoperable malignant mesothelioma have limited treatment options and dismal long-term outcomes following standard therapies. A clinical trial is currently ongoing to directly compare doxorubicin, a commonly used chemotherapy agent, to ranpirnase plus doxorubicin in patients with inoperable or progressing malignant mesothelioma. Patient with malignant mesothelioma may wish to speak with their physician about the risks and benefits of participation in a clinical trial further evaluating ranpirnase. Sources of information regarding ongoing clinical trials include the National Cancer Institute (cancer.gov).
(Mikulski S, Costanzi J, Vogelzang N, et al. Phase II trial of single weekly intravenous dose of ranpirnase in patients with unresectable malignant mesothelioma. Journal of Clinical Oncology. 2002;20:274-281.)