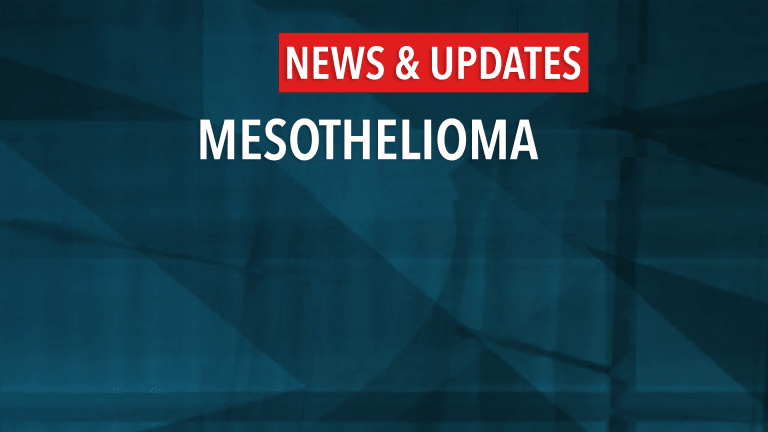 Oxaliplatin Plus Raltitrexed Active in Mesothelioma
Oxaliplatin Plus Raltitrexed Active in Mesothelioma
According to a recent article published in the Journal of Clinical Oncology, the chemotherapy combination consisting of oxaliplatin (Eloxatin®) plus raltitrexed (Tomudex®) appears to provide activity in the treatment of malignant mesothelioma.
Malignant pleural mesothelioma is a rare cancer that develops in the tissues that comprise the lining of a lung (pleura). The majority of individuals who develop malignant pleural mesothelioma have experienced chronic exposure to asbestos during the course of their lives. This type of cancer is considered to be resistant to standard therapies, which consist of surgery, chemotherapy and/or radiation therapy. Patients with advanced mesothelioma are often treated with chemotherapy in order to improve quality of life or duration of survival. Most patients who are treated with chemotherapy receive treatment with either single agent Platinol® (cisplatin) or a combination containing Platinol® such as Platinol® and Alimta® (pemetrexed). Patients who do not initially respond to, or who stop responding to Platinol® are left with few therapeutic options.
Researchers from France recently conducted a clinical trial to evaluate the combination of oxaliplatin plus raltitrexed in patients with malignant mesothelioma. This trial involved 55 patients who had not received previous therapy and 15 patients who had stopped responding to standard therapy including Platinol®. Two-thirds of the patients had advanced disease. Patients received treatment with oxaliplatin/raltitrexed on an outpatient basis. Following therapy, 20% of patients experienced a partial anti-cancer response and 46% of patients experienced a stabilization of their disease. The average duration of survival was 49 weeks in patients who had stopped responding to prior Platinol® and 31 weeks for previously untreated patients. Survival at one year following was 26%. There were no deaths related to treatment and the majority of side effects were reported as mild to moderate in severity.
These researchers concluded that oxaliplatin plus raltitrexed appears to be active in the treatment of advanced mesothelioma. This may prove to be particularly important for patients who have stopped responding to Platinol®. A clinical trial comparing Platinol® with or without raltitrexed in the treatment of advanced mesothelioma is currently underway. Patients with mesothelioma may wish to speak with their physician about the risks and benefits of treatment with oxaliplatin/raltitrexed or the participation in a clinical trial evaluating other therapeutic options. Sources of information regarding ongoing clinical trials include the National Cancer Institute (cancer.gov).
Reference: Fizazi K, Doubre H, Le-Chevalier T, et al. Combination of raltitrexed and oxaliplatin is an active regimen in malignant mesothelioma: results of a phase II study.
Journal of Clinical Oncology. 2003;21: 349-354.