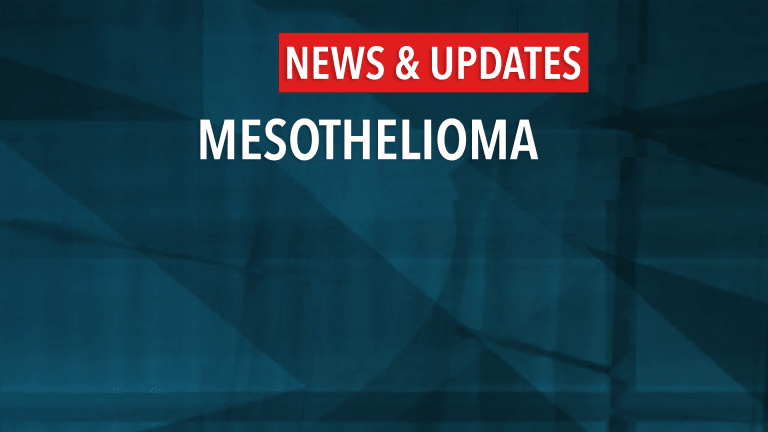 MVP Does Not Provide Benefit in Mesothelioma Patients
MVP Does Not Provide Benefit in Mesothelioma Patients
The chemotherapy agent Navelbine® (vinorelbine) may improve outcomes for patients with malignant pleural mesothelioma. However, the combination chemotherapy regimen referred to as MVP (mitoxantrone, vinblastine, and cisplatin) does not provide any benefit for patients with this disease. These results were published in The Lancet.
Malignant pleural mesothelioma (MPM) is a rare cancer that develops in the tissue that covers the lungs and lines the interior of the chest. It is often caused by chronic exposure to asbestos. The majority of patients are not diagnosed until the disease has progressed to an advanced stage; treatment with surgery or radiation is not an option at this stage. Patients with this disease often experience symptoms such as shortness of breath, cough, pain, fatigue, and an inability to eat, which lessen their quality of life.
Mesothelioma is fairly resistant to most therapies, including surgery, chemotherapy, and radiation therapy. Therefore, finding a chemotherapy regimen or new therapeutic approaches that can improve quality of life or survival is essential for improving care for patients with this disease. Prior results have indicated that the chemotherapy combination consisting of Alimta® (pemetrexed) plus a platinum compound provides significant anticancer activity in patients with newly diagnosed mesothelioma. Researchers continue to evaluate different chemotherapy agents for the treatment of this disease.
Researchers from England recently conducted a clinical trial to evaluate the effectiveness of MVP and vinorelbine in the treatment of MPM. This trial included 409 patients from 76 medical institutions in England and two in Australia. Patients were treated with either active symptom control (ASC), consisting of steroids, pain relievers, and agents to dilate lung passages; radiation therapy to relieve pain or pressure; ASC plus MVP; or ASC plus Navelbine.
• There was no evidence that the addition of MVP provided survival benefit compared to ASC alone.
• The addition of Navelbine to ASC provided a survival benefit compared with ASC alone, although this benefit was minimal.
• No benefit in terms of quality of life was achieved with the addition of chemotherapy to ASC.
The researchers concluded that the addition of MVP to ASC did not provide any benefit compared with ASC only for patients with MPM. However, results from the addition of Navelbine to ASC "suggested that vinorelbine merits further investigation." Further evaluation of Navelbine is necessary to confirm these results. In addition, direct comparisons of Navelbine to Alimta are necessary to determine the potential clinical benefit of Navelbine among patients with MPM.
Patients with MPM may wish to speak with their physician regarding their individual risks and benefits of participating in a clinical trial further evaluating chemotherapy or other novel therapies. Sources of information regarding ongoing clinical trials include the National Cancer Institute (www.cancer.gov).
Reference: Muers M, Stephens R, Fisher P, et al. active symptom control with or without chemotherapy in the treatment of patients with malignant pleural mesothelioma (MS01): a multicentre randomised trial. The Lancet. 2008; 371:1685-1694.