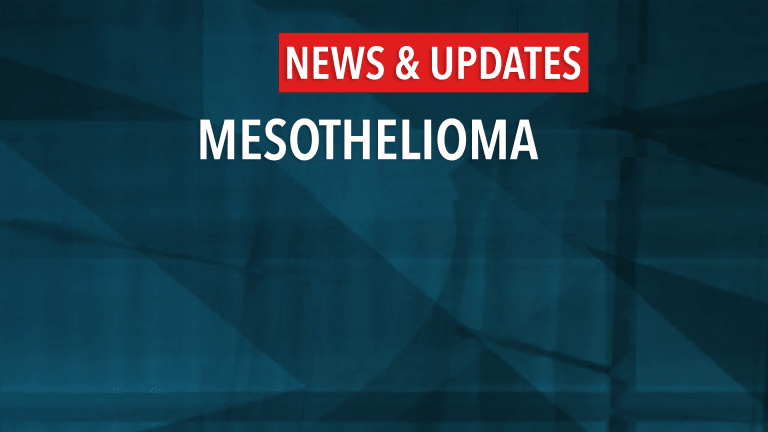 Model Remains the Standard for the Prognosis of Malignant Pleural Mesothelioma
Current Model Remains the Standard for the Prognosis of Malignant Pleural Mesothelioma
A recent article in the Journal of Clinical Oncology reports that the current model for determining the prognosis for malignant pleural mesothelioma is a valid tool for determining high and low-risk patients for clinical trial participation.
Mesothelioma is a rare form of cancer in which cancer cells arise within the lining of the chest wall. It is often associated with asbestos exposure and may develop many years after exposure. Prognosis depends on how early the cancer is found and how aggressively it is treated. Treatment may include surgery, chemotherapy and radiation. Malignant pleural mesothelioma (MPM) carries a poor prognosis because it is often resistant to chemotherapy.
The current model for determining the prognosis for MPM is known as the European Organization for Research and Treatment of Cancer Model (EORTC) and is used to predict survival in MPM. This model incorporates age, sex, cellular features, probability of diagnosis and the patient's white blood count. In this recent trial, researchers sought to test the accuracy of this model in patients who were undergoing treatment in phase II clinical trials at St. Bartholomew's hospital in London.
During the study, 145 participants were divided into high and low-risk groups based on their EORTC prognostic scores (EPS). The patients were treated with various types of chemotherapy based on the clinical trial in which they were enrolled. Extensive analysis revealed that EPS was not associated with an objective tumor response; however, the EPS was found to be an accurate indicator for determining high and low-risk categories of patients.
Researchers concluded that the EPS system is a valid tool for determining high and low-risk subgroups for analysis in clinical trials. Patients are encouraged to speak to their physician regarding treatment options and participation in clinical trials. Sources of information regarding ongoing clinical trials include the National Cancer Institute (cancer.gov).
Reference: Fennell D, Parmar A, et al. Statistical Validation of the EORTC Prognostic Model for the Malignant Pleural Mesothelioma Based on Three Consecutive Phase II Trials. Journal of Clinical Oncology. 2005; 23: 184-189.