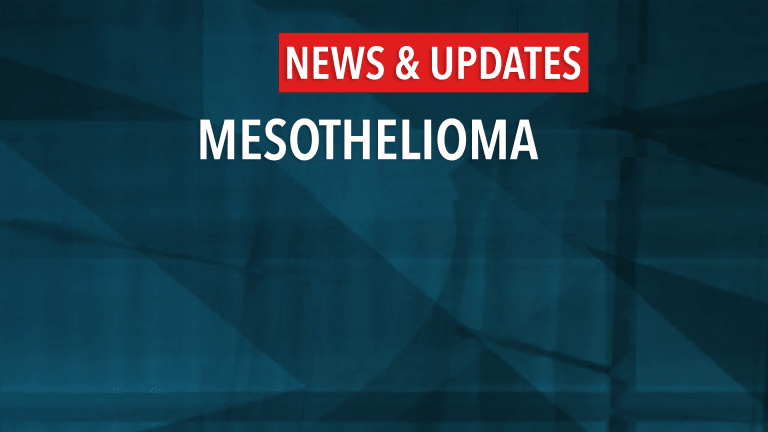 Edatrexate Provides Anti-Cancer Activity in Persons w/ Malignant Mesothelioma
Edatrexate Provides Moderate Anti-Cancer Activity in Persons with Malignant Mesothelioma
Recent findings show that edatrexate as the primary (first) chemotherapy treatment in persons with malignant mesothelioma is a moderately active anti-cancer agent, producing overall response rates of 25%.
Malignant mesothelioma is a rare cancer of the lining of the lung (called the pleura) or the lining of the abdomen (called the peritoneum). Many persons who develop malignant mesothelioma have worked at a job at which they were exposed to asbestos. This cancer may be treated with surgery, radiation therapy, or chemotherapy to relieve the symptoms of the disease and to prolong survival time. Researchers continue to study new treatments in an effort to improve the quality of life and survival for persons with this disease. Researchers from the Cancer and Leukemia Group B combined 2 drugs, edatrexate and leucovorin, for treatment of malignant mesothelioma. Edatrexate is an agent that is related to 1 of the more commonly used chemotherapy drugs, methotrexate. Edatrexate is used to fight the cancer, while leucovorin is used to protect healthy cells from the side effects of edatrexate.
Sixty persons with malignant mesothelioma who had not been previously treated received various doses and schedules of edatrexate; some also received leucovorin, some did not. The overall response rate was 25% in those who received edatrexate only, and only 16% in those who received both edatrexate and leucovorin.
The researchers concluded that edatrexate has moderate anti-cancer activity in persons with malignant mesothelioma. They also noted that leucovorin effectively protected against side effects, but also appeared to interfere with the effectiveness of edatrexate. Future studies are needed to investigate the effectiveness of edatrexate in combination with other drugs. Persons with mesothelioma may wish to talk with their doctor about the risks and benefits of an edatrexate combination regimen, or of participating in a clinical trial in which other new treatments are being studied. (Cancer, Vol 86, No 10, pp 1985-1991, 1999).