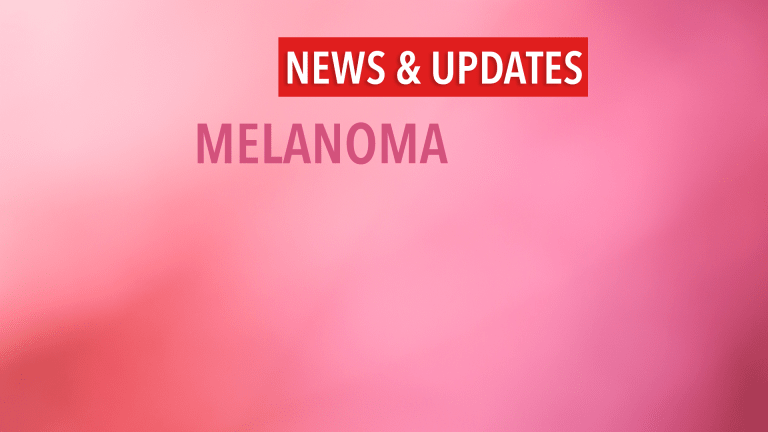 Tumor-Infiltrating Lymphocyte Therapy for Melanoma
Tumor Infiltrating Lymphocyte "TIL" therapy is a promising immunotherapy for advanced melanoma.
by Dr. C.H. Weaver M.D. 8/2021
Adoptive cell transfer with autologous tumor-infiltrating lymphocytes (TILS) show promising overall response rates for the treatment of recurrent/refractory melanoma according to clinical trial results presented at the 2021 ASCO Annual Meeting. Initial data show that investigational therapy with TIL had a 38% overall response rate among patients with advanced melanoma.
TILS are a type of adoptive cellular therapy (ACT) in which T cells are isolated based on their tumor-specific antigen recognition and then expanded outside the body and infused back into the patient.
Tumor infiltrating lymphocytes and ones that have penetrated the stroma of a tumor and are largely comprised of T cells that are actively engaged in fighting the cancer. TIL therapy requires that a tumor biopsy be taken from the patient from which DNA isolated from the tumor can be sequenced to identify mutations found in the cancer. TILs that can recognize the cancer are then selected, expanded, and transfused back into the patient.
In the current trial a patient's TILs from a resected portion of their tumor were isolated and then expanded in a laboratory. The manufacturing process takes 22 days. Patients then underwent lymphodepletion for 1 week with cyclophosphamide or fludarabine and were given up to six doses of interleukin-2 after the infusion of the Lifileucel TILS. The entire process takes about 2 weeks from the start of lymphodepletion, followed by TIL infusion, ending with adjuvant interleukin-2 therapy.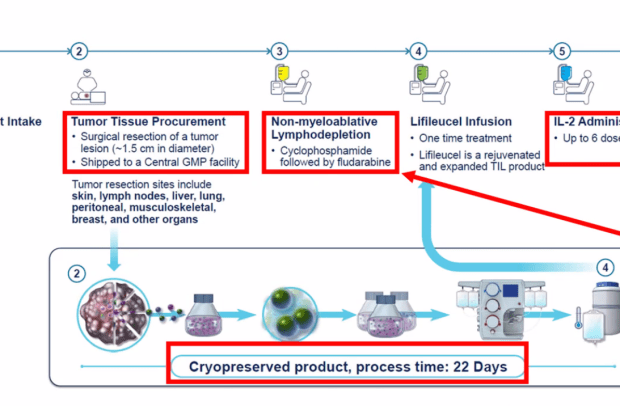 Sixty-six patients with stage IIIC or stage IV metastatic melanoma were infused with cryopreserved Lifileucel TILs. Patients had previously received an average of 3 previous therapies before infusion, including PD-1 inhibitors (100%), CTLA-4 inhibitors (80%) and BRAF/MEK inhibitors (23%).
Overall, 36% of patients have responded to treatment including two complete responses and 22 partial responses. Twenty-nine patients (44%) had stable disease, for a disease control rate of 80%. 
At 33.1 months follow-up with a data cutoff of April 22, 2021, the median duration of response  still had not been reached (range, 2.2-38.5+ months).
The most common side effects included thrombocytopenia, chills, anemia, and febrile neutropenia. Overall 95% of patients experienced side effects and two patients died from complications of treatment.
Long-term follow up data from metastatic melanoma patients treated with TIL suggests a greater survival benefit when patients had not previously received anti-PD-1 immunotherapy or targeted molecular therapy. The study reported the outcomes of 226 patients who underwent autologous TIL therapy and found that the response rate was 51% with a median overall survival time of 21 months. The estimated five-year survival rate was 35%. Researchers are asking the question of whether harvesting the TILs from patients' tumors prior to anti-PD-1 or targeted therapy — then preserving them for future treatment in the event of disease progression — could overcome the decreased survival benefit they observed.5
Melanoma is known to be responsive to immunotherapy in general in these data suggest that treatment with TILS is very encouraging and could represent an advance in the overall management for individuals with advanced melanoma - however the optimal timing remains an unanswered question.
Keep Current With The CancerConnect Newsletter
References:
Sarnaik A, et al. Abstract 2518. Presented at: ASCO Annual Meeting; May 31-June 4, 2019; Chicago.
Jazaeri AA, et al. Abstract 2538. Presented at: ASCO Annual Meeting; May 31-June 4, 2019; Chicago.
Long-term follow up of lifileucel (LN-144) cryopreserved autologous tumor infiltrating lymphocyte therapy in patients with advanced melanoma progressed on multiple prior therapies.
Chesney JA, Larkin JMG, Kirkwood JM, et al. Lifileucel (LN-144), a cryopreserved autologous tumor infiltrating lymphocyte (TIL) therapy in patients with advanced (unresectable or metastatic) melanoma: durable duration of response at 28 month follow up. Presented at: 2021 American Association for Cancer Research Annual Meeting; April 10-15, 2021; Virtual. Abstract CT008.