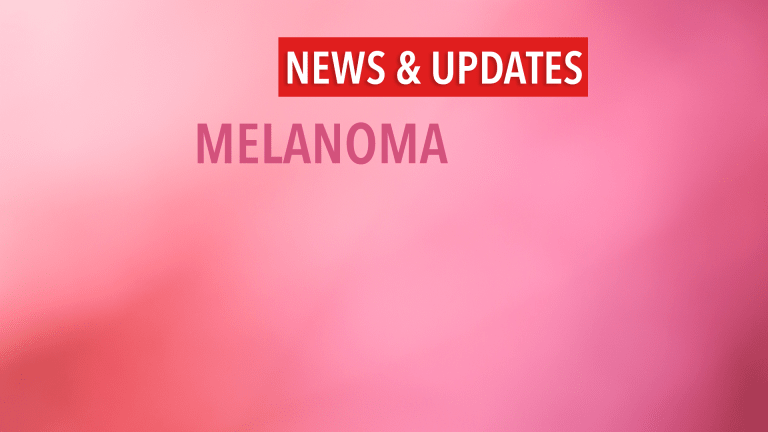 Targeting BRAF & MEK - Treatment of Melanoma
BRAF-MEK-Immunotherapy combination improves survival in stage III and advanced melanoma with V600E and V600K mutations.
by C.H. Weaver M.D. Medical Editor updated 8/2020
Patients with advanced melanoma live twice as long without disease progression when they are treated with combinations of the BRAF and MEK inhibitor precision cancer medicines compared to treatment with chemotherapy or a single BRAF or MEK inhibitor. (1-12) Recent research suggests that the addition of a checkpoint inhibitor immunotherapy medication may further improve outcomes. (14)
About Melanoma
Metastatic melanoma refers to skin cancer that has spread from its site of origin to distant and/or several locations in the body. Historically, advanced melanoma has had a poor outlook and only few patients achieve long-term survival. However, recent treatments that have been targeted towards specific genetic mutations, as well as those that stimulate the immune system have resulted in significantly improved outcomes for many patients with this disease. There are about 200,000 individuals with advanced melanoma diagnosed worldwide each year, approximately half of which have the BRAF mutation, a key target in the treatment of metastatic melanoma.
BRAF & MEKKinase Inhibitors
The BRAF and MEK genes are known to play a role in cell growth, and mutations of these genes are common in several types of cancer. Approximately half of all melanomas carry a specific BRAF mutation known as V600E. This mutation produces an abnormal version of the BRAF kinase that stimulates cancer growth. Some melanomas carry another mutation known as V600K. BRAF and MEK inhibitors block the activity of the V600E and V600K mutations respectively (2-6) and the combination of a BRAF and MEK Inhibitor is standard treatment for individuals with advanced melanoma and these cancer driving mutations.
BRAFinhibitors
MEKinhibitors
Mekinist®(trametinib) MEK V600 kinase inhibitor
Cotellic® (cobimetinib)MEK V600 kinase inhibitor
Mektovi (binimteinib) MEK V600 kinase inhibitor
BRAF - MEK + Immunotherapy for Advanced Melanoma
BRAF V600E mutated advanced melanoma patients survive longer without their cancer progressing when they are treated with a combination of two precision cancer medicines that block the BRAF mutation. The addition of immunotherapy with Keytruda (pembrolizumab) or Tecentriq® (atezolizumab), immune checkpoint inhibitor drugs to a BRAF and MEK inhibitor as initial treatment for advanced disease further delays cancer progression compared to treatment with a BRAF and MEK inhibitor alone. (13,14) Patients should discuss the risks and benefits of adding Immunotherapy to the BRAF and MEK Inhibitor combination with their treating physician.
BRAF-MEK Combination Therapy for Advanced Melanoma
Tafinlar® + Mekinist® Demonstrate Long Term Survival Benefit for BRAF Mutation-Positive Metastatic Melanoma
Metastatic melanoma patients with the BRAF V600 mutation treated with the combination of Tafinlar® (dabrafenib) + Mekinist® (trametinib) can experience long term cancer free survival. (5,6)
Tafinlar and Mekinist are both precision cancer medicines referred to as kinase inhibitors. They block the action of certain biochemical pathways involved in the growth and spread of cancer cells. Treatment with Tafinlar targets the BRAF V600E mutation and Mekinst targets the BRAF V600E or V600K mutations. When Tafinlar is used with Mekinist, the combination has been shown to slow tumor growth more than either drug alone. The combination of Combination of a BRAF and a MEK inhibitor appears to decrease the emergence of disease resistance that occurs in patients treated with BRAF inhibition alone. The combination of Taflinar plus Mekinist significantly improves survival compared to treatment with single agent Taflinar, and the combination of Zelboraf and Cotellic appear to delay cancer recurrence when compared to Tafinlar.
The COMBI-d clinical trial was a comparative clinical study that included 423 patients with advanced melanoma who had the BRAFV600E/K mutation(s). Approximately half of the patients were treated initially with Tafinlar as a single agent, while the other half was treated with Tafinlar + Mekinist. The results of the clinical trial have been updated 5 years from initiation of treatment.
Survival was 28% for patients treated with the combination versus 21% for those treated with Tafinlar alone.
Survival without progression of cancer was 13% for patients treated with the combination compared to only 3% for those treated with Tafinlar.
The COMBI-v clinical trial also directly compared a combination: Tafinlar plus Mekinist to Zelboraf monotherapy in 704 patients with BRAF V600E/K mutation-positive unresectable or metastatic melanoma. All outcomes favored the combination. The estimated three-year survival rate is 45% for patients receiving the combination of Tafinlar plus Mekinist compared with 31% of patients who received Zelborar. (7)
Cotellic® + Zelboraf® Combination
The treatment combination consisting of Cotellic® (cobimetinib) plus Zelboraf® (vemurafenib) also improves overall survival for patients with advanced, BRAF (V600) mutation-positive melanoma.
Cotellic and Zelboraf block different cellular mechanisms to disrupt the over activity of BRAF V600 mutations. Zelboraf is FDA approved as a single agent for the treatment of advanced melanoma that has a BRAF V600 mutation, and Cotellic is approved for the same indication, with the exception that it has to be used in combination with Zelboraf.
A clinical trial was performed to directly compare the effectiveness of the combination of Cotellic + Zelboraf to placebo (inactive substitute)/Zelboraf in 495 patients with advanced melanoma that is BRAF V600 mutation-positive.
Median progression-free survival was 12.3 months for patients treated with Cotellic/Zelboraf, compared to only 7.2 months for those treated with placebo/Zelboraf.
Medial overall survival was 22.2 months for patients treated with Cotellic/Zelboraf, compared to only 17.4 months for those treated with placebo/Zelboraf.
Cotellic combined with Zelboraf can also be used as a standard first-line approach to improve survival in patients with advanced BRAFV600-mutant melanoma.(8)
Tafinlar® + Mekinist® for Adjuvant Treatment of BRAF V600-mutant Stage III Melanoma
The US Food and Drug Administration has also approved Tafinlar® in combination with Mekinist® for the adjuvant treatment of patients with stage III melanoma with BRAF V600E or V600K mutations, as detected by an FDA-approved test.1
The approval was based on results from COMBI-AD clinical trial in 870 patients with stage III BRAF V600E/K mutation-positive melanoma treated with Tafinlar + Mekinist after complete surgical resection. Treatment with the combination therapy significantly reduced the risk of disease recurrence or death by 53% as compared to individuals not treated with adjuvant therapy. At a median follow-up of 2.8 years, the estimated 3-year rate of relapse-free survival was 58% in the combination-therapy group and 39% in the placebo. The 3-year overall survival rate was 86% in the combination-therapy group compared to 77%.(12)
​Braftovi + Mektovi
Two newer kinase inhibitors Braftovi (encorafenib) and Mektovi (binimetinib) have also been compared to single-agent Zelboraf or Braftovi in 577 patients with locally advanced, unresectable, or metastatic melanoma.
The overall response to treatment was 63% with the combination, 51% with Braftovi, and 40% with Zelboraf. After a median follow-up of 16.7 months, there was a 7.6-month absolute difference in favor of the combination compared to treatment with Zelboraf alone.
Activity as Single Agents
Zelboraf (Vemurafenib) Superior to Chemotherapy - Approved for Melanoma
To evaluate Zelboraf in the treatment of advanced melanoma, researchers conducted a Phase III clinical trial among 675 patients with previously untreated, inoperable, Stage IIIC or Stage IV melanoma. The study was restricted to patients with a V600E mutation in the BRAF gene. Study participants were treated with either Zelboraf or the chemotherapy drug dacarbazine. Patients treated with Zelboraf had better progression-free and overall survival. The most common side effects of Zelboraf were joint pain, rash, hair loss, fatigue, photosensitivity, and nausea.
Based on these and other results, the FDA approved Zelboraf for the treatment of patients with unresectable or metastatic melanoma that carries the V600E mutation of BRAF.(9,10)
Side Effects of BRAF - MEK Inhibitors
The most common side effects of treatment appear to be joint pain, rash, sensitivity to light, fatigue, and hair loss.
Squamous cell skin cancer was diagnosed in 26 percent of patients. Increased rates of squamous cell skin cancer have also been reported in other studies of Zelboraf, and patients should be aware of this risk. Squamous cell skin cancer usually does not spread to other parts of the body and can be treated with surgery.
Strategies to Improve Treatment of BRAF Mutated Melanoma
PLX8394, is a 'next generation' BRAF inhibitor, designed to avoid BRAF resistance and work against cancers with a wider range of BRAF mutations. A preliminary report of 45 patients with refractory BRAF mutated cancers treated with PLX8394, taken twice a day by mouth, with or without another drug called cobicistat shows that the addition of cobicistat resulted in doubling to tripling the level of PLX8394 in the blood and 10 of 45 patients (22%) with advanced, refractory, cancer had a partial response to PLX8394. (16)
References:
[Dummer R et al "Encorafenib plus binimetinib versus vemurafenib or encorafenib in patients with](http://www.thelancet.com/journals/lanonc/article/PIIS1470-2045(18%2930142-6/fulltext) [BRAF-mutant melanoma (COLUMBUS): A multicenter, open-label, randomized phase III trial"](http://www.thelancet.com/journals/lanonc/article/PIIS1470-2045(18%2930142-6/fulltext) [Lancet Oncol2018; DOI:10.1016/S1470-2045(18)30161-X.](http://www.thelancet.com/journals/lanonc/article/PIIS1470-2045(18%2930142-6/fulltext)
Chapman PB, Hauschild A, Robert C, et al. Improved survival with vemurafenib in melanoma with BRAF V600E mutation. New England Journal of Medicine. 2011;364(26):2507-16. doi: 10.1056/NEJMoa1103782.
Hauschild A, Grob JJ, Demidov LV, et al. Dabrafenib in BRAF-mutated metastatic melanoma: a multicenter, open-label, phase 3 randomized controlled trial. Lancet. 2012;380(9839):358-65. doi: 10.1016/S0140-6736(12)60868-X.
Flaherty KT, Robert C, Hersey P, et al. Improved survival with MEK inhibition in BRAF-mutated melanoma. New England Journal of Medicine. 2012;367(2):107-14. doi: 10.1056/NEJMoa1203421.
Long GV, Eroglu Z, Infante J, et al. 5-year overall survival (OS) update from a phase 2, open-label trial of dabrafenib (D) and trametinib (T) in patients (pts) with BRAF V600-mutant unresectable or metastatic melanoma (MM). Abstract #9505. 2017 American Society of Clinical Oncology (ASCO) Annual Meeting, June 2-6, 2017, Chicago, IL, USA.
news.cancerconnect.com/fda-approves-mekinist-in-combination-with-tafinlar-for-advanced-melanoma/
Robert. C, Karaszewska b, Schachter J, et al. Three-year estimate of overall survival in COMBI-v, a randomized phase 3 study evaluating first-line dabrafenib (D) + trametinib (T) in patients (pts) with unresectable or metastatic BRAF V600E/K-mutant cutaneous melanoma. Abstract #LBA40. 2016 European Society of Medical Oncology (ESMO) Annual Meeting, Copenhagen, Denmark.
Ascierto P, McArthur G, Dreno B, et al. Cobimetinib combined with vemurafenib in advanced BRAF V600-mutant melanoma (coBRIM): updated efficacy results from a randomised, double-blind, phase 3 trial. The Lancet Oncology. 2016;17 (9): 1248-1260.
US Food and Drug Administration. FDA news release. FDA approves Zelboraf and companion diagnostic test for late-stage skin cancer. August 17, 2011.
Sosman JA, Kim KB, Schuchter L et al. Survival in BRAF V600-mutant advanced melanoma treated with vemurafenib. New EnglandJournal of Medicine. 2012;366:707-714.
Ascierto PA, Minor D, Ribas A, et al. Phase II trial (BREAK-2) of the BRAF inhibitor dabrafenib (GSK2118436) in patients with metastatic melanoma. Journal of Clinical Oncology. Published early online August 5, 2013. doi: 10.1200/JCO.2013.49.8691
Roche announces positive Phase III study results for Tecentriq plus Cotellic and Zelboraf in people with previously untreated BRAF V600 mutation-positive advanced melanoma
news.cancerconnect.com/melanoma/three-drug-combination-improves-outcomes-of-braf-v600e-advanced-melanoma-GBDSifpSFkCUpM0VipvxTg/
EORTC [European Organization for Research and Treatment of Cancer, NCI [National Cancer Institute], AACR [American Association for Cancer Research]. The Symposium takes place online on 24-25 October. Abstract no: 5LBA, "Interim results from a phase 1/2 precision medicine study of PLX8394 – a next generation BRAF inhibitor", by Filip Janu et al, presented in New Drugs on the Horizon, channel 1, 21:00-22:45 CET, Sunday