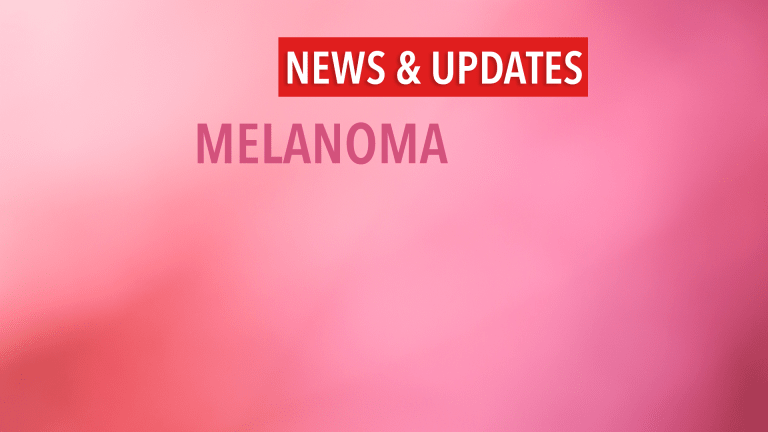 PV-10 Treatment of Melanoma Lesions
PV-10 Injection is promising treatment for advanced melanoma lesions.
by Dr. C.H. Weaver M.D. updated 5/2020
Among patients with melanoma that has spread to other areas of the skin or areas just beneath the skin, injection of the investigational drug PV-10 directly into the melanoma produced promising results in a Phase II clinical trial. (1-4)
Melanoma is the most deadly type of skin cancer. Each year in the United States, there are roughly 68,000 new diagnoses of melanoma and 8,700 deaths from the disease. The most common sites of metastatic disease in melanoma are the lung, liver, bone, and brain. Melanoma can also spread to other areas of the skin (cutaneous metastases) or to areas just below the skin (subcutaneous metastases).
About PV-10
PV-10 is a drug that is being studied in clinical trials in cutaneous and subcutaneous melanoma metastases. PV-10 is a derivative of Rose Bengal, which is a staining agent that has been used to assess eye damage by ophthalmologists for decades. Preclinical studies have indicated that Rose Bengal may provide anticancer activity, and early studies in melanoma have indicated that PV-10 may be safe and active. (4)In addition, previous studies have suggested that PV-10 injected directly into melanoma lesions may also result in a "bystander" response in lesions that have not been injected.
In a Phase II clinical study, researchers evaluated 80 patients with advanced melanoma. Patients had PV-10 injected into one to 20 of their cutaneous, subcutaneous, or nodal metastases. Following initial treatment, patients could have new lesions or unresponsive lesions treated again at eight, 12, or 16 weeks with a final follow-up at 52 weeks. In addition, one to two lesions could be left untreated to assess for a bystander response.
49% of patients experienced an objective response (a reduction in detectable cancer). Among patients who responded to treatment, median progression-free survival was 11.7 months.
71% of patients achieved stable disease or better in the lesions that were injected with PV-10. Some untreated lesions also responded, supporting the idea of a bystander effect.
Side effects were typically mild to moderate and included injection site pain, discoloration, and inflammation with only a small percentage of patients experiencing nausea, diarrhea, and difficulty swallowing.
The researchers concluded that PV-10 shows promise in patients with advanced melanoma with subcutaneous or cutaneous lesions. Additional studies are warranted to further define the role of this strategy.
In a follow up report the researchers confirmed that the overall response rate to treatment was 51%, and the complete response rate was 26 %. Median time to response was 1.9 months, and median duration of response was 4.0 months, with 8 % of patients having no evidence of disease after 52 weeks. Overall the therapy was well tolerated with no significant treatment-associated side effects reported.
The study authors concluded that intralesional PV-10 yielded durable local control with high rates of complete response. Toxicity was confined predominantly to the injection site and this intralesional approach for local disease control could be complementary to current and investigational treatments for melanoma.
References:
Agarwala AA, Thompson JF, Smithers BM, et al. Chemoablation of Metastatic Melanoma with PV-10.Presented at the Melanoma 2010 Congress. November 4-7, 2010. Sydney, Australia*.*
Thompson JF, Agarwala S, Smithers M, et al. Phase 2 Study of Intralesional PV-10 in Refractory Metastatic Melanoma. Annals of Surgical Oncology, October 2014.
Thompson JF, Hersey P, Wachter E. Chemoablation of metastatic melanoma using intralesional Rose Bengal. Melanoma Res. 2008;18:405-11.
Agarwala SS, Thompson JF, Smithers BM, et al. Chemoablation of metastatic melanoma with rose bengal (PV-10). J Clin Oncol. 2010;28:15. (Abstract 8534).