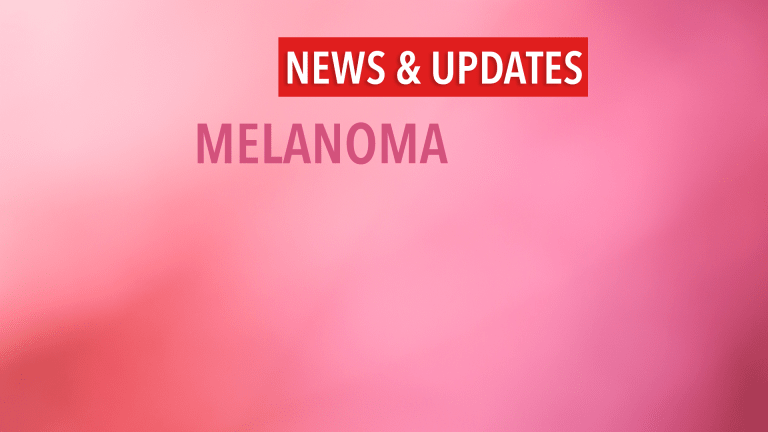 Opdivo - Yervoy Immunotherapy Prolongs Survival in Advanced Melanoma
ASCO 2021 Update 6.5 year follow up continues to demonstrate Yervoy + Opdivo superiority-better understanding of side effects is emerging.
by Dr. C.H. Weaver M.D. updated 6/2021
Superior overall survival data from the CheckMate clinical trials evaluating combination immunotherapy with Yervoy (ipilumamab) and Opdivo (nivolumab) was initially reported in 2017 and was updated at the ASCO 2021 Annual Meeting. Updated trial results continue to demonstrate improved survival compared to Sutent or either drug administered alone. Over 50% of patients with advanced melanoma can expect to survive at least 5 years which is one of the more dramatic treatment improvements in all of oncology in the last decade.  In addition a better understanding of significant side effects is becoming clearer.
Investigators now report that nearly half the patients who received the Opdivo-Yervoy combination are alive a median of six and a half years after treatment compared to 42% of those treated with Opdivo alone, and 23% with Yervoy alone. 
Median survival is 72.1 months, or just over six years for those receiving the combination compared to 36.9 months, and for those treated with Opdivo alone. The combination may be justified in patients with BRAF mutations but not necessarily all patients. A more tailored approach to treatment is emerging.1-7
About Opdivo
Opdivo is a programmed death-1 (PD-1) immune checkpoint inhibitor that is designed to uniquely harness the body's own immune system to help restore anti-tumor immune response. By harnessing the body's own immune system to fight cancer, Opdivo has become an important treatment option across multiple cancers.
About Yervoy (ipilimumab)
Yervoy is a monoclonal antibody that targets a molecule known as CTLA4. CTLA4 is found on the surface of T cells and is thought to inhibit immune responses. By targeting this molecule, Yervoy may enhance the immune system's response against tumor cells. Yervoy was approved in March 2011 for the treatment of melanoma and appears active in a number of cancers.
The most common adverse reactions (reported in at least 20% of patients treated with the combination) were fatigue, rash, diarrhea, musculoskeletal pain, pruritus, nausea, cough, pyrexia, arthralgia, and decreased appetite.
About Melanoma
Melanoma is less common than non-melanoma skin cancer, but tends to be much more aggressive. Of the more than one million new diagnoses of skin cancer each year, roughly 68,000 involve melanoma. More than 8,000 people die of melanoma each year in the United States. What makes melanoma so dangerous is that it is more likely than other types of skin cancer to spread (metastasize) to other parts of the body. Melanoma can occur anywhere on the body. The first signs of melanoma may be a mole that changes in appearance, bleeds, or has more than one color or an irregular shape.
In addition to surviving longer, individuals with advanced melanoma treated with Opdivo and Yervoy were more likely to respond to treatment, more likely to have a complete disappearance of their cancer, and experience a delay to cancer progression.
Opdivo plus Yervoy was the first immunotherapy combination to demonstrate an overall survival advantage over Sutent (sunitinib), the historical standard of care for the treatment of intermediate- and poor-risk patients with advanced renal cell carcinoma,
CheckMate 214: Opdivo + Yervyo vs Sutent (sunitinib)
Four-year data show superior, long-term survival benefit with Opdivo + Yervoy in patients with previously untreated advanced or metastatic renal cell carcinoma (RCC) CheckMate -214 is a Phase 3, clinical trial that directly compared the combination of Opdivo plus Yervoy to Sutent in 1096 patients with previously untreated advanced or RCC.6
10% of patients treated with Opdivo plus Yervoy achieved a complete response compared to 1% of patients treated with Sutent.
Median survival duration was not reached for patients treated with Opdivo plus Yervoy compared to 38.4 months for Sutent. Four-year survival rates were 53.4% and 43.3%, respectively.
Median survival duration was 48.1 months for intermediate- and poor-risk patients treated with Opdivo plus Yervoy versus 26.6 months for Sutent.
CheckMate 067: Opdivo + Yervoy vs Yervoy alone
CheckMate 067 is a Phase 3, double-blind, randomized clinical trial that evaluated the combination of Opdivo plus Yervoy or Opdivo monotherapy versus Yervoy monotherapy in 945 patients with previously untreated advanced melanoma. Patients were treated until progression or unacceptable toxic effects.

The 6.5-year overall survival for the combination treatment is 49%, compared with 42% for Opdivo, and 23% for Yervoy supporting the rationale for combining them together. The two anti–PD-1 drugs work at different stages of T-cell activation; CTLA-4 in priming phase and anti–PD-1 working in the effector phase.2
Side effects were both more common and more severe with the combination treatment than with either Opdivo or Yervoy. Overall 59% of patients treated with the combination treatment experienced significant side effects compared to only 23% with Opdivo suggesting that the additional 8% survival benefit attained with the combination comes at a significant cost in terms of greater side effects and the combo may not be ideal for all patients.
Despite the higher levels of side effects with the combination certain patients appear to derive significant benefit from this dual treatment approach.
BRAF-mutated cancers might benefit most from the combination and the combination appears to work well in patients who have asymptomatic brain metastases. Overall 60% of patients with BRAF mutations survive 5 years or more compared to 49% with Opdivo alone.
CheckMate 915
CheckMate -915 compared Opdivo in combination with Yervoy to Opdivo alone Yervoy to OpdivoYervoyYerin 1943 patients who had a complete surgical removal of stage IIIb/c/d or stage IV melanoma. No benefit was found from the addition of Yervoy to Opdivo in patients whose tumors expressed PD-L1 <1%.6
Precision cancer medicines and immunotherapy has changed the way Melanoma is treated and significantly improved treatment outcomes by altering the course of the disease for many patients. A key question however is: Why do some patients initially respond to combination immunotherapy and then stop responding, and some never respond at all? 3
It's clear that the anti–PD-1 checkpoint is only one of the mechanisms that a cancer uses to evade the immune system. Research is focused on identifying other causes of resistance and predicting a cancers sensitivity or development of resistance.
Real-World Outcomes of Yervoy and Opdivo for Metastatic Melanoma
The combination of Opdivo plus Yervoy is as effective in the real-world setting as it was in clinical trials for patients with metastatic melanoma, according to a recent study by Dr Asher and colleagues.
A total of 172 patients treated for metastatic melanoma were identified. Of these patients, 64% were treatment naïve. The median follow-up was 12 months.
The response rates were 61% for treatment-naïve patients and 25% for those previously treated. Median progression-free survival (PFS) were 12.2 months and 2.6 months, respectively, and median overall survival were not-reached and 6.1 months, respectively. The estimated 3-year OS for treatment-naïve patients was 58%.
Side effects were reported in 60% of the patients, the majority of whom received steroid treatments (59%). Fatal toxicity occurred in 4 patients and led to permanent treatment discontinuation in 31%.
"Despite the profoundly different baseline patient characteristics, the combination of Opdivo and Yervoy is as effective in the real-world population as it was in clinical trials, including long-term outcomes," Dr Asher and colleagues concluded.
References:
Opdivo (nivolumab) in Combination with Yervoy (ipilimumab) and Opdivo Monotherapy Significantly Improved Overall Survival Versus Yervoy Alone in Patients with Previously Untreated Advanced Melanoma
Larkin J, Chiarion-Sileni V, Gonzalez R, et al. Five-year survival with combined Opdivo and Yervoy in advanced melanoma. N Engl J Med. 2019;381(16):1535-1546.
Pires da Silva I, Lo S, Quek C, et al. Site‐specific response patterns, pseudoprogression, and acquired resistance in patients with melanoma treated with Yervoy combined with anti–PD‐1 therapy published online October 4, 2019 . Cancer. doi: 10.1200/JCO.2014.56.2736.
N Engl J Med. 2019; 381:1535-1546.
Cancers. 2020;12[8]:E2329. doi:10.3390/cancers12082329).
Abstract #711P). https://news.bms.com/news/news-releases-category/default.aspx?cat=Corporate-Financial-News