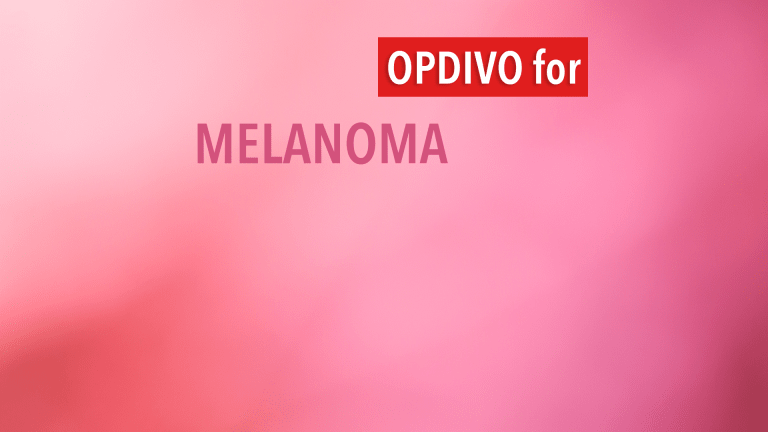 Opdivo Treatment for Malignant Melanoma
Opdivo anti-PD-1 immunotherapy can be used to treat both stage III and more advanced melanoma.
by Dr. C.H. Weaver M.D. updated 9/2020
The FDA has approved Opdivo (nivolumab) for the treatment of patients with both stage III and unresectable or metastatic melanoma.
Opdivo Adjuvant Therapy in Stage III Melanoma
Melanoma is separated into five staging categories (stages 0-4). Stage 3 melanoma is a cancer that has spread to the regional lymph nodes but has not yet spread to distant lymph nodes or to other parts of the body (metastasized). Standard treatment of stage 3 melanoma is surgical resection of the primary tumor as well as the involved lymph nodes however the majority of patients experience disease recurrence without additional treatment after surgery.
About Opdivo
Opdivo is a precision cancer medicine that belongs to a new class of medicines called PD-1 inhibitors that have generated great excitement for their ability to help the immune system recognize and attack cancer. PD-1 is a protein that inhibits certain types of immune responses. Drugs that block PD-1 may enhance the ability of the immune system to fight cancer. Opdivo works by blocking PD-1. PD-1 inhibitors are being investigated in more than 30 different cancers, and it is already approved for the treatment of melanoma and lung cancer and researchers continue to evaluate its effectiveness in different types of cancer.
The FDA approval of Opdivo in the adjuvant setting is based on results from the CheckMate-238 clinical trial, which was published in the New England Journal of Medicine. In this study Opdivo significantly improved recurrence-free survival at 18 months (66%) compared to standard treatment with Yervoy® (ipilimumab), (53%) in patients with resected Stage III or Stage IV melanoma. Opdivo was also associated with fewer serious treatment-related toxicities and adverse events leading to treatment discontinuation (9% vs 42%, respectively).(4)
IN a subsequent study the combination of Yervoy and Opdivo was not found to be superior to Opdivo alone for the treatment of stage III patients. (6)
Opdivo in Advanced Melanoma
A randomized Phase III clinical trial called CheckMate -066 evaluated Opdivo as initial, or first line, therapy for patients with advanced melanoma without a mutation in the BRAF gene (a protein that is involved in sending signals in cells and in cell growth). CheckMate -066, found evidence of superior overall survival in patients receiving Opdivo compared with those who received dacarbazine chemotherapy and the study was stopped early to allow the dacarbazine patients to switch Opdivo.(4,5)
The trial included 418 patients with advanced melanoma without a BRAF mutation. Participants had not been previously treated for melanoma. They were assigned to receive one of two treatments:
Opdivo every two weeks plus a placebo for the chemotherapy dacarbazine, or
Dacarbazine every three weeks plus a placebo for Opdivo every two weeks
At one year, survival was significantly better in the Opdivo group compared with the dacarbazine group:
Almost 73% of patients in the Opdivo group were alive, compared with 42% in the dacarbazine group.
Median progression-free survival more than doubled among patients receiving Opdivo: just over five months compared with just over two months for dacarbazine.
Treatment response also more the doubled for patients receiving Opdivo: 40% responded to treatment compared with just 14% in the dacarbazine group.
According to Caroline Robert, Professor of Dermatology, Head of the Dermatology Unit, Institute Gustave, and lead author of the New England Journal of Medicine manuscript, "The results from CheckMate -066 are significant as they represent the first time a PD-1 immune checkpoint inhibitor has shown a survival benefit in a randomized Phase 3 trial." She called these findings "a major milestone" in research into first-line treatment of advanced melanoma without a BRAF mutation. (3)
Stay Current - Connect With Other Melanoma Patients
Join The CancerConnect Community: Connect with others and receive regular updates
or
Sign up for the Melanoma Newsletter Here
References:
Weber J, Mandala M, Del Vecchio M, et al. Adjuvant Nivolumab versus Ipilimumab in Resected Stage III or IV Melanoma. September 10, 2017DOI: 10.1056/NEJMoa1709030
Weber J, Mandala M, Del Vecchio M, et al. Adjuvant Nivolumab versus Ipilimumab in Resected Stage III or IV Melanoma. September 10, 2017DOI: 10.1056/NEJMoa1709030
Robert C, Long GV, Brady B, et al. Nivolumab in Previously Untreated Melanoma without BRAF Mutation. New England Journal of Medicine [early online publication]. November 16, 2014.
Topalian SL, Sznol M, McDermott DF, et al. Survival, Durable Tumor Remission, and Long-Term Safety in Patients With Advanced Melanoma Receiving Nivolumab. Journal of Clinical Oncology [early online publication]. March 3, 2014. doi: 10.1200/JCO.2013.53.0105.
Study Comparing Opdivo (nivolumab) to Chemotherapy in Treatment Naïve Advanced Melanoma Patients Marks First PD-1 Immune Checkpoint Inhibitor to Demonstrate a Survival Benefit in a Phase 3 Trial. Bristol-Myers Squibb website. Available here. Accessed November 17, 2014.