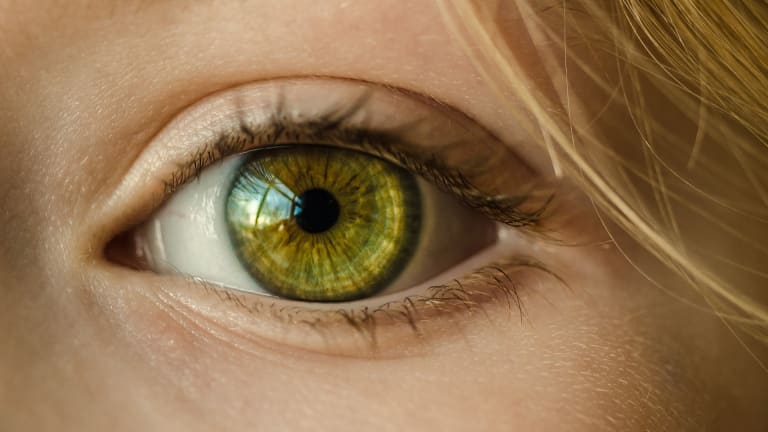 Ocular (Eye) Melanoma
Ocular melanoma requires aggressive treatment by specialized physicians and genomic testing.
Ocular melanoma develops in the cells that produce eye color and occurs in or around the eye. Ocular melanoma is the most common cancer of the eye but only occurs in approximately 2500 individuals each year in the U.S. Ocular melanoma originates from mutated pigment cells but unlike skin melanoma, sun exposure is not the cause and ocular melanoma can occur in all races. Ocular melanoma is often diagnosed on a routine eye exam.1,2
Signs & Symptoms of Ocular Melanoma can include:
Blurry vision or sudden loss of vision
Floaters (spots or squiggles drifting in the field of vision) or flashes of light.
Visual field loss (losing part of your field of sight)
A growing dark spot on the colored part of the eye (iris)
What causes ocular melanoma?
Melanoma of the eye—also known as uveal melanoma—is a rare cancer that affects approximately 2,000 people each year in the United States. Although the cancer is often diagnosed at an early stage, roughly half of patients subsequently develop advanced, difficult-to-treat disease. Individuals with light colored eyes are at higher risk of getting ocular melanoma and the majority of cases appear to develop from random mutations. Individuals who have had a melanoma skin cancer aren't at a higher risk of developing an ocular melanoma.
Treatment of Ocular Melanoma
Treatment of the cancer can be accomplished with surgical removal of the eye or the use of radiation therapy. Both surgery and radiation appear equally effective but result in loss of vision. When the cancer is confined to the eye, the 5-year survival rate is 80 percent.
Overall 5-year survival for ocular melanoma once it has spread away from the eye is less than 10 percent. The most common location for the cancer cells to metastasize is directly into the bloodstream and typically to the liver.
Systemic therapy for metastatic ocular melanoma is relatively ineffective and newer checkpoint inhibitor medications that work well for the treatment of skin melanoma like Keytruda (pembrolizumab) and Opdivo (nivolumab) are not very effective. Patients with metastatic melanoma originating in the eye are candidates for clinical trials with newer agents that may show more promise than the currently available drugs.
Selumetinib
In a Phase II clinical trial, the investigational targeted drug selumetinib resulted in tumor shrinkage in half of patients with advanced melanoma of the eye. These results were presented at the 2013 Annual Meeting of the American Society of Clinical Oncology. A majority of uveal melanomas of the eye involve mutations in the Gnaq or Gna11 genes. These mutations activate a biological pathway that contributes to cancer growth. Selumetinib blocks a protein—MEK—that is necessary to the functioning of this growth pathway.To evaluate selumetinib for the treatment of metastatic melanoma of the eye, researchers conducted a Phase II clinical trial among 98 patients. Patients were treated with either selumetinib or the chemotherapy drug Temodar® (temozolomide).2
50% of patients in the selumetinib group experienced tumor shrinkage, with 15% experiencing major tumor shrinkage. None of the patients in the Temodar group experienced significant tumor shrinkage.
Selumetinib delayed cancer progression. Time to cancer progression (a worsening of the cancer) was 15.9 weeks in the selumetenib group and 7 weeks in the Temodar group.
Overall survival was 10.8 months in the selumetinib group and 9.4 months in the Temodar group.
These results suggest that selumetinib is active against advanced melanoma of the eye. This could provide patients with an important new treatment option.
Kimmtrak  Improves Survival in Metastatic Uveal Melanoma
Kimmtrak® (tebentafusp-tebn) is a bispecific fusion protein that improves survival in advanced uveal melanoma. Tebentafusp recognizes two targets, with one target present on melanoma cells, and the second target present on T cells. Tebentafusp builds a bridge between the tumor and the immune cells, enabling the immune cells to attack the tumor. The TCR binding domain only recognizes a specific gp100 derived peptide presented on a sppecific type of human leukocyte antigen (HLA), known as HLA-A*02:01. HLAs, which are present on the surfaces of most cells in the body, play an important part in the body's immune response to foreign substances.

In the trial Tebentafusp was compared with investigator's choice as first-line therapy in 378 previously untreated HLA-A*02:01-positive patients with metastatic uveal melanoma. After a median follow-up of 14 months, compared with patients randomly assigned to investigator's choice, patients randomized to tebentafusp had almost half the risk of death. Their estimated one-year survival was 73% compared to 58% with investigator's choice.3  Kimmtrak was approved by the US FDA in January 2022.
Partial Chromosome 3 Deletion Tied to Poorer Survival in Uveal Melanomas
Patients with uveal melanomas carrying a partial deletion of chromosome 3 encompassing the BAP1 locus have a poor prognosis compared with patients whose uveal melanomas lack the deletion.
Manuel Rodrigues, MD, PhD, Institute Curie, PSL Research University, Paris, France, and colleagues conducted a retrospective genomic evaluation in individuals with uveal melanoma to evaluate the link between partial chromosome 3 deletion and metastasis-free survival (MFS).
Overall 4.0% of uveal melanomas were found to carry partial deletions of chromosome.3
The 60-month MFS rate was were 33% for uveal melanomas that carried a deletion of the BAP1 locus compared to 81% for uveal melanomas lacking BAP1 locus deletion. The 60-month OS rates were 65% compared to 84%.
Deletion of chromosome 3 encompassing the BAP1 locus is associated with a poor prognosis and individuals with these deletions should explore more aggressive treatment options than those without.1
Knowledge is power. Are you facing a new diagnosis, recurrence, living with metastatic disease, or supporting a loved one through their cancer journey?
Sign up for monthly newsletters on melanoma here.
Get the facts about melanoma here.
Join ongoing discussions with other individuals affected by melanoma in the CancerConnect private online melanoma community here.
Reference:
JAMA Ophthalmol. 2020 Jan 2. Epub ahead of print.
Carvajal RD, Sosman JA, Quevedo F et al. Phase II study of selumetinib (sel) versus temozolomide (TMZ) in gnaq/Gna11 (Gq/11) mutant (mut) uveal melanoma. Presented at the 49th Annual Meeting of the American Society of Clinical Oncology. May 31-June 4, 2013; Chicago, IL. Abstract CRA9003.
https://www.cancer.gov/news-events/cancer-currents-blog/2021/tebentafusp-uveal-melanoma-improves-survival