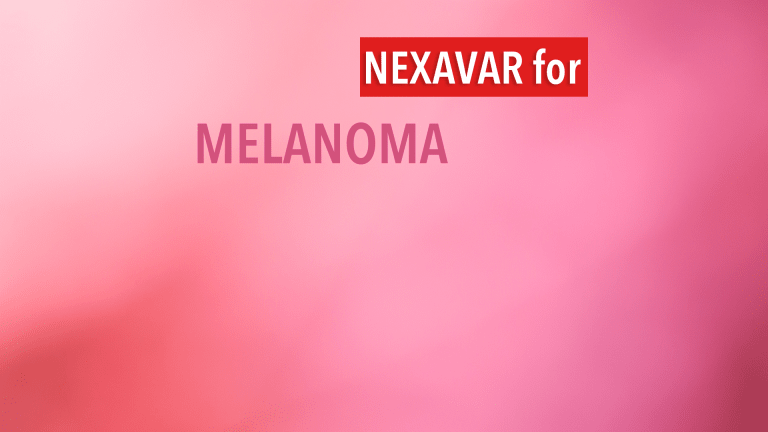 Nexavar® Shows Promise for the Treatment of Advanced Melanoma
Nexavar® Shows Promise for the Treatment of Advanced Melanoma
Researchers from the United States have recently reported that, among patients with advanced melanoma, the addition to chemotherapy of the drug Nexavar® (sorafenib) improved progression-free survival. Full details of the study were published in the Journal of Clinical Oncology.
Melanoma is a form of skin cancer that begins in the melanocytes, cells responsible for the production of melanin (pigment). Melanoma may begin as a mole, but may also form in other pigmented tissues such as the eye or intestine. It is estimated that there will be 62,480 new cases of melanoma diagnosed in the United States this year. Current treatment for melanoma includes surgery, chemotherapy radiation, and biologic therapies. Clinical trials are currently investigating chemoimmunotherapy, the combination of chemotherapy and biological therapies to boost the immune system and kill cancerous cells.
Nexavar is a biologic therapy that utilizes substances made by the body or made in a laboratory, which are used direct the patient's own immune system to fight the cancer. In this case Nexavar disrupts the vascular endothelial growth factor receptor (VEGF), which is responsible for establishing blood vessels that support the cancerous tissues. Nexavar is currently approved for the treatment of renal cell cancer and is being studied in several other types of cancer.
In the current study, 101 patients with advanced stages of melanoma were randomly assigned to receive either chemotherapy alone with the drug dacarbazine or dacarbazine plus Nexavar.
Patients who received both dacarbazine and Nexavar experienced an average time until disease progression that was nearly double the time experienced by those treated with dacarbazine alone (12 weeks versus 21 weeks).
Overall survival among patients who received both dacarbazine and Nexavar was also improved compared with those treated with dacarbazine only (51 weeks versus 46 weeks).
Side effects were manageable among both treatment groups.
Researchers were encouraged with the results, which suggest that Nexavar is an effective treatment for a growing number of different forms of cancer, including advanced melanoma.
Reference: McDermott, DF., Sosman, JA., Gonzalez, R, et al. Double blind randomized phase II study of the combination of sorafenib and dacarbazine in patients with advanced melanoma: A report from the 11715 Study group. Journal of Clinical Oncology. 2008;26:2178-2185.