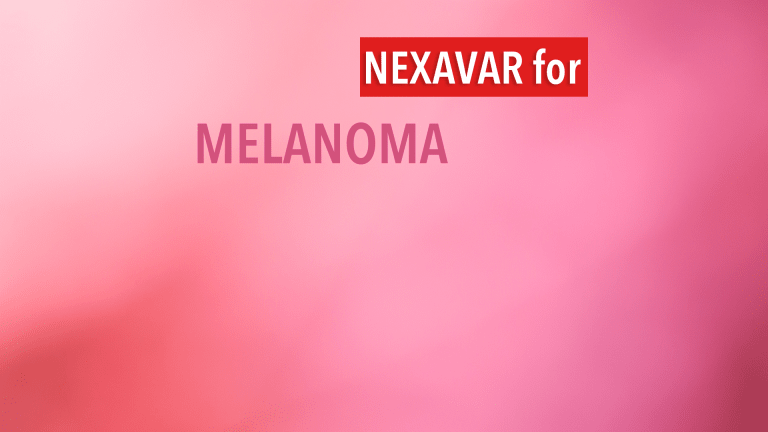 Nexavar® Fails to Improve Melanoma Survival
Nexavar® Fails to Improve Melanoma Survival
Among patients with Stage III or Stage IV melanoma that cannot be surgically removed, treatment with a combination of Nexavar® (sorafenib) and chemotherapy did not result in better survival than treatment with chemotherapy alone. The results of this Phase III clinical trial were made available in a press release from Onyx Pharmaceuticals.
Skin cancer is the most common form of cancer in the United States, with more than one million new cases each year. Skin cancer is often divided into two broad categories: melanoma and non-melanoma. Non-melanoma skin cancer refers to several different types of skin cancer, but the most common types are basal cell carcinoma and squamous cell carcinoma.
Melanoma is less common than non-melanoma skin cancer, but tends to be much more aggressive. Of the more than one million new diagnoses of skin cancer each year, roughly 62,000 involve melanoma. More than 8,000 people die of melanoma each year in the United States. What makes melanoma so dangerous is that it is more likely than other types of skin cancer to spread (metastasize) to other parts of the body. Melanoma can occur anywhere on the body. The first signs of melanoma may be a mole that changes in appearance, bleeds, or has more than one color or an irregular shape.
Nexavar is a targeted therapy that interferes with specific biological pathways associated with the growth of cancer cells. Nexavar has been shown to be effective against liver and kidney cancers, and researchers are exploring its role in the treatment of other types of cancer as well.
The current Phase III clinical trial enrolled patients with Stage III or Stage IV melanoma that could not be surgically removed. Patients were assigned to receive treatment with Nexavar plus chemotherapy or chemotherapy alone. Chemotherapy consisted of carboplatin and paclitaxel.
The study was stopped early when an interim analysis revealed that patients treated with Nexavar plus chemotherapy were unlikely to experience better survival than patients treated with chemotherapy alone.
Full results from this study are expected to be presented at an upcoming scientific meeting.
Reference: Onyx Pharmaceuticals press release. Phase 3 trial of Nexavar in chemotherapy-naïve patients with advanced melanoma does not meet primary endpoint. Available at: onyx-pharm.com/wt/page/pr_1240783101). Accessed May 5, 2009.