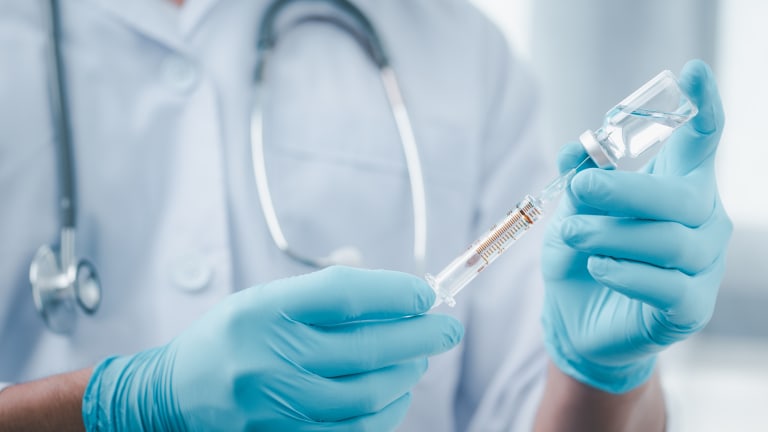 NeoVax and mRNA Melanoma Vaccines
Personalized melanoma vaccines produce long-lasting anti-tumor responses but could mRNA vaccines be the next frontier?
by Dr. C.H. Weaver M.D. Updated 4/2022
Could mRNA Vaccines be the Next Frontier of Melanoma Treatment?
Research has long suggested that the use of a patient's own immune cells may be a key to treating melanoma. For over 30 researchers worked to develop vaccines for melanoma, several of which were effective and showed promise. Melacine, Oncophage, TriGem, Dendritic Cell Vaccinations and most recently NeoVax have all produced results suggesting this treatment approach is both feasible and promising.1-10
Immunotherapy Surpassed Vaccine Development
Advances in the development of immunotherapy drugs belonging to a class of medicines called "checkpoint inhibitors" changed the treatment landscape and became the standard of care for melanoma treatment. Instead of stimulating the immune system to attack the cancer, checkpoint inhibitors help to restore the immune systems T cells in fighting cancer by releasing checkpoints that cancer uses to shut down the immune system. PD-1 and PD-L1 are proteins that inhibit certain types of immune responses and allow cancer cells to evade detection and attack by certain immune cells in the body. A checkpoint inhibitor can block the PD-1 and PD-L1 pathway and enhance the ability of the immune system to fight cancer. By blocking the binding of the PD-L1 ligand these drugs restore an immune cells' ability to recognize and fight the cancer cells. Immune checkpoint inhibitors have transformed melanoma treatment and improved survival rates for patients with advanced melanoma.
Vaccine Development
Findings from a study, published by the journal Nature Medicine, recently demonstrated the staying power of the immune response generated by a vaccine, known as NeoVax, which works by targeting specific proteins on each patient's cancer cells. The researchers found that, nearly four years after vaccination, the patients' immune system cells were active not only against cancer cells with those distinctive proteins, but also spread to other proteins found in those patients' cancer cells.
The study involved eight patients at high risk of recurrence following surgical removal of their melanoma. The vaccine is made from bits of proteins, called epitopes, that poke from the cell surface and serve as signals to the immune system. The epitopes come from neoantigens which are abnormal proteins on the cancer cells that warn that a cell is cancerous and should be destroyed. To make the vaccine the sequence of DNA in each patient's cancer is scanned to identify targets for T cells, which lead the immune system's attack on the cancer.
Researchers reported that a median of four years after treatment, all eight patients survived with six showing no signs of active disease. They also found evidence that the cells not only "remembered" their initial target epitopes but had expanded their repertoire to recognize other melanoma-related epitopes as well. The researchers reported that they found evidence of a sustained immune response. T cells continued to specifically target melanoma cells and retained a memory of the epitopes they initially responded to. The T cells were activated to kill cancer cells and, critically, had diversified to target melanoma epitopes not included in the original vaccine.
These findings demonstrate that a personal neoantigen vaccine can stimulate a durable immune response in patients with melanoma, and that the long-term persistence and expansion of the melanoma-targeting T cells is a strong indication that personal neoantigen peptide vaccines can help control metastatic tumors, particularly when combined with immune checkpoint inhibition.
What is Messenger RNA (mRNA)?
COVID-19 vaccines are the first to use mRNA, a groundbreaking biotechnology some 30 years in the making. The success of the vaccine underscores the immense potential of this technology. mRNA is short for one type of RNA existing in our cells, called messenger RNA. RNA is material carrying a set of instructions for the body to make the specific protein encoded by those instructions.
Synthetic mRNA
When designing an mRNA vaccine against a virus, scientists make a synthetic mRNA sequence – the instructions – for the cell to follow to make a protein to mimic one or more proteins – or antigens – found in the virus. When a person receives an mRNA vaccine, their cells take up the synthetic mRNA, which is delivered to the cell by a lipid nanoparticle. The mRNA does not enter the nucleus of the cell and does not interact with the body's genetic material, which is made up of a different type of genetic material called deoxyribonucleotides, or DNA.
Once inside our cells, cellular machinery called a ribosome reads the mRNA as a set of instructions – like it does for any mRNA, building the proteins from the instruction that mimic part of the virus called antigens.
The immune system sees these antigens as invaders, which sets off an alarm to the immune system resulting in the dispatching of your body's defenders including the B cells that will produce antibodies and T-cells – and training the immune system for potential future attacks.
mRNA Vaccines
mRNA vaccines won't teach the body to target the coronavirus, but melanoma cells, instead. The idea behind an mRNA vaccine whether for Covid or for cancer is to use the genetic material to train the immune system to target a specific protein. For the coronavirus, it's the spike protein. For cancer, it could be a protein on the surface of a cancer cell. Once the immune system learns to recognize the protein, it can create B- cell antibodies or T cells that fight and destroy it, along with the cells that carry it.
This technology can be used in people agnostic to their cancer type, it doesn't matter if it's a breast cancer or lung cancer as long as you can identify the cancers mutations. Some mRNA vaccines for cancer take an off-the-shelf approach: These ready-made vaccines are designed to look for target proteins that appear on the surface of certain cancers.
Personalized mRNA Vaccines
Personalized mRNA cancer may be more promising. With the personalized approach, a sample of tissue is taken from a patient's cancer or from their blood with a "liquid biopsy" and their DNA is analyzed to identify cancer causing mutations that distinguish the cancer cells from the normal, healthy cells
Computers compare the two DNA samples to identify the unique mutations and the results are used to design a molecule of mRNA that will go into the vaccine. When the mRNA vaccine is injected into the patient, the mRNA tells the patient's cells to produce proteins that are associated with the specific mutations of their cancer. The tumor protein fragments that are created from the mRNA are then recognized by the patient's immune system. Basically, the mRNA instructions train the immune systems cells that help us fight viruses to recognize up to 20 mutations in cancer cells and attack only those. The immune system scours the body on a search-and-destroy mission looking for similar cancer cells.
Promising findings animal studies appear to support this approach. Researchers constructed an mRNA vaccine to be combined with a monoclonal antibody (a synthetic antibody made in the lab) to enhance the anti-tumor benefits in the treatment of triple negative breast cancer. They found that mice that were treated with the combination therapy had a significantly enhanced anti-tumor immune response compared to those who were given only the vaccine or the monoclonal antibody.11 A similar study found that when mice with lymphoma were given an mRNA vaccine along with a checkpoint inhibitor drug, they experienced significantly reduced tumor growth and 40 percent of them experienced complete tumor regression.12
Vusolimogene oderparepvec (RP1)
Vusolimogene oderparepvec (RP1) is an oncolytic vaccine administered in development for use in combination with Opdivo (nivolumab) in patients with stage IIIB to IV cutaneous melanoma for which PD-1 therapy was indicated, refused or failed.13-16
Vusolimogene oderparepvec isndesigned to leverage an engineered herpes virus (HSV-1) with an encoded glycoprotein of gibbon ape leukemia virus (GALV-GP-R-) protein and granulocyte-macrophage colony-stimulating factor (GM-CSF) payload administered to directly destroy tumors and to generate an anti-tumor immune response.2,3 The herpes virus [in RP1] has lost its virility against the human disease, so it does cause herpes, it just attacks the tumor cells.
Updated safety findings showed that RP1 in combination with Opdivo is well tolerated. Among 84 patients, the most common side effects experienced are chills, fever, fatigue, itching and "flu like" symptoms.
In 8 patients with cutaneous melanoma who were naïve to PD-1 inhibition, the objective response rate achieved is 62.5%. Among 16 patients with cutaneous disease in whom checkpoint therapy had previously failed, the response rate is 37.5%.
References
Schwartzentruber DJ, Lawson D, Richards J et al. A phase III multi-institutional randomized study of immunization with the gp100:209-217(210M) peptide followed by high-dose IL-2 compared with high-dose IL-2 alone in patients with metastatic melanoma. Presented at the 2009 annual meeting of the American Society of Clinical Oncology, May 29-June 2, 2009, Orlando, FL. Abstract CRA9011.
Hunder N, Wallen H, Cao J, et al. Treatment of Metastatic Melanoma with Autologous CD4+ T Cells Against NY-ESO-1. New EnglandJournal of Medicine. 2008;258:2698-2703
Linette G, Zhang D, Hodi S, et al. Immunization Using Autologous Dendritic Cells Pulsed with the Melanoma-Associated Antigen gp100 Derived G280-9V Peptide Elicits CD8+ Immunity. Clinical Cancer Research. 2005; 11: 7692-7699.
Tagawa S, Cheung E, Banta W, et al. Survival Analysis after Resection of Metastatic Disease Followed by Peptide Vaccines in Patients with Stage IV Melanoma. Cancer. 2006; 106: 1353-1357.
Proceedings of American Society of Clinical Oncology, Vol 18, Abstract 1673, 1999
Soiffer R, Hodi FS, Haluska F, et al. Vaccination with Irradiatied, Autologous Melanoma Cells Engineered to Secrete Granulocyte-Macrophage-Colony-Stimulating Factor by Adenoviral-Mediated Gene Transfer Augments Antitumor Immunity in Patients with Metastatic Melanoma. Journal of Clinical Oncology. 2003;21:3343-3350
Antigenics. Antigenics Announces Preliminary Survival Data From Its Randomized Phase 3 Metastatic Melanoma Trial. Available at: . Accessed October 2005.
Zeid NA, Muller HK. S100 positive dendritic cells in human lung tumors associated with cell differentiation and enhanced survival. Pathology, Vol 25, pp 338-343, 1993.
Gallo O, Bianchi S, Giannini A, Gallina E, Libonati GA, Fini-Storchi O. Correlations between histopathological and biological findings in nasopharyngeal carcinoma and its prognostic significance.
Replimune provides new clinical data, broad program update and future development strategy for its tumor-directed oncolytic immunotherapies. News release. Replimune Group, Inc.; March 30, 2022. Accessed April 6, 2022. https://yhoo.it/3r49Gg7
Next-generation oncolytic immunotherapy. Replimune Group, Inc. Accessed April 6, 2022. https://bit.ly/3xbdDUi
Aroldi F, Middleton MR, Sacco JJ, et al. An open-label, multicenter, phase I/II clinical trial of RP1 as a single agent and in combination with nivolumab in patients with solid tumors [IGNYTE]. Ann Oncol. 2021;32(suppl 5):S903-S904. doi:10.1016/j.annonc.2021.08.1478
Thomas S, Kuncheria L, Roulstone V, et al. Development of a new fusion-enhanced oncolytic immunotherapy platform based on herpes simplex virus type 1. J Immunother Cancer. 2019;7(1):214. doi:10.1186/s40425-019-0682-1