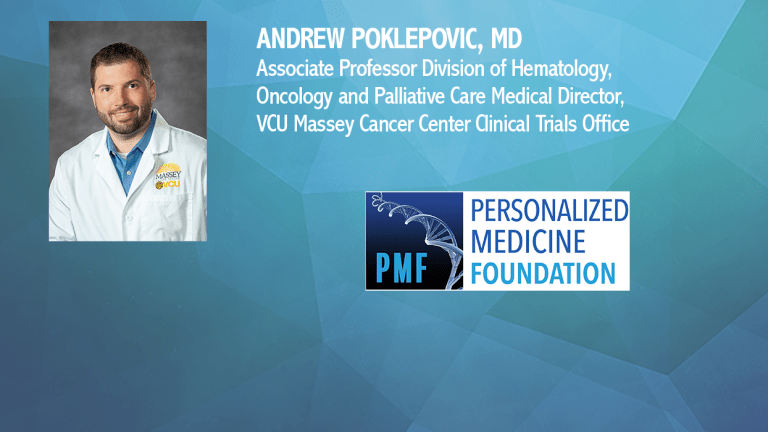 Ask The Expert About Immunotherapy Treatment for Melanoma
ctDNA and Immunotherapy Treatment for Melanoma
The Personalized Medicine Foundation, and CancerConnect are pleased to provide patients and caregivers the opportunity to ask questions about immunotherapy treatment and monitoring for Melanoma. We have put together a panel of leading cancer experts to answer questions and publish a forum for the exchange of information.​
Submit Your Questions Here....
Which patients with melanoma benefit from immunotherapy treatment?
Immunotherapy has become the standard of care as initial treatment of most patients with stage II, III, and IV melanoma because it reduces the risk of cancer recurrence and prolongs survival compared to other treatments.1-4
How does immunotherapy work?
The immune system is a network of cells, tissues, and biologic substances that defend the body against viruses, bacteria, and cancer. Cancer cells are different from healthy cells because they became mutated as a part of cancer development. The immune system can recognize the mutations in cancer cells as foreign and can eliminate them or keep them in check if the system is functioning correctly. Cancer cells are very good at finding ways to avoid immune system surveillance and destruction, however, so immunotherapy may be needed to help the immune system eliminate cancer cells by either activating the immune system directly or inhibiting the mechanisms of suppression of the cancer.2,3 Immune checkpoint inhibitors (ICIs) are one type of immunotherapy used to treat melanoma and other cancers that block specific receptors called PD-L1 on your cancer cells, or PD-1 and CTLA-4 on your immune cells allowing your immune system to work more effectively.
PD-1 "Checkpoint Inhibitors": PD-1 is a protein that inhibits certain types of immune responses, allowing cancer cells to evade an attack by immune cells. Opdivo (nivolumab) and Keytuda (pembrolizumab) are checkpoint inhibitors that block the PD-1 pathway and can enhance the ability of the immune system to fight cancer. Both Keytruda and Opdivo are approved for the treatment of melanoma.2,3
Tecentriq (atzeolizumab) is a PD-L1 inhibitor and is approved in combination with vemurafenib and cobimetinib for metastatic melanoma.
Yervoy® (ipilimumab) is a monoclonal antibody that targets CTLA-4, found on the surface of T cells. CTLA4 is thought to inhibit immune responses. By targeting this molecule, Yervoy enhances the immune system's response against melanoma cells.3,4
How do you know of immunotherapy is working?
Although immunotherapy is a new and revolutionary cancer treatment option, not all patients with melanoma respond to treatment. In fact, approximately half of patients at some point stop responding to immunotherapy because melanoma cells find another pathway that lets them start growing again. You and your doctor will want to know—as soon as possible—if your immunotherapy is working. Imaging scans have historically been used to see if treatment is working and shrinking the cancer, but it takes time for a recurrent cancer to show up on scans. In addition, imaging tests may not be able to provide a clear picture of whether your immunotherapy is working or not. Often, doctors have a hard time determining whether:
the tumor is growing in size on the CT scan because treatment is not working, or if inflammation from immune system response is causing it to look larger
a new spot on the scan is a cancerous or not
an alternate treatment strategy should be considered
it is safe for you to pause your treatment
Blood tests can now be used to detect tiny pieces of cancer DNA months before changes are seen on imaging scans.
What is circulating tumor DNA (ctDNA)?
Circulating tumor DNA (ctDNA) is small fragments of DNA, which originate from cancer cells and are present in the bloodstream or other body fluids. Cancer is caused by genetic mutations, and these mutations can be detected by measuring the circulating tumor DNA, or ctDNA, in the blood. Detection of ctDNA allows for personalized cancer surveillance based on an individual's unique set of tumor mutations.
Signatera is a personalized cancer-monitoring test for patients who are currently on or considering immunotherapy for treatment of their melanoma. Each cancer is as unique to a person as their own fingerprint. Using gene sequencing on the tumor to identify the markers of a patient's own cancer allows the blood test to be as unique as a fingerprint for analysis. Video overview….
Signatera detects ctDNA unique to an individual patient's cancer - and is personalized to a patient's individual set of tumor signatures. Signatera can be used to monitor a patient's molecular residual disease (MRD) and help determine whether an individual is responding to immunotherapy by assessing the changes in levels of ctDNA throughout treatment. Using Signatera alongside standard imaging tests enables patients to have a more informed discussion with their doctor regarding treatment and follow-up.
Answers to Patient Submitted Questions
Can Immune checkpoint inhibitors (ICI) be safely used to treat melanoma in patients with autoimmune disease like MS?
That is not entirely known. Some patients with autoimmune disease will flare while on immunotherapy and others will not. Treatment with an ICI produces variable outcomes and needs to be done with caution. A clinical trial is ongoing to evaluate ICI's like Nivolumab because the risks of flares and worsening of pre-existing autoimmune disorders is largely unknown, posing a challenge for oncologists. https://clinicaltrials.gov/ct2/show/NCT03816345
Can ctDNA be used instead of CT scans when NED after completing a course of immunotherapy?
At this time ctDNA is used to supplement standard CT imaging. While it does show potential to one day be able to be used in lieu of frequent imaging in some situations, the amount of data reported so far is not sufficient to replace an international gold standard. I anticipate movement towards reducing radiation exposure with ct scans by using personalized ctDNA with research studies taking place over the next few years.
I am currently receiving Opdivo as treatment for stage 3 melanoma. I am 8 months of treatment. My doctor said I need 1 year. How do you know if Opdivo is working?
At this time the standard of care is to complete 1 year of opdivo for stage 3 melanoma in remission. we do not yet have the ability to know for sure if the treatment is working or not, so we continue with interval surveillance imaging with CT or PET scans to look for recurrence. investigators are working to develop prospective clinical trials evaluating new strategies, including ctDNA and others, to help doctors determine the effectiveness of treatment for individual patients. those results will take time before they are available for standard clinical use. 
Having had tumor progression after 4 ipi/nivo infusions and 2 more higher dose nivo alone I was changed to Braftovi/mektovi. I responded, sole tumor in pelvic node shrunk and was removed. Subsequent CT- PET showed NED. How long should Braftovi/mektovi be continued if I remain NED and tolerate the meds? 
There is fda approval of dabrafenib (tafinlar) and trametinib (mekinist) for adjuvant therapy for 1 year after surgical removal of advanced melanoma. Data regarding the optimal duration of treatment for recurrent melanoma subsequently resected after immunotherapy is not available or known and can only be determined in discussion with your doctor. Monitoring the cancer's response to treatment with ctDNA for either braf or signatera combined with standard imaging to determine how well treatment is working could help inform that decision.
How can checking for ctDNA levels impact immunotherapy treatment of melanoma?
If ctDNA levels increase, it is a sign that you may not be responding to treatment

If ctDNA levels decrease, you are likely responding to your treatment

If ctDNA levels go to zero after immunotherapy treatment, you have a high likelihood for favorable long-term response to treatment
What should patients know about the Signatera blood test?
The test requires drawing blood as well as collecting a small piece of the tumor that was already removed during your biopsy or surgery.
The tissue part of the test (using tissue already removed during your biopsy or surgery) looks for characteristics specific to your tumor. It will take about 3 weeks to get this important information and personalize the test for you.
Once the specific characteristics of your tumor are known, your cancer doctor can use the blood test at different times during and after the treatment to gain information needed to help you and your cancer team make the best decisions for your health.
The blood may be drawn at your doctor's office or another lab. It may even be possible to have a lab person come to you to draw it. Your doctor will talk with you about these options.
When using the blood test during and after treatment, your cancer doctor will receive Signatera results in about a week after the blood sample is received by the lab.
How long does it take to get Signatera test results?
The first time the Signatera test is ordered, it will take 2 to 3 weeks to design. One week after your test has been designed. It will take another week for your test results to become available to your physician.
What do the test results mean?
A positive Signatera result means that there is ctDNA detected in the blood. A rise in ctDNA levels indicate a lower likelihood of response to the current treatment. A decrease in ctDNA levels indicate that the tumor may be responding to the current immunotherapy treatment, which has been shown to be associated with favorable outcomes.
A negative Signatera result means that ctDNA was not detected in the blood, and data shows that there is a high likelihood of favorable or continued response to immunotherapy.
How accurate is Signatera?
Signatera is designed to detect your tumor's unique profile. It is exceptionally good at finding small amounts of tumor DNA and has been shown to detect residual disease months before imaging.
Signatera can identify patients who do not respond to immunotherapy, as well as long-term responders who have achieved sustained clinical benefit with immunotherapy. These results can be incredibly helpful when deciding on treatment plans.
Is Signatera covered by insurance?
Natera bills all commercial and government insurance plans (ie, Medicare, Medicare Advantage, Medicaid, and private insurances). Medicare patients with solid tumors on immunotherapy tested with Signatera are fully covered. Natera welcomes all insurance plans and works closely with patients to ensure that cost is never a barrier. For patients who do not wish to use insurance Natera offers an affordable cash pay rate. For those who cannot afford Signatera, we have a compassionate care program to provide access.
How do I order Signatera?
Talk to your doctor about ordering Signatera. Your doctor will complete a requisition form to order the Signatera test. In order to design your personalized Signatera test, we will work with your provider to obtain your initial blood sample and your pathologist to obtain your tissue sample. A tissue sample is required for the Signatera test to be designed and performed.
References:
Weber J, Mandala M, Del Vecchio M, et al. Adjuvant Nivolumab versus Ipilimumab in Resected Stage III or IV Melanoma. September 10, 2017DOI: 10.1056/NEJMoa1709030.
Robert C, Thomas L, Bondarenko I, et al. Ipilimumab plus dacarbazine for previously untreated metastatic melanoma. New England Journal of Medicine. 2011;364(26):2517-26. doi: 10.1056/NEJMoa1104621.
Opdivo (nivolumab) in Combination with Yervoy (ipilimumab) and Opdivo Monotherapy Significantly Improved Overall Survival Versus Yervoy Alone in Patients with Previously Untreated Advanced Melanoma
abstracts.asco.org/199/AbstView_199_184185.html
Bratman SV, Yang SYC, Iafolla MAJ, et al. Personalized circulating tumor DNA analysis as a predictive biomarker in solid tumor patients treated with pembrolizumab. Nat Cancer. 2020;1:873–881.
Lee JH, Menzies AM, Carlino MS, et al. Longitudinal monitoring of ctDNA in patients with melanoma and brain metastases treated with immune checkpoint inhibitors. Clin Cancer Res. 2020;26:4064-4071.
McDowell S. Liquid biopsies: past, present, and future. American Cancer Society. February 12, 2018. https://www.cancer.org/latest-news/liquid-biopsies-past-present-future.html
Natera, Inc. BESPOKE Study of ctDNA Guided Immunotherapy. https://www.clinicaltrials. gov/ct2/show/NCT04761783
eremet T, Jansen Y, Planken S, et al. Undetectable circulating tumor DNA (ctDNA) levels correlate with favorable outcome in metastatic melanoma patients treated with anti-PD1 therapy. J Transl Med. 2019;17(1):303. doi: 10.1186/s12967-019-2051-8
Sponsored by The Personalized Medicine Foundation, Cancer Connect and Natera.