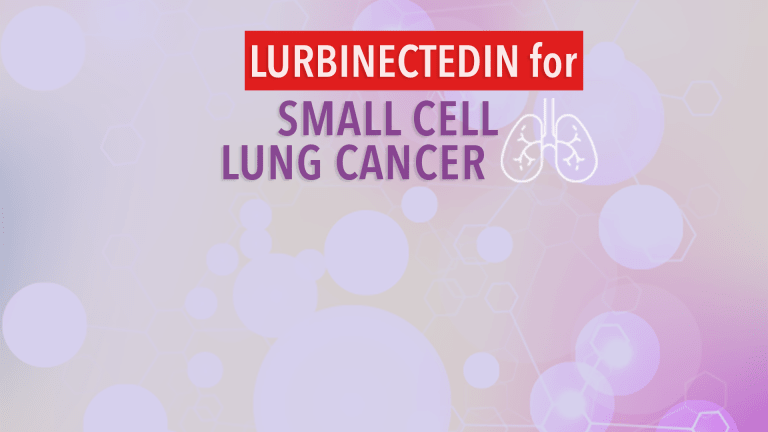 Zepzelca (Lurbinectedin) in Small Cell Lung Cancer
Lurbinectedin appears active in the treatment of small cell lung cancer and was FDA approved in June 2020.
by Dr. C.H. Weaver M.D. 9/2021
Zepzelca (Lurbinectedin) improved overall response rates and survival outcomes for patients with small cell lung cancer (SCLC), according to findings from the phase 2 BASKET trial presented at the 2019 American Society of Clinical Oncology Annual Meeting. The encouraging activity led to Food and Drug Administration approval in June of 2020.
About Zepzelcaa (Lurbinectedin)
Zepzelca inhibits RNA polymerase II, which is needed for the transcription process and is over-activated in cancers with transcription addiction like SCLC. A previous early phase clinical trial showed that the combination of Zepzelca and doxorubicin produced an overall response rate of 37% in advanced SCLC.
In the current clinical trial, investigators administered Zepzelca every 3 weeks to 105 individuals with SCLC that had previously failed chemotherapy; 45 had a chemotherapy-free interval of less than 90 days, and 60 had a chemotherapy-interval of 90 days or longer. Doctor considered these two groups to have resistant and sensitive SCLC respectively.
Researchers reported that overall 65% of patients showed some degree of tumor shrinkage on trial and 35.2% of SCLC patients had a partial or complete disappearance of their caner. Forty-five percent of individuals with sensitive disease, and 22% of those with resistant disease responded to treatment. The average survival duration was 9.3 months and the most common side effects included febrile neutropenia, anemia, and thrombocytopenia, occurring in 5-10% of individuals.
Zepzelca is being evaluated in the phase III ATLANTIS clinical trial for the treatment of patients with relapsed SCLC, and the results of a clinical trial evaluating the combination of Zepzelca and doxorubicin to cyclophosphamide, doxorubicin, and vincristine or topotecan chemotherapy in patients with recurrent SCLC was reported at the 2021 World Congress on Lung Cancer. 
This multicenter clinical trial in 631 patients with small cell lung cancer evaluated the use of Zepzelca in combination with doxorubicin in patients that had failed one prior platinum-based chemotherapy treatment regimen. Zepzelca and doxorubicin were directly compared to cyclophosphamide, doxorubicin, and vincristine (CAV) or topotecan. The median overall survival was 8.6 months for Zepzelca treated patients compared to 7.6 months. Zepzelca and doxorubicin are clearly an active treatment but the combination did not represent a significantly improvement compared to standard chemotherapy. 
References:
PharmaMar announces positive results in its lurbinectedin monotherapy trial for small cell lung cancer. PharmaMar website. Published March 25, 2019. pharmamar.com/wp-content/uploads/2019/03/PR_Lurbinectedin-phase-II-results_OK.pdf. Accessed March 25, 2019.
Trigo JM, Leary A, Besse B, et al. Efficacy and safety of lurbinectedin (PM1183, ZEPSYRE) in small cell lung cancer (SCLC): results from a phase 2 study. J Clin Oncol. 2018;36(suppl; abstr 8570). doi: 10.1200/JCO.2018.36.15_suppl.8570.