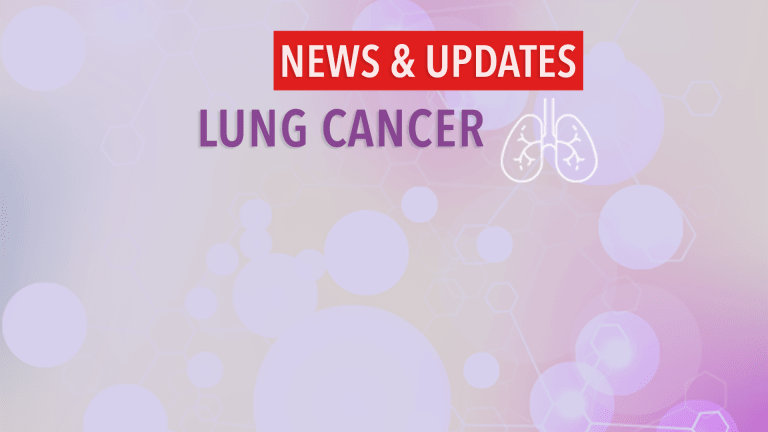 Xyotax™ Reduces Side Effects and Increases Patient Convenience in NSCLC
Xyotax™ Reduces Side Effects and Increases Patient Convenience as Initial Therapy and as Recurrent Therapy in NSCLC
According to results from two recently conducted trials, the chemotherapy agent Xyotax (paclitaxel poliglumex) results in reduced side effects and increased patient convenience in terms of administration compared to either Taxotere® (docetaxel), Gemzar® (gemcitabine) or Navelbine® (vinorelbine) in patients with advanced non-small cell lung cancer.
Lung cancer remains the leading cause of cancer deaths in the United States and Europe. Non-small cell lung cancer (NSCLC) is the most common type of lung cancer, comprising approximately 75%-80% of all lung cancers. Advanced NSCLC refers to cancer that has spread from its site of origin to distant and/or several sites in the body. The mainstay of treatment for advanced NSCLC is chemotherapy or targeted therapy. One of the most commonly used chemotherapy combinations includes paclitaxel and carboplatin (Paraplatin®). Unfortunately, this chemotherapy regimen is associated with significant side effects and patients who have concomitant health or medical problems, or those who are elderly, may have a difficult time tolerating therapy. Research continues to evaluate ways to reduce side effects of agents and/or improve the duration of survival for patients with NSCLC.
One reason that paclitaxel is associated with side effects that make it difficult for many patients to tolerate is that its formulation includes agents that allow for the proper storage and administration of the drug. It is these agents that are responsible for the development of many side effects associated with paclitaxel. Often, administration of paclitaxel requires steroids and antihistamines to reduce side effects or allergic reactions to the agent. Xyotax is a new formulation of paclitaxel that is designed to reduce side effects while maintaining the effectiveness of the drug. Xyotax includes the active components of paclitaxel that are bound to water-soluble molecules, which are more easily tolerated by the body. In addition, steroids or antihistamines are unnecessary with Xyotax, in contrast with paclitaxel. Results from a recent multi-institutional clinical trial demonstrated that Xyotax provided similar survival times to paclitaxel, with reduced side effects and reduced administration times. Clinical trials are ongoing to directly compare Xytoxax to other chemotherapy agents in the treatment of NSCLC.
One recent clinical trial, referred to as the STELLAR 4 trial, was recently conducted to further evaluate Xyotax as initial therapy for patients with NSCLC who had a poor performance status (a measure of the ability of a patient to perform daily activities). Patients in this trial were treated with either Xyotax, or the commonly used chemotherapy agents Gemzar or Navelbine as initial therapy and were directly compared. Overall, survival was comparable between the groups of patients, with an average duration of survival of 7.3 months for those treated with Xyotax and 6.6 months for those treated with either Gemzar or Navelbine. Survival at 2 years was 15% for those treated with Xyotax, compared with 10% for those treated with either Gemzar or Navelbine. Side effects were reduced in the group of patients treated with Xyotax, particularly side effects affecting the heart, gastrointestinal system, hematological (blood) cell levels, and nausea and vomiting. There was an increase in side effects to the nervous system (neuropathy) with Xyotax compared to the other chemotherapy agents.

A second clinical trial, referred to as the STELLAR 2 trial, was also recently conducted to further evaluate Xyotax as treatment for recurrent NSCLC. This trial was a direct comparison of Xyotax to the commonly used chemotherapy agent Taxotere in patients with recurrent NSCLC. The average duration of survival was approximately 7 months for patients treated with either Xyotax or Taxotere; however, patients treated with Xyotax experienced fewer side effects, including a reduction in infection, low blood cell levels, and fever associated with low immune cell levels, generalized weakness, breathing problems, pain or ulcers of the gastrointestinal system, hair loss, fatigue, and side effects affecting the eye. Rates of neuropathy were higher in patients treated with Xyotax than with Taxotere.
The researchers from both trials concluded that Xyotax reduces side effects and improves administration convenience compared to commonly used chemotherapy agents as either initial treatment or recurrent treatment in patients with advanced NSCLC.
Reference: Cell Therapeutics Incorporated (CTI). STELLAR. STELLAR 2 and 4 Pivotal Trials Demonstrate XYOTAX(TM) Produces Equivalent Survival While Significantly Reducing Serious Side Effects in the Treatment of First- or Second-Line Non-Small Cell Lung Cancer Available here. Accessed May 2005.