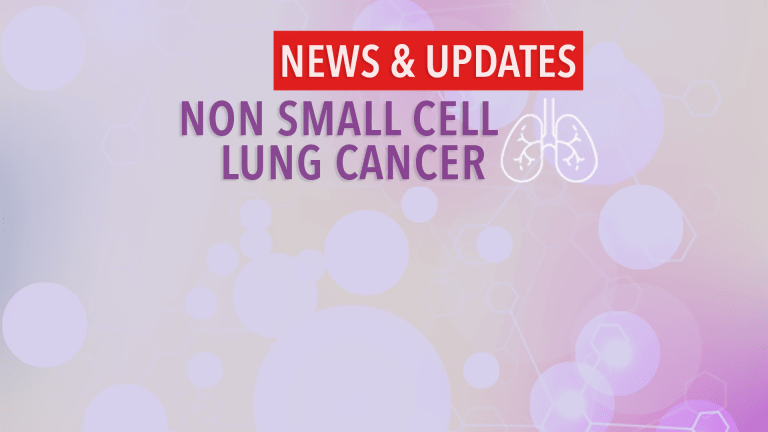 Tumor Mutational Burden Predicts for Response to Immuotherapy in NSCLC
Research suggests that tumor mutational burden assessment can help predict response to immunotherapy in NSCLC.
by Dr. C.H. Weaver M.D. updated 7/2021
Higher tumor mutational burden (TMB) is associated with greater response to treatment with Opdivo (nivolumab) plus Yervoy (ipilimumab) immunotherapy among patients with advanced non-small cell lung cancer (NSCLC), according to study results presented at the American Association for Cancer Research Annual Meeting.1
Researchers studied 288 patients with chemotherapy-naive stage IV or recurrent stage IIIb NSCLC who were treated with Opdivo plus Yervoy immunotherapy for up to 2 years. Researchers excluded patients with ALK or EGFR targetable mutations. The investigators used Foundation One CDx (Foundation Medicine, Inc.) to assess for TMB.
Tumor mutational burden is a measurement of the mutations carried by tumor cells and is a predictive biomarker being studied to evaluate its association with response to immunotherapy. TMB is measured using DNA sequencing, such as Whole Exome Sequencing (WES) to determine the number of acquired mutations in the tumor. Tumor cells with high TMB may have more novel antigens (targets) which are associated with an increase in cancer-fighting T cells to direct an anti-cancer response.2-5
The overall response to treatment on this trial was 30% but was significantly higher in individuals whose NSCLC had high PD-L1 expression; 41% of patients with high PD-L1 expression responded to treatment compared to only 15% with PD-L1 expression less than 1%.
Response to treatment was also better in patients had high TMB. Researchers reported overall response rates of
9% for those with less than 5 mutations/megabase
15% for those with less than 10 mutations/megabase
44% for those with at least 10 mutations/megabase and
39% for those with at least 15 mutations/megabase.
Patients with at least 10 mutations/megabase had longer progression free survival. The research suggests that assessment of TMB may be useful for predicting the benefit of treatment with immunotherapy.
First-Line Immunotherapy Treatment Can Improve Survival for Subset of Lung Cancer Patients
Findings from a phase III clinical trial for advanced lung cancer patients could help oncologists better predict which patients are likely to receive the most benefit from immunotherapy as a first-line treatment based on the unique molecular characteristics of their tumor, according to a new study reported by a global team led by David Carbone, MD, PhD, of The Ohio State University Comprehensive Cancer – Arthur G. James Cancer Hospital and Richard J. Solove Research Institute (OSUCCC – James).
In this study, researchers compared the effectiveness of the immunotherapy drug Opdivo (nivolumab), with standard-of-care chemotherapy in 541 patients with previously untreated or recurrent non-small cell lung cancer (NSCLC) that expressed PDL-1 antibodies.
In the current study patients were randomized to receive either immunotherapy or standard-of-care chemotherapy. About 60 percent of patients treated on the trial ultimately crossed over to the immunotherapy treatment arm due to disease progression.
Results from this new study showed that Opdivo did not result in longer progression-free survival compared with chemotherapy in the overall population. The response rate for patients receiving Opdivo was 26.1 percent, with a 12.1 month median duration of response before disease progression. The response rate for patients treated on the chemotherapy arm was 33.5 percent, but median duration of response was just 5.7 months before disease progression.
"The good news is that we discovered that a subset of patients who had both high tumor mutation burden and high PDL-1 positive status did experience a significant benefit from immunotherapy," says Carbone.
Patients with both high tumor mutation burden and high PDL-1 positive status had a 75 percent response rate compared with a 16 percent response rate to immunotherapy among patients with low mutation burden and low PDL-1. These same two groups had 25 percent and 23 percent response rates, respectively, when treated with chemotherapy, showing that these markers were selective for immunotherapy.
Understanding a patient's overall tumor burden through genomic testing, says Carbone, could help identify patients most likely to benefit from immunotherapy before therapy ever begins.
"This study is an important step toward understanding the impact of tumor mutation burden and PDL-1 in immunotherapy response. This data shows we should evaluate these two factors independently to most accurately define who will benefit from immunotherapy," says Carbone.6
References:
Ramalingam S. Abstract CT078. Presented at American Association for Cancer Research Annual Meeting; April 14-18, 2018; Chicago.
Alexandrov LB et al. Nature. 2013; 500: 415-421.
Yuan J et al. J lmmunother Cancer. 2016; 4:3.
Schumacher TN, Schreiber RD. Science. 2015;348(6230):69-74.
Gibney GT et al. Lancet Oncol. 2016; 6;17: e542-e551.
June 22, 2017, issue of the New England Journal of Medicine. Media Contact: Amanda J. Harper – OSUCCC – James Media Relations Amanda.Harper2@osumc.edu