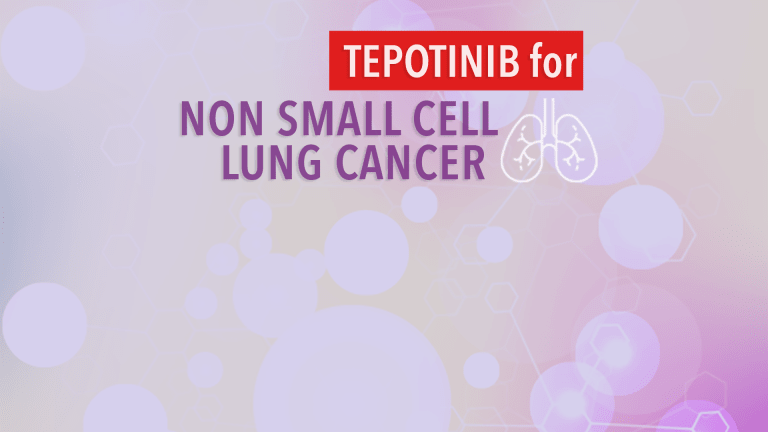 Tepmetko Treatment for Non Small Cell Lung Cancer
Tepmetkois a novel precision cancer medicine capable of targeting NSCLC with MET 14 exon skipping alterations
by Dr. C.H. Weaver M.D. 2/2021
On February 3, 2021, the Food and Drug Administration granted accelerated approval to Tepmetko (tepotinib) for adult patients with metastatic non-small cell lung cancer (NSCLC) harboring mesenchymal-epithelial transition (MET) exon 14 skipping alterations. (6)
Alterations of the MET signaling pathway are found in various cancer types, including 3-5% of individuals with NSCLC. MET mutations correlate with aggressive tumor behavior and poor clinical prognosis. (1-3)
About Tepmetko (tepotinib)
Tepotinib is an oral MET kinase inhibitor that is designed to selectively inhibit the oncogenic signaling caused by MET (gene) alterations, including both MET exon 14 skipping alterations and MET amplifications, or MET protein over expression. (4)
The initial FDA Breakthrough Therapy Designation was based on data from the ongoing VISION clinical trial (NCT02864992), showing a 50% response rate and an overall response duration of 14 to 17 months in patients with metastatic NSCLC harboring MET exon 14 skipping alterations detected by liquid or tissue biopsy.
Efficacy was demonstrated in the VISION trial (NCT02864992), a multi-center, non-randomized, open-label, multicohort study enrolling 152 patients with advanced or metastatic NSCLC with MET exon 14 skipping alterations. Patients received tepotinib 450 mg orally once daily until disease progression or unacceptable toxicity. Among the 69 treatment naïve patients, the overall response to treatment was 43% with a median response duration of 10.8 months. Among the 83 previously treated patients, the response rate was 43% with a median response duration of 11.1 months.

Cooking for Life
A new cookbook offers recipes bursting with flavor and health-boosting nutrients.
The most common side effects reported were edema, fatigue, nausea, diarrhea, musculoskeletal pain, and shortness of breath. Tepotinib can also cause interstitial lung disease, hepatotoxicity, and embryo-fetal toxicity.
Tepotinib is also being investigated in the INSIGHT 2 study (NCT03940703) in combination with the tyrosine kinase inhibitor Tagrisso (osimertinib) in epidermal growth factor receptor (EGFR) mutated, MET amplified, locally advanced or metastatic NSCLC having acquired resistance to prior EGFR TKI.
References
Reungwetwattana T, et al. Lung Cancer 2017;103:27-37.
Mo HN, et al. Chronic Dis Transl Med 2017; 3(3):148-153.
Lutterbach B, et al. Cancer Res 2007;67:2081–8.
Bladt, F, et al. Clin Cancer Res 2013;19:2941-2951.
Paik P, et al. J Clin Oncol 2019;37: (suppl; abstr 9005).
US Food and Drug Administration. FDA grants accelerated approval to tepotinib for metastatic non-small cell lung cancer. February 3, 2021. www.fda.gov/drugs/drug-approvals-and-databases/fda-grants-accelerated-approval-tepotinib-metastatic-non-small-cell-lung-cancer. Accessed February 3, 2021.
​