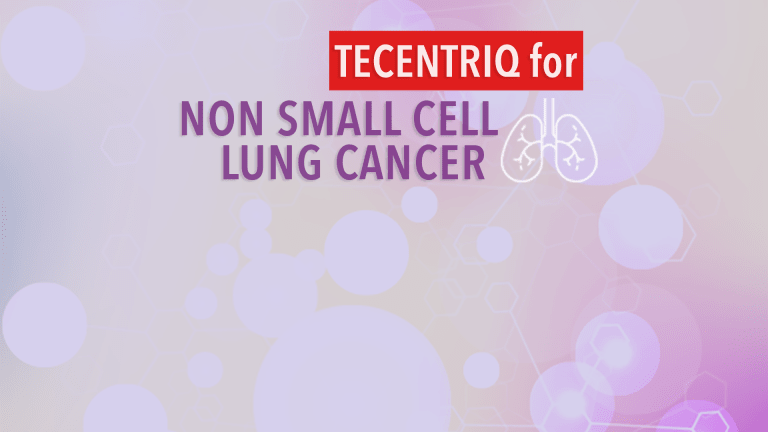 Tecentriq® Improves Survival in Early and Advanced Stage NSCLC
Tecentriq® Checkpoint Inhibitor immunotherapy improves survival in early and advanced stage non-small cell lung cancers.
Tecentriq® Checkpoint Inhibitor immunotherapy improves survival in early and advanced stage non-small cell lung cancers.
by Dr. C.H. Weaver M.D. updated 3/2021
​Tecentriq® (atezolizumab) immunotherapy prolongs the survival of individuals with non-small cell lung cancer (NSCLC) when used as part of an initial treatment in combination with chemotherapy and when used as a single drug for individuals with recurrent cancer.
The US Food and Drug Administration (FDA) has approved Tecentriq® (atezolizumab) monotherapy and in combination with Avastin® (bevacizumab), paclitaxel and carboplatin (chemotherapy), for the first-line treatment of people with metastatic (NSCLC) with no EGFR or ALK genomic abnormalities. The FDA approvals are based on results from Phase III studies demonstrating that Tecentriq was superior to standard chemotherapy for prolonging patient survival.(1-3,10,11)
About NSCLC
Lung cancer remains the leading cause of cancer-related deaths worldwide. In the United States, NSCLC accounts for 75–80% of all lung cancers. Although progress has been made in recent years, the majority of patients with advanced stage lung cancer still die from their disease. New treatments are needed. Precision medicine continues to impact the lives of lung cancer patients with research into genomics and genetics leading to unprecedented progress in improving outcomes. Tailored treatments have emerged to match a person's genetic make­up or a tumor's genetic profile. As a result, patients with lung cancer now typically re­ceive molecular testing that guides their physicians in determining which therapies are more likely to boost the chances of survival while limiting the potential for adverse effects.(4-6)
Checkpoint Inhibitors
Tecentriq belongs to a class of medicines called "checkpoint inhibitors." Checkpoint inhibitors are a novel precision cancer immunotherapy that helps to restore the body's immune system in fighting cancer by releasing checkpoints that cancer uses to shut down the immune system. PD-1 and PD-L1 are proteins that inhibit certain types of immune responses, allowing cancer cells to evade detection and attack by certain immune cells in the body. A checkpoint inhibitor can block the PD-1 and PD-L1 pathway and enhance the ability of the immune system to fight cancer. By blocking the binding of the PD-L1 ligand these drugs restore an immune cells' ability to recognize and fight the cancer cells. A diagnostic test to measure the level of PD-L1 is available.
Tecentriq is a monoclonal antibody designed to target and bind to a protein called PD-L1 (programmed death-ligand 1), which is expressed on cancer cells and cancer-infiltrating immune cells. PD-L1 interacts with PD-1 and B7.1, both found on the surface of T cells, causing inhibition of T cells. By blocking this interaction, Tecentriq may enable the activation of T cells, restoring their ability to effectively detect and attack cancer cells.
Tecentriq improves cancer free survival in early stage NSCLC.
The Phase III IMpower010 clinical trial evaluating Tecentriq® showed a statistically significant improvement in cancer free survival when used as adjuvant therapy following surgery and chemotherapy in patients with stage early stage NSCLC. The magnitude of DFS benefit was most pronounced in cancers expressing PD-L1.
The IMpower010 clinical trial evaluated 1005 patients with stage IB-IIIA NSCLC who were treated with Tecentriq immunotherapy or no additional treatment following surgical resection of their cancer and up to 4 cycles of adjuvant cisplatin-based chemotherapy. Data will be submitted to health authorities globally as soon as possible, including the U.S. Food and Drug Administration and the European Medicines Agency, and presented at an upcoming medical meeting. (14)
IMpower130 study Tecentriq combined with chemo improves survival in newly diagnosed stage IV NSCLC
Results from the IMpower 130 study demonstrated that the combination of Tecentriq (altezolizumab) plus chemotherapy significant improved overall survival and delayed cancer progression compared to chemotherapy alone for the first-line treatment of patients with stage IV nonsquamous non–small-cell lung cancer (NSCLC) and no ALK or EGFR mutations.(1,10)
Between April 16, 2015, and February 13, 2017, a total of 724 patients with stage IV squamous NSCLC were enrolled in the multi-center Impower130 clinical trial. Patients were treated with Tecentiq with or without the chemotherapy combination of carboplatin + nab paclitaxel followed by maintenance therapy.
Patients treated with the Tecentriq-chemotherapy survived on average 18.6 months compared to13.9 months with chemotherapy alone demonstrating a significant and clinically meaningful improvement in overall survival.
On December 3, 2019, the FDA approved Tecentriq in combination with chemotherapy for the first-line treatment of adults with metastatic, nonsquamous non–small-cell lung cancer (NSCLC) with no EGFR or ALK mutations.
IMpower150 study for previously untreated stage IV NSCLC
The IMpower 150 clinical trial compared Tecentriq in combination with chemotherapy (carboplatin and paclitaxel) with or without Avastin in people with stage IV or recurrent metastatic non-squamous NSCLC in 1202 previously untreated advanced NSCLC patients without a EGFR and ALK mutations. Individuals were treated with either one of 3 regimens and directly compared.(2) Avastin is an "angiogenesis inhibitor" biologic antibody designed to specifically bind to a protein called vascular endothelial growth factor (VEGF) that plays an important role throughout the lifecycle of a cancer to develop and maintain blood vessels, a process known as angiogenesis. Interfering with the cancers blood supply is thought to prevent that cancers ability to grow and spread in the body (metastasize).
Tecentriq plus carboplatin and paclitaxel
Tecentriq and Avastin plus carboplatin and paclitaxel
Avastin plus carboplatin and paclitaxel
The result of the study demonstrated that individuals treated with Tecentriq in combination with Avastin and chemotherapy were more likely to respond to treatment and survive compared to Avastin and chemotherapy. The median survival was improved from 14 to 19 months.
The rationale for combining Tecentriq and Avastin with chemotherapy is to target the cancer simultaneously with different medications and to enhance the potential of the immune system to combat the cancer by priming and activating a T cell response against cancer cell antigens.
Tecentriq Monotherapy as Initial Treatment
Tecentriq improves overall survival as a first-line monotherapy in certain people with advanced NSCLC. The Phase III IMpower 110 study evaluated Tecentriq® as first-line treatment in patients with stage IV NSCLC whose tumors express PD-L1 who had received no prior chemotherapy for metastatic disease. Tecentriq was directly compared with cisplatin or carboplatin and pemetrexed or gemcitabine chemotherapy in advanced NSCLC without ALK or EGFR mutations.
The median overall survival duration was 20.2 months for patients treated with Tecentriq compared with 13.1 months with chemotherapy. Tecentriq monotherapy improved overall survival by 7.1 months compared with chemotherapy alone. (7,8,9,11) The overall survival is substantially longer in chemotherapy-naive patients with metastatic NSCLC characterized by a higher levels of PD-L1 expression. (14)
Tecentriq Monotherapy for Recurrent NSCLC
The results of one study presented at ESMO 2016 reported the outcomes of 1,225 advanced or metastatic NSCLC patients whose disease had progressed following previous treatment with platinum-containing chemotherapy who were treated with either Tecentriq or Taxotere® (docetaxel). Tecentriq helped people live a median of 13.8 months, 4.2 months longer than those treated with Taxotere chemotherapy regardless of their levels of programmed death-ligand 1 (PD-L1) expression.(3)
Tecentriq Side Effects
Possible serious side effects with Tecentriq include, but are not limited to, lung problems (pneumonitis), liver problems (hepatitis), intestinal problems (colitis), hormone gland problems (especially the pituitary, thyroid, adrenal glands and pancreas), nervous system problems (neuropathy, meningitis and encephalitis), eye problems (inflammation of the eyes), severe infections and severe infusion reactions.
Immune-mediated Nephritis Reported to Occur with Tecentriq®
Enough patients have developed immune-mediated nephritis which has been biopsy-confirmed in many cases that the manufacturer of Tecentriq now considers this to be an important adverse reaction. The assessment was based on evaluation of approximately 17,215 clinical trial patients and 20,783 post-marketing patients that have been exposed to Tecentriq® to date. (12)
About Immune-mediated Nephritis
Nephritis is a general term given to inflammation of the spaces between the renal tubules of the kidneys which can lead to inflammation, swelling and a decrease in kidney function. There are a number of causes of nephritis one of which is an "immune system" related inflammation or reaction in response to a specific drugs or medication.
Symptoms of Immune-mediated nephritis may include:
Blood in the urine.· Pain in the pelvis or lower back.· Decreased urine output and weight gain. · Nausea, vomiting.· Rash.· Swelling of any area of bodyPatients being treated with Tecentriq should ensure they are aware of this side effect of treatment and the development of any of these signs or symptoms should be brought to the attention of their doctor.
References:
Lancet Oncol. 2019 May 20. Epub ahead of print.
Barlesi F, Park K, Ciardiello F, et al. Primary analysis from OAK, a randomized phase III study comparing atezolizumab with docetaxel in 2L/3L NSCLC. Proceedings from the annual meeting of the 2016 European Society for Medical Oncology (ESOM). (Abstract #LBA44) Oct. 9, 2016.
Genetech. (2016.) FDA Approves Genetech's Cancer Immunotherapy Tecentriq® for People with a Specific Type of Metastatic Lung Cancer. [Press release.]
Socinski M et al., Atezolizumab for First-Line Treatment of Metastatic non-squamous NSCLC. N Engl J Med. 2018; 378:2288- 2301.
GLOBOCAN 2018; Lung Cancer: Estimated cancer incidence, mortality and prevalence worldwide. World Health Organization. Available here. Accessed December 2018.
American Cancer Society; What Is Non-Small Cell Lung Cancer?. Accessed December 2018.
Presented at the European Society for Medical Oncology (ESMO) 2019 Congress on Friday the 27th of September from 16:00-17:30 CET (Abstract LBA78; Barcelona Auditorium – Hall 2).
Spigel D et al. IMpower110: Interim OS Analysis of a Phase III Study of Atezolizumab (atezo) vs Platinum-Based Chemotherapy (chemo) as 1L Treatment (tx) in PD-L1–selected NSCLC [ESMO Abstract LBA78].
Spigel D, et al. Abstract LBA78. Presented at: European Society for Medical Oncology Congress; Sept. 27-Oct. 1, 2019; Barcelona, Spain.
FDA Approves Genentech's Tecentriq Plus Chemotherapy (Abraxane and Carboplatin) for the Initial Treatment of Metastatic Non-Squamous Non-Small Cell Lung Cancer [news release]. South San Francisco, CA: Business Wire; December 3, 2019. FDA Approves Genentech's Tecentriq Plus Chemotherapy (Abraxane and Carboplatin) for the Initial Treatment of Metastatic Non-Squamous Non-Small Cell Lung Cancer. Accessed December 3, 2019.
Herbst RS, Giaccone G, de Marinis F, et al. Atezolizumab for first-line treatment of PD-L1-selected patients with NSCLC.N Engl J Med. 2020;383:1328-1339. doi:10.1056/NEJMoa1917346
https://www.gene.com/download/pdf/Tecentriq_DHCP_important-drug-warning_08-27-18.pd