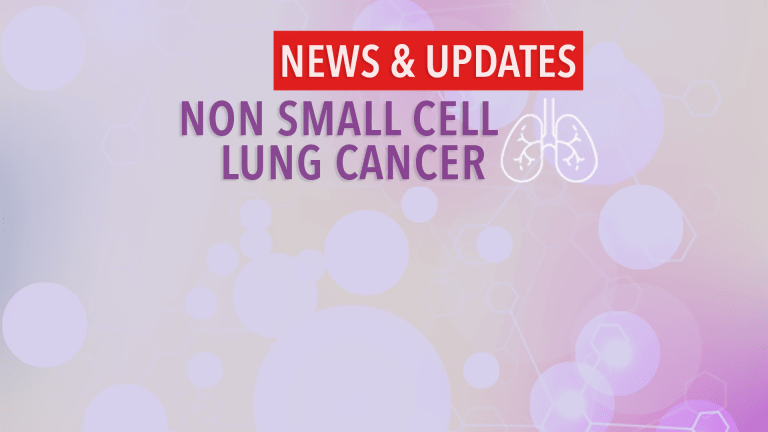 Tabrecta™ (capmatinib) Targets the Exon 14 Skipping Mutation in NSCLC
c-Met inhibitor Capmatinib precision cancer medicine for the treatment of NSCLC targeting Met exon 14 FDA approved.
by Dr. C.H. Weaver M.D. updated 8/2022
The U.S. Food and Drug Administration has granted approval to Tabrecta (capmatinib,INC280) as a first-line treatment for patients with non-small cell lung cancer (NSCLC) with the MET exon 14 skipping (METex14) cancer driving mutation.9
There are currently no other approved therapies that specifically target METex14 mutated advanced NSCLC. MET is a cancer driving mutation1,2 that is seen in approximately 3% to 4% of patients with NSCLC,3 and is associated with a poor prognosis.4,5 Tabrecta is a precision cancer medicine that has been shown to be a highly potent and selective MET inhibitor and has been granted Priority Review by the FDA based on positive primary results from the GEOMETRY mono-1 clinical study presented at the 2019 Annual Meeting of the American Society of Clinical Oncology and updated in the New England Journal of Medicine.6,10
About Tabrecta (capmatinib (INC280)
Tabrecta is an oral medication that inhibits the proto-oncogene c-Met's anticancer activity. c-Met is a protein that in humans is encoded by the MET gene. The c-Met protein possesses tyrosine kinase activity and plays a key role in cancer cell proliferation, survival, invasion, metastasis, and angiogenesis. Tabrecta selectively inhibits c-Met phosphorylation and disrupts c-Met signal transduction pathways leading to cell death in cancer cells over expressing the c-Met protein.
The GEOMETRY mono-1 clinical trial evaluated adult patients with locally advanced or metastatic NSCLC with the MET exon-14 skipping mutation who were treated with Tabrecta. Overall 68% of previously untreated patients responded to treatment for an average response duration of 16.6 months. 16.6 months. Among 100 previously treated patients the response rate was 44% with an average response duration of 9.7 months.
Responses were also reported in 54% of patients with brain lesions. Thirteen of 14 patients with METex14 had brain metastases at baseline (3 treatment-naive and 10 previously treated patients) and were considered evaluable. In a post-hoc analysis, 7 intracranial responses were observed, including 4 complete responses.
The most common side effects were swelling, nausea, musculoskeletal pain, fatigue, vomiting, shortness of breath, cough, and decreased appetite.
Capmatinib-Iressa Combination
The combination of Iressa (gefitinib) and Tabrecta has also been evaluated and appears to be safe and effective for the treatment of epidermal growth factor receptor (EGFR)-mutated, MET factor-dysregulated NSCLC.
The EGFR is involved in cellular replication and growth, and a mutation within the EGFR can lead to the development and spread of cancer cells. Patients with NSCLC that has an EGFR mutation are treated with EGFR tyrosine kinase inhibitor drugs that block the effects of the mutated EGFR.
Iressa is one of several EGFR drugs that are used for the treatment of patients whose cancer express's the most common type of EGFR mutations in NSCLC (exon 19 deletions or exon 21 L858R substitution gene mutations).
Researchers believe that combining EGFR and c-Met inhibition may lead to improved anti-cancer responses in NSCLC. To test this approach doctors performed a phase 1b/2 clinical trial in 161 patients with EGFR-mutated, MET-dysregulated NSCLC that had progressed during prior EGFR-tyrosine kinase inhibitor treatment. Patients were treated with the combination of Iressa, and capmatinib capsules at varying doses. The combination therapy was generally well tolerated and overall 47% of individuals responded to treatment and 73% were reported to have either responsive or stable disease.
The study results, published in the Journal of Clinical Oncology demonstrate that the combination of capmatinib and Iressa is feasible, rational and may be a promising treatment option for patients with EGFR-mutated, MET-dysregulated NSCLC. The continued development of capmatinib is occurring in clinical trials.7
References:
Smyth EC, et al. Emerging molecular targets in oncology: clinical potential of MET/hepatocyte growth-factor inhibitors. Onco Targets Ther. 2014;7:1001-1014.
Sadiq AA, Salgia R. MET as a possible target for non-small-cell lung cancer. J Clin Oncol 2013;31:1089-96.
Salgia R. MET in Lung Cancer: Biomarker Selection Based on Scientific Rationale. Mol Cancer Ther. 2017;16(4):555-565.
Cappuzzo F, et al. Increased MET gene copy number negatively affects survival of surgically resected non-small-cell lung cancer patients. J Clin Oncol 2009;27:1667-74.
Tong JH, et al. MET Amplification and Exon 14 Splice Site Mutation Define Unique Molecular Subgroups of Non-Small Cell Lung Carcinoma with Poor Prognosis. Clin Cancer Res 2016;22:3048-56.
Novartis Shows Growing Strength in Lung Cancer Innovation with New Capmatinib Investigational Data and Novel Canakinumab Clinical Trials
Wu YL, Zhang L, Kim DW, et al. Phase Ib/II study of capmatinib (INC280) plus gefitinib after failure of epidermal growth factor receptor (EGFR) inhibitor therapy in patients withEGFR-mutated, MET factor–dysregulated non–small-cell lung cancer. J Clin Oncol. 2018;36:3101-3109. doi: 10.1200/JCO.2018.77.7326
Wolf J, et al. Abstract 9004. Presented at: ASCO Annual Meeting; May 31-June 4, 2019; Chicago.
Juergen Wolf, M.D., et al. Capmatinib in METex14-Mutated or MET-Amplified Advanced NSCLC. New England Journal of Medicine. 2020.