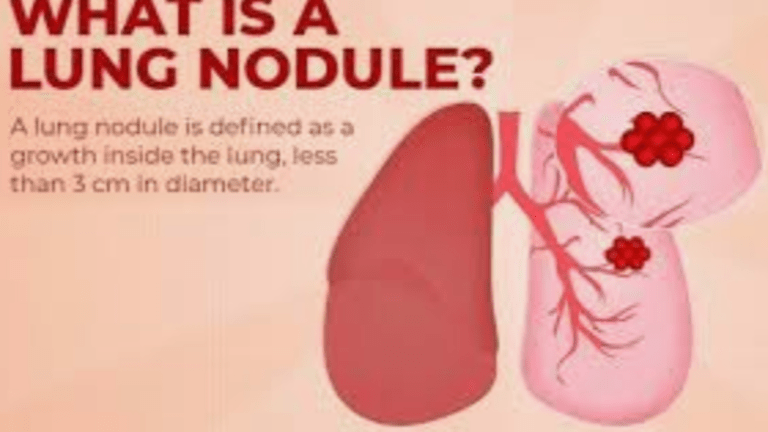 Solitary Pulmonary Nodules and Granulomas
A single nodule may represent cancer or any number of less lethal conditions.
by Dr. C.H. Weaver M.D.
A not uncommon medical problem is the identification of a single nodule or lesion in the lungs by CT, MRI, or X-ray. A single nodule may represent cancer or any number of less lethal conditions and represents a diagnostic dilemma.
Solitary pulmonary nodules in asymptomatic individuals may be benign or malignant, and the list of possible causes includes cancer, infection, and granulomas; however, treatment decisions are often based on whether or not the nodule is cancerous. The goal of investigating these nodules is to detect cancerous nodules or changes as soon and as accurately as possible.
Biopsies of a nodule can be performed using three types of procedures: bronchoscopy, percutaneous needle biopsy, or surgery to remove the nodule. Surgical removal of every nodule identified would subject thousands of patients to unnecessary surgery; however, failure to remove an early-stage lung cancer would miss the opportunity for curative treatment.
How then to proceed?
In the absence of an obvious clinical explanation, the first step is to determine if the nodule is new or old. If previous images of the lungs are available and reveal that the nodule is pre-existing and stable, no intervention beyond regular follow-up is required. If, however, the nodule is determined to be new, it needs to be evaluated.
According to results of a study published in Cancer, solitary pulmonary nodules may be effectively monitored with 100% accuracy through repeat needle biopsies, clinical observation, and repeat CT scans.1
The study, conducted at a lung cancer referral center, involved 118 patients with solitary pulmonary nodules measuring less than 4 cm, which were identified via CT scan. In the course of the study, 118 patients underwent 194 biopsy procedures; 137 had biopsies performed by bronchoscopy (transbronchial biopsy), and 57 underwent needle biopsies (percutaneous needle aspiration). In addition, each patient received clinical observation, repeat CT scans, and repeat biopsies in an effort to reduce the need for surgical intervention.
Results of the study found that after an average of four years of follow up, the incidence of cancer was 61%. These results were also found to be 100% sensitive, specific, and accurate for detecting malignant changes in these nodules.
Researchers concluded that repeat needle biopsies, in addition to repeat CT scans and clinical observation, are an accurate way to classify solitary nodules as either benign or malignant. The recommendation of the study's authors includes initial evaluation of the nodules with a transbronchial biopsy followed by needle biopsies. In addition, clinical observation and repeat CT scans should be used as needed to address any continued suspicion of cancer. These interventions appear to reduce unneeded surgery rates from 60% to 5% without affecting the overall survival of patients who may have malignant solitary pulmonary nodules.
What is a Lung Granuloma?
Granulomas are nodules caused by inflammation that may be the result of infectious or noninfectious causes. Granulomas in the lung typically do not produce any symptoms, but they are often detected when a chest X-ray is ordered for another reason. It is important to differentiate a granuloma from cancer.
Lung Granulomas Caused by Infections
Infections are the most common cause of lung granulomas, and these infections often involve mycobacteria or fungi. Mycobacteria include tuberculosis and organisms referred to jointly as nontuberculous mycobacteria, which are found in water and soil.
Fungi that can lead to lung granulomas include Histoplasma, Coccidioides, and Cryptococcus. These fungi are found in soil (and sometimes in bird or bat droppings), and lung infection occurs when the spores are inhaled.2-4
Non-infectious Causes of Lung Granulomas
Sarcoidosis is the most common noninfectious cause of lung granulomas in the United States. The cause of sarcoidosis is unknown, but the condition causes inflammation and can lead to granulomas in any organ of the body, including the lungs. Other conditions or exposures that cause lung inflammation (such as inhaling foreign particles) can also contribute to lung granulomas.
Regardless of the underlying cause, lung granulomas are not cancer and most do not require treatment. Treatment may be required if the condition that caused the granuloma is severe or produces symptoms.1,5
References:
Welker J, Alatter M, Gautam S, et al. Repeat Needle Biopsies Combined with Clinical Observation are Safe and Accurate in the Management of a Solitary Pulmonary Nodule. Cancer. 2005; 103: 599-607.
Mukhopadhyay S, Gal AA. Granulomatous lung disease: an approach to the differential diagnosis. Archives of Pathology & Laboratory Medicine. 2010;134:667-690.
Centers for Disease Control and Prevention website. Cryptococcus (Cryptococcosis) general information. Page last updated November 19, 2020. https://www.cdc.gov/fungal/diseases/cryptococcosis-neoformans/symptoms.html