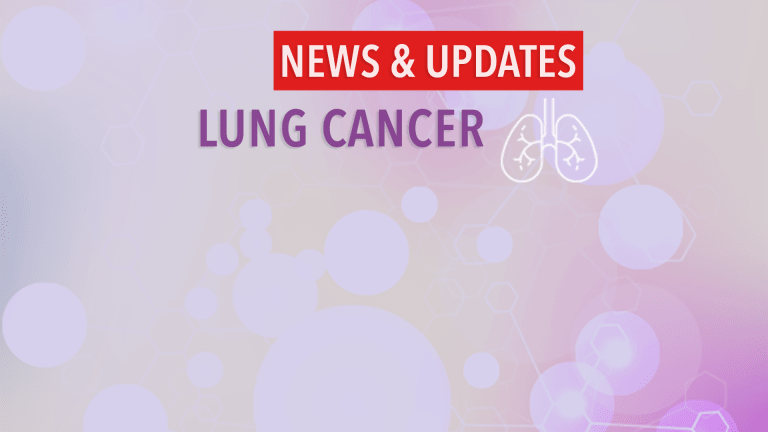 Outsmarting Lung Cancer
New precision cancer medicines are increasing survival rates for lung cancer patients
​The Bonnie J Addario Lung Cancer Foundation
Bekah Cunningham was concerned when she was diagnosed with bronchitis and pneumonia for the third time in 2015. She was 28 and had never suffered from illnesses before, and the antibiotics and allergy medications prescribed by doctors were not alleviating her cough and fatigue. After trying to cope for nine months, Bekah's fatigue worsened and she started coughing up blood. She also discovered a golf ballsized lump in her right breast.
In early 2016, Bekah was diagnosed with stage II breast cancer when she received another piece of devastating news from her pulmonologist: The fluid in her lungs contained cancer cells. She had stage IV lung cancer that had spread to her breast, liver, bones and lymph nodes.
"I was absolutely stunned," says Bekah, who lives in Fairhope, Georgia. "I was not a smoker, nobody in my family had lung cancer, and I'd always been relatively active." She is one of more than 220,000 Americans who will be diagnosed with lung cancer in 2017—a form of cancer that has historically had a low survival rate.1 Lung cancer accounts for more cancer deaths each year than the number of deaths caused by breast, prostate and colorectal cancer combined.2 Survival rates are low largely because symptoms (such as persistent coughing or shortness of breath) do not manifest until the later stages of the disease. When the cancer has spread to other parts of the body (stage IV cancer), curative treatments such as surgery or radiation therapy are much less feasible. These patients typically have only a 2 percent chance of being alive five years after diagnosis.
Desperate for guidance, Bekah called the Bonnie Addario Lung Cancer Foundation in San Carlos, Calif., and learned that she had reason to hope for better odds. Molecular testing of her cancer cells revealed that the cancer was ALK-positive, which meant she was eligible for targeted therapy. Certain forms of non-small cell lung cancer have genetic abnormalities in the cancer cells that the disease is dependent on, and in the last few years several new drugs have been approved that specifically target these mutations.
"The mutations produce a signal to the cancer cells to stay alive, grow and spread, and these drugs can silence that signal," says David Ross Camidge, MD, PhD, director of the lung cancer program at the University of Colorado Cancer Center. "It's not a cure, but it can suppress the disease."
While the majority of people with lung cancer have at least some history of smoking, these targetable mutations are probably not related to smoking, says Dr. Camidge. Now there are licensed targeted therapies available for four different mutant forms of lung cancer (EGFR, ALK, ROS1, and BRAF), and roughly one quarter of all people with lung cancer in the Western world test positive for one of these mutations, says Dr. Camidge. That percentage increases dramatically, though, in young people with the disease. According to preliminary results from the Genomics of Young Lung Cancer Study, 77 percent of patients under the age of 40 had either the EGFR, ALK or ROS1 mutation.3 The study was launched in 2014 by the Bonnie Addario Lung Cancer Foundation, a non-profit organization aiming to eradicate lung cancer through research, early detection, education and treatment.
"Precision medicine is a paradigm changer for all cancer, especially for skin and lung cancers because these two have the highest percentage of patients with targetable genomic mutations," says Bonnie J Addario, a lung cancer survivor and founder of the Bonnie J Addario Lung Cancer Foundation. "Identifying those mutations when you are first diagnosed is critical because there are targeted drugs that will be more effective than standard chemotherapy."
Bekah witnessed the dramatic differences between these two forms of treatment because she started chemotherapy while her doctors were awaiting results of her molecular testing for mutations. While on chemotherapy for three months, scans showed only small regression of the disease, and Bekah struggled with nausea and fatigue the week after each infusion. When she switched to Xalkori and later Alecensa—drugs that target the ALK abnormality—the effect was noticeable.
"I had an exceptional response to the treatment, and the cancer has shrunk to the point that you cannot see any cancer on my scans," says Bekah, who has been on targeted therapy for a year, "I have my energy back, and I've been able to go back to work and resume my life again."
Although her initial response to the medication has been positive, Bekah also understands that cancer cells typically evolve to avoid suppression by the targeted therapy. As a result, she will most likely need to switch to a different targeted drug at some point.
Bekah's tumor also tested positive for a marker known as PDL-1, which may increase her likelihood of responding to drugs that help the immune system fight the disease. But this marker may not be as useful in predicting response to immunotherapy when patients also have driver mutations such as ALK or EGRF, explains Dr. Camidge. "Immunotherapy should still be considered experimental in this setting," he says.
Living Longer Than Expected
Like Bekah, Samantha Mixon of Jonesboro, Alabama, never considered lung cancer when she started feeling pain in her right shoulder blade. Her doctor prescribed muscle relaxants, and she lived with the discomfort for four years until she started experiencing a different form of pain: intense migraines and vomiting.
Her mother rushed her to an emergency room, and an MRI showed that Samantha had a tumor in her brain. She was relieved when a neurosurgeon successfully removed the tumor, but the biopsy results suggested that the tumor had originated elsewhere. After undergoing a PET scan, Samantha learned that she had stage IV lung cancer. The pain in her right shoulder blade had been caused by cancer growing in her lung, and the cancer had spread to her brain.
"I was a single mom with a 7-year-old daughter, and I was given 12 to 18 months to live," says Samantha, 37. "It was very difficult news for me and my family."
Her doctor explained that there was a chance that she could live longer if she tested positive for one of the genetic mutations, and two weeks later, she received good news: The cancer had the EGFR mutation. Cautiously optimistic, Samantha started taking a targeted therapy called Tarceva in January 2013, and within three months the cancer in her lungs had shrunk 60 percent.
"That was the first time I started to feel hope again," she says. After nine months of disease regression, though, her doctor noticed cancer growing in one of her lungs, and he recommended radiation treatment. The radiation was successful, and since then, the cancer has remained stable while Samantha continues taking Tarceva. Samantha remarried last year, and although she worries that the disease will eventually progress, she knows there are second-line drugs that target some of the molecular forms of resistance that develop on Tarceva.
Seeking Earlier Detection
Although Bonnie Addario has celebrated the advancements in lung cancer treatment in the last several years, her long-term goal is better screening for the disease. Now the only people who qualify for lung cancer screening are those aged 55 to 74 who have a history of smoking a pack a day for 30 years or more, who currently smoke, or who have quit smoking within the last 15 years.
"This eliminates all young people and non-smokers who could have lung cancer," Addario says. She hopes in the future that improvements in our understanding of the differing biologies of lung cancer subtypes could lead to the development of a "liquid biopsy" that would be used to screen for lung cancer in a much broader population.
Although researchers have yet to develop such a lung cancer blood test, one recent advancement in the field suggests this idea is possible. In patients with stage IV disease, there are already several companies that have developed blood tests to detect mutations found in cancers. These new techniques are referred to as a "liquid biopsy". Addario's foundation announced plans to collaborate with Biocept, Inc., in a clinical trial evaluating the liquid biopsy technique. If blood sampling proves to be accurate, then this technique will be less invasive than the current method of taking tissue samples from the lung.

Addario, who has helped to raise more than $30 million for lung cancer research, is beginning to see how research and better outcomes for patients are changing stereotypes about lung cancer, and it's only the beginning, she says. Dr. Camidge, for example, is planning a new kind of celebration at his hospital for stage IV lung cancer patients: One for those who have survived a decade after diagnosis. "This was unheard of a couple of years ago because patients didn't live that long, but now we have more than enough to get together for a big party," he says.
"People are starting to see lung cancer as a chronic disease," Dr. Camidge says. "Doctors have to be creative with treatment as the cancer evolves, but people can have a normal quality of life and go on to live much longer than in the past."
What Is a Liquid Biopsy?
A liquid biopsy is performed by testing a sample of blood for the presence of circulating cancer cells, known as circulating tumor cells. Perhaps more importantly, samples of blood obtained from a liquid biopsy can also be tested for cell-free tumor DNA (cfDNA), which are fragments of DNA shed by cancer cells into a patient's bloodstream.
Because cancer cells are constantly "shedding" parts of their DNA, specific genetic mutations (alterations) within these pieces of DNA can provide invaluable information to healthcare providers and ultimately help guide optimal treatment options for each patient.
Importantly, the bits of cfDNA obtained from a liquid biopsy can provide information to healthcare providers in the following areas:
If or to what extent the cancer is responding to treatment
Optimal treatment options specific to the DNA mutations of the cancer cells
Earlier detection of cancer compared with standard screening measures
Molecular and genetic realtime changes occurring in a patient's cancer cells in response to treatment and growth
Through empowering and educating patients, funding cutting-edge research, building strategic collaborations and raising public awareness, our goal is to transform lung cancer into a chronically managed disease within 10 years and ultimately to find a cure.
For more information and support about lung cancer and its treatment;www.CancerConnect.com a lung cancer resource and social community of lung cancer patients sharing information and support.
The Lung Cancer Living Room: learn about early detection, treatment options, molecular testing and clinical trials from specialists:
Meet Bonnie J. Addario
"We are committed to involving our patients in every aspect of our work to cure lung cancer. With the patient in the center of the cancer paradigm, we can create 'transformational research' care that begins with the patient, leads to research, and rapidly returns new treatments to the patient."
—Bonnie J. Addario
"The key to unlock the code to cures… resides in the patient. Currently their participation in clinical trials and specimen donations for research is very, very low. Patients must be valued and given a 'seat' at the table and a 'voice' in the conversation where all decisions are being made about their survival. If they are added to the 'solution' process we will be able to move much faster in finding cures for all diseases."
—Bonnie J. Addario
Long before its official start date, a single diagnosis led to the founding of the ALCF when in 2004 Bonnie was diagnosed with lung cancer. At the age of 56 she was a wife, mother and grandmother, the president of Olympian Oil Company and the Commercial Fueling Network, and one of 1.4 million people worldwide and 225,000 Americans newly diagnosed with lung cancer every year. Faced with a 5-year lung cancer patient survival rate of 15.9 percent, a statistic that has not significantly improved in 40 years, and a 5 percent survival rate for a Stage 3b lung cancer patient, which was Bonnie's diagnosis, the situation as told by these numbers was daunting and discouraging. Following a 14-hour surgery to remove one lobe, radiation and chemotherapy treatments that invaded her formerly predictable world, Bonnie became a lung cancer survivor with a new purpose in life.
After her diagnosis, Bonnie became active in local lung cancer programs and quickly became frustrated with the lack of a leading patient voice, progress in lung cancer treatments, and overall survivorship. In 2006, Bonnie combined her business acumen with her desire to impact lung cancer care today, the result – the Bonnie J. Addario Lung Cancer Foundation (ALCF).
ALCF's goal is urgent – to significantly improve the inexcusably low survival rate of lung cancer patients. With Bonnie's vision and support of her family and the lung cancer community, ALCF has become one of the largest sources of non-profit patient-focused funding dedicated to changing lung cancer from a terminal diagnosis to a chronically managed disease by 2023, ALCF's vision and 10-year goal that was announced in 2013.
Having become a unifying voice among patients and thought leaders, establishing unique patient-oriented programs, a novel research consortium, and national outreach activities, Bonnie is turning to the international lung cancer community to work collaboratively towards personalized medicine/therapies.
About the Bonnie J. Addario Lung Cancer Foundation
The Bonnie J. Addario Lung Cancer Foundation (ALCF) is one of the largest philanthropies (patient-founded, patient-focused, and patientdriven) devoted exclusively to eradicating Lung Cancer through research, early detection, education, and treatment. The Foundation's goal is to work with a diverse group of physicians, organizations, industry partners, individuals, patients, survivors, and their families to identify solutions and make timely and meaningful change and turn lung cancer into a chronically managed disease by 2023. The ALCF was established on March 1, 2006 as a 501c(3) nonprofit organization and has raised more than $30 million for lung cancer research and related programs.
References:
American Cancer Society. Available at:
National Cancer Institute, Surveillance, Epidemiology, and End Results Program. Available at:
Preliminary results of the Genomics of Young Lung Cancer Study,