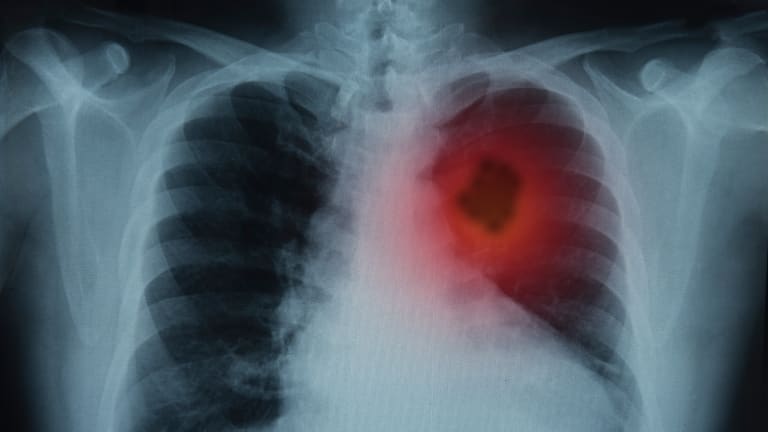 Neoadjuvant Immunotherapy in Early Stage Lung Cancer
Could Neoadjuvant Immunotherapy be The Next Major Treatment Advance for Early Stage Non-Small Cell Lung Cancer?
by Dr. C.H. Weaver M.D. updated 9/2022
Clinical studies suggest that the administration of immunotherapy prior to surgery for early-stage non-small cell lung cancer (NSCLC) may be an attractive option for some patients. Neoadjuvant therapy is treatment that is delivered before surgery with the goal of providing immediate treatment and reducing the size of the cancer for easier resection.
The current standard treatment of early stage NSCLC consists of surgical removal of the cancer followed by adjuvant chemotherapy to reduce the risk of cancer recurrence.2 A Canadian clinical study demonstrated that adjuvant chemotherapy increased the number of patients who lived 5 years or more from 54% to 69% and US researchers have demonstrated that adjuvant chemotherapy increased the number of patients who survived 3 years or more from 69% to 82%. 
Checkpoint inhibitors are a precision cancer immunotherapy that helps to restore the body's immune system to fight the cancer by releasing checkpoints that cancer uses to shut down the immune system. PD-1 and PD-L1 are proteins that inhibit certain types of immune responses, allowing cancer cells to evade detection and attack by certain immune cells in the body. A checkpoint inhibitor can block the PD-1 and PD-L1 pathway and enhance the ability of the immune system to fight cancer. By blocking the binding of the PD-L1 ligand checkpoint inhibitor drugs restore an immune cells' ability to recognize and fight the lung cancer cells. Results from studies evaluating the checkpoint inhibitors Opdivo, Keytruda, and Tecentriq have demonstrated they are superior to chemotherapy and have become the standard of care in advanced NSCLC without driver mutations.2-5  A diagnostic test to measure the level of PD-L1 is available. 
Tecentriq® (atezolizumab)
Neoadjuvant treatment with single-agent Tecentriq in the phase II Lung Cancer Mutation Consortium 3 (LCMC3) clinical study resulted in a 20% major pathological response rate in patients with previously untreated, resectable, stage IB–III NSCLC.
In the study, 181 patients without EGFR or ALK alterations received two doses of neoadjuvant Tecentriq. Overall 20% of patients experience near total eradication of their cancer and 6% experience complete eradication when evaluated at surgery.  With a minimum duration of follow-up of 3 years, the 3-year survival rate is 80%.
Opdivo (nivolumab) + Chemotherpay
The United States Food and Drug Administration approved neoadjuvant Opdivo combined with platinum-doublet chemotherapy for early-stage NSCLC in March 2022. The approval was based on results from the Checkmate-816 clinical trial in patients with resectable, Stage IB, II, or IIIA NSCLC. Patients were enrolled regardless of the tumor PD-L1 status.
In the pivotal trial leading to FDA approval a total of 358 patients were treated with either Opdivo plus platinum-doublet chemotherapy administered every 3 weeks for up to 3 cycles, or platinum-chemotherapy alone administered on the same schedule. Opdivo neoadjuvant treated patients survived 33 months without cancer recurrence compared to 21 months for those receiving chemotherapy alone. 
The most common side effects occurring in patients were nausea, constipation, fatigue, decreased appetite, and rash. The addition of nivolumab to chemotherapy did not result in more frequent delays or cancellations of surgery. The median lengths of hospital stays following definitive surgery and the rates of adverse reactions identified as surgical complications were similar for patients in both arms of the trial.
Taken together the studies suggest that the use of neoadjuvant immunotherapy can be safely administered prior to surgery for early stage NSCLC and that significant eradication of cancer is possible. 
Adjuvant - Neoadjuvant or Both?
Both adjuvant and neoadjuvant immunotherapy are acceptable treatment options and physicians are continuing to evaluate which early stage patients might benefit from each approach. 
Keep Current with Advances in Lung Cancer Treatment Here.
References:
Kwiatkowski DJ, Rusch VW, Chaft JE, et al. Neoadjuvant atezolizumab in resectable non-small cell lung cancer (NSCLC): Interim analysis and biomarker data from a multicenter study (LCMC3). Presented at: the 2019 ASCO Annual Meeting; May 31-June 4, 2019; Chicago, IL. Abstract 8503.
The International Adjuvant Lung Trial Collaborative Group. Cisplatin-based adjuvant chemotherapy in patients with completely resected Non-Small Cell Lung Cancer. New England Journal of Medicine. 2004;350:351-360.
N Engl J Med. 2018;378:1976
Neoadjuvant atezolizumab in resectable non-small cell lung cancer (NSCLC): Interim analysis and biomarker data from a multicenter study (LCMC3).
Gadgeel SM, Stevenson J, Langer C, et al. Pembrolizumab (pembro) plus chemotherapy as front-line therapy for advanced NSCLC: KEYNOTE-021 cohorts A-C. J Clin Oncol 34, 2016 (suppl; abstr 9016).
Forde PM, Spicer J, Lu S, et al. Neoadjuvant nivolumab plus chemotherapy in resectable lung cancer. N Engl J Med. 2022;386(21):1973-1985. doi:10.1056/nejmoa2202170.
Chaft JE, Oezkan F, Kris MG, et al. Neoadjuvant atezolizumab for resectable non-small cell lung cancer: an open-label, single-arm phase II trial. Nature Medicine; Published online 12 September 2022. DOI: https://doi.org/10.1038/s41591-022-01962-5