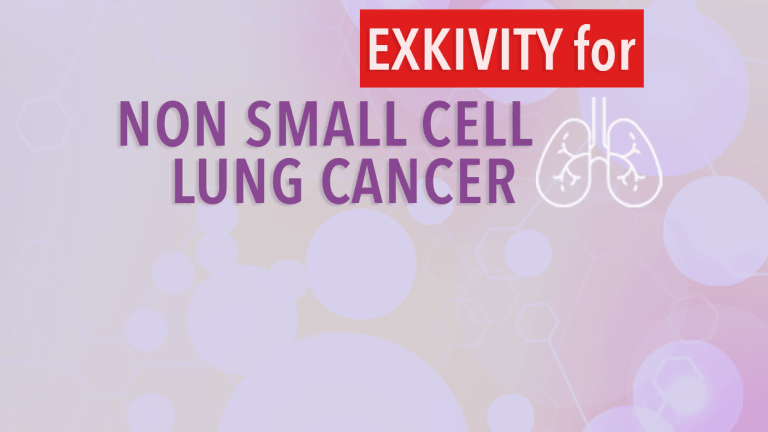 by Dr. C.H. Weaver M.D. 9/2021 ASCO & FDA update
Results from the ongoing Phase 1/2 clinical trial in previously treated patients with EGFR exon 20 insertions led to a "breakthrough therapy designation" by the U.S. Food and Drug Administration (FDA) for Mobocertinib and ultimately fully approval of the drug. Breakthrough Therapy Designation from the U.S. FDA is granted to accelerate the development and regulatory review of investigational drugs that are intended to treat serious or life-threatening ailments. Agents with this designation have shown preliminary clinical evidence that indicates that the drug may demonstrate substantial improvement over existing therapies on one or more clinically significant endpoints.1
About EGFR Exon 20 Insertion-Mutant NSCLC
Approximately 10-15% of Non-Small Cell Lung Cancer (NSCLC) patients in the US and Europe, and 30-40% of patients in Asia have epidermal growth factor receptor - mutated (EGFRm) NSCLC. These patients are particularly sensitive to treatment with precision cancer medicines known as EGFR-tyrosine kinase inhibitors (TKIs) which block the cell-signaling pathways that drive the growth of EGFR expressing lung cancer cells. EGFR exon 20 insertion mutations occur in 1% to 2% of NSCLC's and patients with these mutations don't typically respond well to treatment with TKI's available to treat the majority of EGFRm NSCLCs.5 Exon 20 mutations have a worse prognosis than other EGFRm because there are currently no FDA-approved therapies and current EGFR TKIs and chemotherapy provide limited benefit for these patients.2,3,4
About  Exkivity (mobocertinib -TAK-788)
Exkivity is a small-molecule tyrosine kinase inhibitor designed to selectively target EGFR and human EGFR 2 (HER2) exon 20 insertion mutations. The FDA based the breakthrough therapy designation on results of a phase 1/phase 2 study that evaluated the efficacy and safety of mobocertinib for patients with locally advanced or metastatic NSCLC whose tumors harbor EGFR exon 20 insertion mutations and who previously received systemic chemotherapy.
Results from the ongoing Phase 1/2 trial of mobocertinib in previously treated patients showed mobocertinib produced an overall response rate of 43% in patients with locally advanced or metastatic EGFR exon 20 insertion-mutant NSCLC.
An analysis of platinum-pretreated patients with EGFR Exon20 insertion positive NSCLC treated with Mobocertinib was updated at the International Association for the Study of Lung Cancer (IASLC) 2020 World Conference on Lung Cancer (WCLC) in January 2021. Overall 35% of individuals responded to treatment for an average duration of 17.5 months.6
Patients with epidermal growth factor receptor (EGFR) Exon20 insertion+ NSCLC (NSCLC) make up approximately 1-2% of patients with NSCLC, and the disease is more common in Asian populations compared to Western populations.3-6
Mobocertinib was well tolerated with the most common side effects being diarrhea, nausea, rash, and decreased appetite.
References:
Takeda Announces U.S. FDA Breakthrough Therapy Designation for Mobocertinib (TAK-788) for the Treatment of NSCLC Patients with EGFR Exon 20 Insertion Mutations
Szumera-Ciećkiewicz A, et al. EGFR Mutation Testing on Cytological and Histological Samples in Non-Small Cell Lung Cancer: a Polish, Single Institution Study and Systematic Review of European Incidence. Int J Clin Exp Pathol. 2013:6;2800-12.
Keedy VL, et al. American Society of Clinical Oncology Provisional Clinical Opinion: Epidermal Growth Factor Receptor (EGFR) Mutation Testing for Patients with Advanced Non-Small-Cell Lung Cancer Considering First-Line EGFR Tyrosine Kinase Inhibitor Therapy. J Clin Oncol. 2011:29;2121-27.
Ellison G, et al. EGFR Mutation Testing in Lung Cancer: a Review of Available Methods and Their Use for Analysis of Tumour Tissue and Cytology Samples. J Clin Pathol. 2013:66;79-89.
Fang, Wenfeng. BMC Cancer. EGFR exon 20 insertion mutations and response to osimertinib in non-small-cell lung cancer. https://bmccancer.biomedcentral.com/articles/10.1186/s12885-019-5820-0. Accessed April 7, 2020.
Ramalingam SS, Zhou C, Kim TM, et al. Mobocertinib (TAK-788) in EGFR exon 20 insertion+ metastatic NSCLC: additional results from platinum-pretreated patients and EXCLAIM cohort of phase 1/2 study. J Clin Oncol. 2021;39(suppl 15):9014. doi:10.1200/JCO.2021.39.15_suppl.9014.
https://www.takeda.com/newsroom/newsreleases/2021/takeda-exkivity-mobocertinib-approved-by-us-fda/