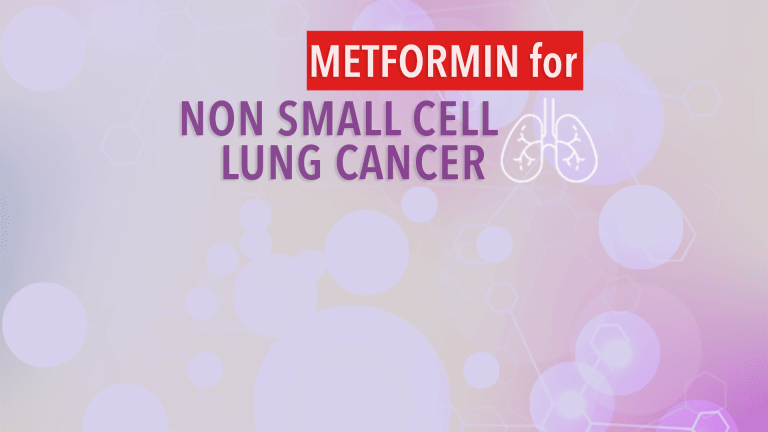 Metformin + TKI Improves Survival in EGFR-Mutant NSCLC
Research suggests Metformin a widely used diabetic drug combined with a TKI may improve survival of EGFR mutated NSCLC.
by Dr. C.H. Weaver M.D. 9/2019
The addition of the widely used diabetic medication metformin to standard epidermal growth factor receptor (EGFR) tyrosine kinase inhibitor (TKI) therapy for EGFR + non-small cell lung cancer (NSCLC) appears to improve survival and delay cancer progression. (1)
Metformin is a clinical drug currently used to treat type 2 diabetes mellitus. Recently, epidemiological studies have revealed that patients with diabetes taking metformin have a lower incidence of cancer and that patients diagnosed with cancer have improved outcomes when treated with metformin. (2,3,4) Additional laboratory studies have further revealed that metformin has a direct anti-cancer effect. (4)
Doctors elected to study the effect of metformin by combining it with EGFR TKI medications in individuals with stage IIIB or stage IV, EGFR-mutated NSCLC. Overall 139 patients were treated with TKI therapy at standard dosage or TKI therapy plus 500 mg twice-daily metformin and directly compared. TKI medications were not defined or controlled and study participants could have received Tarceva (erlotinib), Gilotrif (afatinib) or Iressa (gefitinib)
The overall response to treatment was 71% for the metformin + TKI treated patients compared to 54% for TKI only treated patients, and patients who received metformin plus EGFR TKI therapy survived on average 31.7 months compared to only 17.5 months if treated with a TKI alone.
The results of the clinical trial are compelling and suggest that metformin has anti-cancer activity and when combined with a TKI can improve the outcomes of individuals with EGFR-mutated NSCLC.
Some caution is warranted however because the clinical trial did not control for smoking status, EGFR-mutation profile or type of EGFR TKI received, each of which could impact the trial outcome.
The study authors however concluded that "The addition of metformin to TKI therapy in patients with EGFR-mutated NSCLC significantly prolongs survival without significantly increasing side effects and the study results warrant the design of a larger phase 3, placebo-controlled study to draw more robust conclusions."
Connect with NSCLC Patients Being Treated at Leading Cancer Centers & Keep Up to Date
​
​
References:
Margel D, Urbach DR, Lipscombe LL, et al. Metformin use and all-cause and prostate cancer–specific mortality among men with diabetes. Journal of Clinical Oncology. Published early online August 5, 2013. doi: 10.1200/JCO.2012.46.7043
Chlebowski RT, McTiernan A, Wactawski-Wende J, et al. Diabetes, metformin, and breast cancer in postmenopausal women. Journal of Clinical Oncology. Published early online June 11, 2012. doi: 10.1200/JCO.2011.39.7505