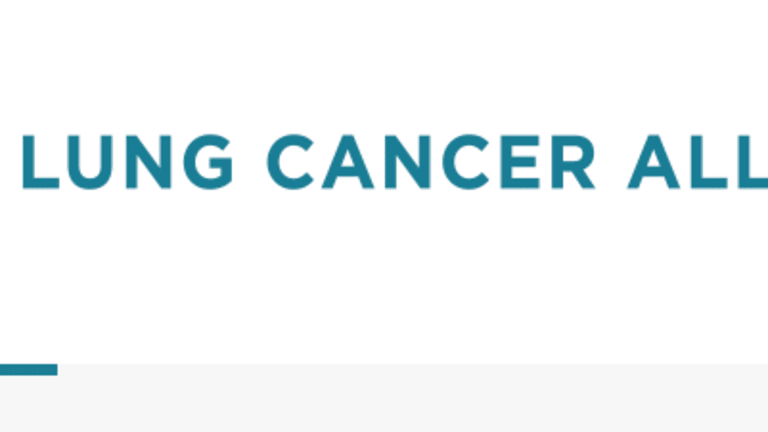 Lung Cancer Alliance
Lung Cancer Alliance
by Mia James
Laurie Fenton Ambrose, president and CEO of the Lung Cancer Alliance (LCA), says that most of the calls that the Washington, D.C.–based lung cancer support and advocacy group receives are from women: "Women seem to be more open to requesting information and to learning about psychosocial support options." Their requests, she says, vary depending on their relationship to the disease. "Most who are patients often want to talk with other women about treatment-related physical changes. Women who are caregivers are often the keepers of the information and ask questions so that they can help the patient make informed treatment decisions and other things the patient needs." Ultimately, says Laurie, many women who reach out also become valuable participants in LCA's mission: "Women tend to get back in touch with the organization and offer to help others through support work or advocacy."
LCA is grateful for the support of all the women who have benefited from its many services as it strives to make a difference in the lives of people affected by lung cancer. Committed to "leading the movement to reverse decades of stigma and neglect by empowering patients, elevating awareness, and changing health policy," the organization is "proud of the range of services that we are able to provide the lung cancer community." Included on the list of educational, support, and advocacy offerings are a toll-free information line, a Web site (www.lungcanceralliance.org), a phone-buddy program, a clinical trials matching service, national awareness campaigns, and advocacy initiatives.
Founded in 1995 in Vancouver, Washington, as Spirit and Breath (with the support of the Innovative Medical Education Consortium), LCA was renamed the Alliance for Lung Cancer Advocacy, Support, and Education (ALCASE) in 1997 before undergoing a restructuring and rebranding process that resulted in its current name—Lung Cancer Alliance—in 2004. Throughout its history the organization has remained the only national nonprofit dedicated exclusively to patient support and advocacy for those living with or at risk of developing lung cancer.
Laurie says that LCA is proud of the many ways the organization is able to offer help to survivors, families, and caregivers each day through its various support and advocacy efforts. The calls that come through on the information line, she says, provide a particularly direct way to make a difference: "The calls provide insight into the important issues in the lives of our constituents and inform us as to how lung cancer affects people from all over the United States."

The toll-free line also allows LCA to connect callers with other resources, she says, which is gratifying: "Because we track all of the lung cancer–specific support groups across the country, we can refer people to those groups. If there are none in their area, we help them find the support they need locally through general cancer support groups or nationally through other organizations which offer telephone and online support groups." And, Laurie says, if a caller expresses interest in one-on-one support, he or she can be directed to the phone-buddy program. All of these options—combined with the 24/7 support available through the online community—have been created to meet survivors and caregivers where they are most comfortable and to offer them the care they need during a difficult time.