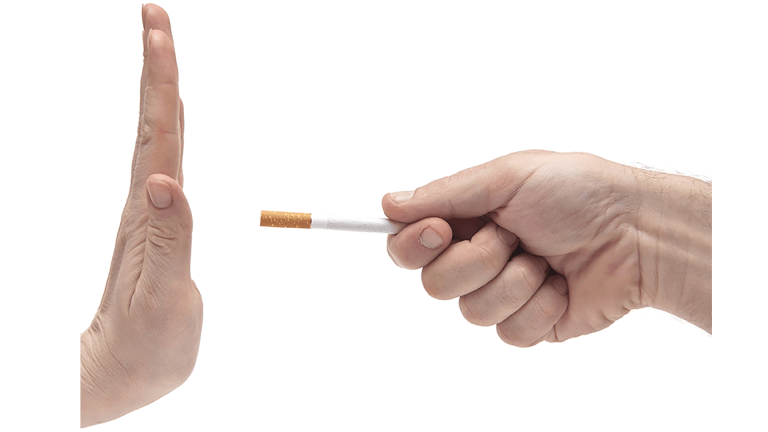 Is Lung Cancer Different in Non or Never-Smokers?
Research suggests that the symptoms, type, and treatment of lung cancer is different in non-smokers than smokers.
by Dr. C.D. Buckner M.D. Medically Reviewed by Dr. C.H. Weaver M.D. Updated 4/2022
Lung cancer remains the leading cause of cancer-related deaths in the U.S. Lung cancer in non-smokers is more common than many people realize. In fact, lung cancer in never-smokers is now considered the 6th most common cause of cancer deaths in the United States. Each year lung cancer kills more people than breast cancer, colon cancer, and prostate cancer combined. Although a majority of these deaths are caused by smoking, 10%-15% occur among individuals who never smoked.1
Though we lump smokers and non-smokers together when discussing lung cancer, lung cancer in non-smokers may be a different disease.
Some studies suggest women who are non-smokers are at a higher risk of developing lung cancer than men who are non-smokers and this percentage is significantly higher in Asian women.2
What Causes Lung Cancer in Non-Smokers?
Radon Exposure to radon gas in our homes is a cause of lung cancer in non-smokers.
Secondhand smoke is thought to be responsible for roughly 3,000 lung cancer deaths yearly in the U.S.
Exposure to asbestos remains an important cause of mesothelioma lung cancer.
Individuals with a family history of lung cancer appear more likely to develop lung cancer.
What Type of Lung Cancer Occurs in Non-Smokers?
The majority of lung cancers in non-smokers are a type of non-small cell lung cancer called adenocarcinoma which evolve differently that the squamous cell lung cancers which occur more frequently in smokers. Squamous cell cancers tend to grow near the airways and cause early symptoms like coughing or hemoptysis (coughing up blood)
Adenocarcinoma's are more common in non-smokers are more likely to be associated with shortness of breath, fatigue, or symptoms due to spread of the cancer to other regions of the body because they often begin in the outer regions of the lungs and can be present for a long time before symptoms occur.
Is Lung Cancer in Non Smokers Treated Differently?
Lung caner treatment is not different based on smoking history but there are some differences that can be identified in non-smokers that do influence treatment decisions. Historically it was observed that non-smokers seemed to respond better to chemotherapy treatment than smokers.3 Currently it is especially important for non-smokers with lung cancer to undergo genomic testing to identify whether newer precision cancer medicines can be used to treat the cancer. Testing is performed on a biopsy sample of the cancer and more recently on the blood using a "liquid biopsy"
Support for Non-Smokers with Lung Cancer
The stigma of lung cancer can be more difficult for non-smokers, they frequently comment that they feel less support than people with other forms of cancer because individuals most often attribute their cancer to smoking. Connect With Other Lung Cancer Patients & Caregivers in the Cancer Connect Lung Cancer Support Community
Research Suggests No Real Gender Differences in Frequency of Lung Cancer Among Never Smokers
To describe the frequency of lung cancer mortality among never-smokers, researchers evaluated information from two American Cancer Society studies: the Cancer Prevention Study I (CPS I) and the Cancer Prevention Study II (CPS II). CPS I was conducted between 1959 and 1972 and CPS II was conducted between 1982 and 2000. These studies included a total of 940,000 adults who reported no history of smoking at the time of study enrollment.
Among individuals who have never smoked, lung cancer will develop in roughly 17 per 100,000 men and 15 per 100,000 women each year.
The lung cancer death rate was higher in African-American women than in white women.
There was some suggestion of an increase over time in lung cancer mortality among women, but only among women between the ages of 70 and 84.
The researchers concluded that "contrary to clinical perception, the lung cancer death rate does not appear to be higher in female than in male never-smokers and there is little evidence of it having increased over time in the absence of smoking."
Never-Smokers May Respond Better to Chemotherapy
According to a study published in the journal Cancer, never-smokers with advanced NSCLC appear to have improved survival and a better response to chemotherapy than former or current smokers.
To evaluate the effect of smoking on treatment outcomes among patients with stage III or stage IV NSCLC, researchers at the MD Anderson Cancer Center in Houston, Texas, evaluated the medical records of 1370 patients. Patients were treated with either chemotherapy (873 patients) or chemotherapy and radiation therapy (497 patients).3
Among the patients receiving chemotherapy, 16% were never-smokers, 42% were former smokers, and 42% were current smokers. Among the patients receiving chemotherapy and radiation therapy, 6% were never-smokers, 45% were former smokers, and 49% were current smokers.
Among patients treated with chemotherapy, never-smokers had higher response rates to treatment and lower rates of cancer progression than former or current smokers. Chemotherapy produced a reduction in detectable cancer in 19% of never-smokers, 8% of former smokers, and 12% of current smokers. Cancer progression occurred in 49% of never-smokers, 65% of former smokers, and 66% of current smokers.
The characteristics that predicted better survival among patients treated with chemotherapy were being a never-smoker, being female, and having a better functional status. The one-year survival rate was 63% for never-smokers, 42% for former smokers, and 43% for current smokers.
Among patients treated with chemotherapy and radiation therapy, there was no link between smoking status and treatment response or overall survival.
The researchers conclude that among patients undergoing chemotherapy for advanced non-small cell lung cancer, never-smokers have better outcomes than former or current smokers.
References:
Thun MJ, Henley J, Burns D et al. Lung Cancer Death Rates in Lifelong Nonsmokers. Journal of the National Cancer Institute. 2006;98:691-9.
Wakelee H, Chang E, Gomez S, et al. Lung cancer incidence in never smokers. Journal of Clinical Oncology. 2007; 25:472-478.
Tsao AS, Liu D, Lee JJ et al. Smoking Affects Treatment Outcome in Patients with Advanced Nonsmall Cell Lung Cancer. Cancer. 2006; Early online publication April 24, 2006.