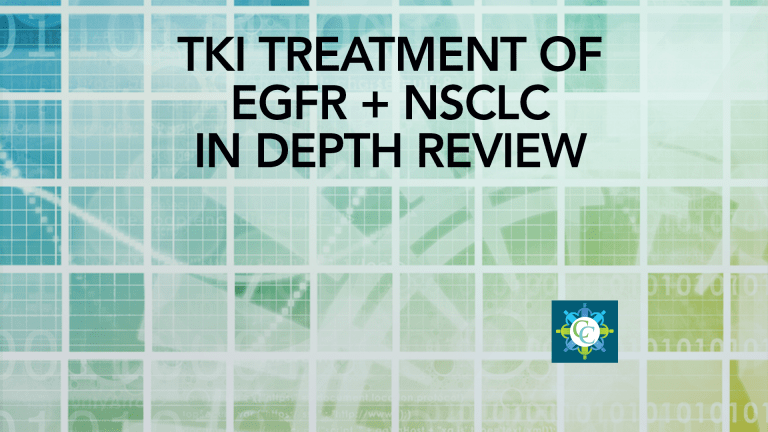 In Depth Overview of Tyrosine Kinase Inhibitor Treatment of EGFR + Lung Cancer
TKI therapy for EGFR + NSCLC continue to evolve and improve survival. Tagrisso resistance mutation recently identified.
TKI therapy for EGFR + NSCLC continue to evolve and improve survival. Tagrisso resistance mutation recently identified.
by Dr. C.H. Weaver M.D. updated 2/2021
Advances in cancer research have highlighted the importance of understanding the specific characteristics of each person's cancer. These characteristics—which include not only the particular type of cell involved but also gene mutations and protein expression—can have a profound effect on the behavior of the cancer and its response to particular treatments.
The EGFR—which stands for "epidermal growth factor receptor"—contributes to the growth of some lung cancers and drugs that block the activity of EGFR slow cancer growth and prolong survival.
EGFRs are small proteins that are found on the surface of all cells. EGFR binds proteins circulating in the blood called growth factors. The binding action between EGFR and growth factors stimulates biological processes within the cell to promote growth of a cell in a strictly controlled manner. However, in many cancer cells, EGFR is either abundantly over-expressed or the EGFR biological processes that normally stimulate cell growth are constantly active. This leads to the uncontrolled and excessive growth of the cancer cell.
Guidelines from the International Association for the Study of Lung Cancer (IASLC) have been developed and they recommend EGFR mutation testing at initial diagnosis of all lung cancer patients.
Among people with NSCLC, EGFR mutations are most common in people of Asian ethnicity, women, never-smokers, and those with a type of lung cancer known as adenocarcinoma. EGFR mutations occur in 30–40% of NSCLC's in Asian populations compared to 10–15% in Western populations. (1)
EGFR-targeted drugs that have been shown to benefit selecte patients with NSCLC belong to a class of drugs known as tyrosine kinase inhibitors (TKIs). The drugs enter the cell and interfere with EGFR from within.
First-generation EGFR TKIs
The working mechanism of first-generation EGFR-TKIs is to block the activation of downstream signaling induced by EGFR through binding to the ATP-binding sites.
Iressa® (gefitinib)- is approved for patients whose tumors express the most common types of EGFR mutations in NSCLC (exon 19 deletions or exon 21 L858R substitution gene mutations). The therascreen EGFR RGQ PCR Kit was approved as a companion diagnostic test to identify patients with tumors having the EGFR gene mutations in order to determine which patients would be appropriate for treatment.
Icotininib (only available in China)
Second-generation EGFR TKIs
The development of second-generation EGFR TKIs was necessary to overcome the acquired resistance which comes from the failure of first-generation EGFR TKIs. So the working mechanisms of second-generation EGFR TKIs are not exactly similar to first-generation EGFR TKIs and these drugs can provide benefit when first generation drugs no longer work.
Third generation EGFR TKIs
Most patients treated with 1st or 2nd generation TKI's will eventually devleop resistance to treatment.(2) Third generation TKI's offer new hopes for patients with progressive NSCLC.
CO1686 (rociletinib)
HM61713 (olmutinib)
AC0010
The most important mechanism of acquired resistance to these drugs is the EGFR T790M mutation. Occurrence of the T790M mutation is reported to be greater than 50%.(3) To overcome this resistance third-generation EGFR-mutant selective TKIs were developed.(4,5) These drugs are specifically designed to inhibit EGFR T790M.(6,7).
Third generation EGFR TKIs provide benefit in patients who progressed after treated with other EGFR TKIs especially in the T790M mutation-positive patients. Unfortunately there are resistance mechanisms to third-generation EGFR TKIs as well and the C797S mutation is considered the most challenging for Tagrisso. (8,9)
In Development:
Tarlox (tarloxitinib), for EGFR and Exon 20 insertion mutations.
TAK-788 is a third-generation oral inhibitor of EGFR exon 20 insertion mutations that was specifically designed to target the exon 20 insertion mutation. Overall response rates of ~ 45% are reported and the EXCLAIM extension cohort clinical trial is ongoing to determine effectiveness. Exon 20 mutations occur are associated with primary resistance to TKIs.(29)
Amivantamb (JNJ-6372) is an investigational, fully human EGFR and mesenchymal epithelial transition (MET) bispecific antibody with immune cell-directing activity. Amivantamab targets the Exon 20 mutation - the third most prevalent EGFR mutation in NSCLC
Tagrisso
Tagrisso is a 3rd generation, EGFR- TKI medication that potently and selectively inhibits both EGFRm and EGFR T790M resistance mutations. (10,11)
The results demonstrating the effectiveness of Tagrisso included 2 clinical trials that involved 411 patients with advanced NSCLC who had the EGFR T790M mutation. Their cancer had progressed following treatment with a standard EGFR inhibitor. All patients were treated with Tagrisso.
Approximately 60% of the patients in both trials experienced a complete or partial reduction in the size of their cancer (objective responses).
The most common side effects were diarrhea, and skin and nail conditions.
A second clinical trail compared treatment with Tagrisso to standard treatment with Tarceva or Iressa as first line therapy in 556 patients from Asia, Europe, and North America with NSCLC and EGFR mutations.
Overall treatment with Tagrisso improved progression-free survival by 54%. The overall response to treatment was 80% with Tagrisso compared to 75% with standard of care treatment. The average duration of response was two-fold higher for patients treated with Tagrisso (17.6 months) compared to standard of care (8.7 months). The median progression-free survival was 16.5 months with Tagrisso compared to 11.0 months for the standard therapy.
Tagrisso provided a significant progression-free survival benefit in Asian patients with EGFR-mutated NSCLC. Tagrisso should be the preferred first line treatment for EGFR-mutant NSCLC in Asia."​(10-14)
The EGFR M766Q mutation represents a novel Tagrisso resistance mechanism and may potentially be treated with Nerylnx (neratinib) or poziotinib.
Resistance to Tagrisso will ultimately develop in nearly all patients, and subsequent treatment options to overcome this resistance are needed.
Researchers recently published a case report of a woman undergoing third-line treatment with Tagrisso that developed progressive disease. Liquid biopsy analyses of circulating tumor cell-free DNA sequencing performed at the time of disease progression revealed the presence of a new EGFR mutation in exon 20, EGFR M766Q and TP53 V203M and EGFR S306L.
The effect of the EGFR M766Q mutation on sensitivity/resistance to different EGFR TKIs was evaluated preclinically and confirmed. The cancer cells however were sensitive to treatment with low concentrations of Nerlynx (neratinib) and clinically achievable doses of poziotinib, an investigational, irreversible pan-HER TKI targeting EGFR and HER2 with exon 20 insertion mutations. (35)
Additional analysis of large-scale clinical data needs to be performed to offer insight into how frequently the EGFR M766Q mutation is encountered. Patients developing this resistance mechanism should discuss the potential role of Nerylnx or poziotinib in the management of their EGFR-mutant lung cancer.
Fourth-generation EGFR TKIs
In order to overcome the resistance to the C797S mutation which occurs in 32% of patients fourth-generation EGFR-TKIs are being developed.
EAI045 EAI045 targets both the T790M and C797S EGFR mutants. Interestingly, it is only when combined with cetuximab that EAI045 is working.(15)
Overcoming Met Resistance
Savolitinb - is a potent, selective MET TKI and has been combined with Tagrisso to determine an optimal combination dose that has demonstrated clinical responses in global expansion cohorts of the TATTON clinical trial.
Capmatinib - The U.S. Food and Drug Administration initially granted Breakthrough Therapy Designation to capmatinib (INC280) as a first-line treatment for patients for non-small cell lung cancer (NSCLC) patients with the MET exon 14 skipping (METex14) mutation. Cabmatinib
Whats Next?
EGFR TKI versus Chemotherapy
Compared with traditional platinum-based combination chemotherapy, EGFR TKI monotherapy has become the recommended treatment strategy and the cornerstone of combined therapy for NSCLC patients with an EGFR mutation*.* The oldest and most widely used and effective EGFR inhibitor is Tarceva (erlotinib). A study known as IPASS illustrates how treatment response can vary by EGFR mutation status. The study, conducted in East Asia, enrolled patients with advanced adenocarcinoma of the lung. (15) Study participants were treated with either Iressa or combination chemotherapy. Among patients with an EGFR mutation, Iressa delayed cancer progression to a greater extent than chemotherapy. In contrast, among people without an EGFR mutation, Iressa resulted in worse outcomes than chemotherapy.
To compare Tarceva with chemotherapy for the initial treatment of advanced NSCLC that tests positive for an EGFR mutation, researchers conducted a study among 165 patients with Stage IIIB or Stage IV NSCLC. Half the patients were treated with Tarceva and half were treated with combination chemotherapy consisting of Gemzar® (gemcitabine) and carboplatin.
Treatment with Tarceva substantially delayed cancer progression. Median survival without cancer progression was 13.1 months among patients treated with Tarceva and 4.6 months among patients treated with chemotherapy.
Serious side effects were also less common in the Tarceva group.
Tarceva Effective as Maintenance Therapy in NSCLC
The safety and effectiveness of Tarceva maintenance therapy was evaluated in a Phase III clinical trial known as SATURN. Maintenance therapy refers to treatment that is given after initial treatment but before cancer progression. It is a relatively new approach to lung cancer treatment.
The study enrolled more than 880 patients with advanced NSCLC that had not progressed following initial, platinum-based chemotherapy. Half the patients received Tarceva maintenance therapy, and half received a placebo.
Compared with a placebo, overall survival was 23% better among patients treated with Tarceva, and progression-free survival was 41% better.
The most common side effects among patients treated with Tarceva were rash (49%) and diarrhea (20%).
Based on these results, the FDA expanded the approval of Tarceva to include maintenance therapy in patients with locally advanced or metastatic non-small cell lung cancer that has not progressed after four cycles of platinum-based first-line chemotherapy.
EGFR TKI Combined With Chemotherapy
Single agent EGFR TKI therapy is generally superior to chemotherapy and doctors have evaluated combining TKI's with chemotherapy. So far clinical trials of combined therapy in general appear to improve progression free survival by 3-4 months compared to TKI therapy alone.(16,17,18)
The RELAY clinical trial evaluated 449 patients with untreated metastatic NSCLC harboring EGFR exon 19 deletion or exon 21 (L858R) substitution mutations. Patients were treated with Tarceva with or without Cyramza and directly compared. Those receiving the Tarceva - Cyramza combination survived on average 19.4 months compared to 12.4 months for those treated with Tarceva alone.
Improvements were also consistently seen across all specified subgroups, including patients with tumors that had exon 19 and 21 mutations. Results of the RELAY clinical trial ultimately led to the US Food and Drug Administration approving Cyramza in combination with Tarceva for first-line treatment of metastatic NSCLC with EGFR exon 19 deletions or exon 21 (L858R) mutations. Overall survival data is still and will be published in the future. (36)
EGFR TKI Combined with Avastin (anti-angiogenic drugs)
Outcomes appear to better in some (19,20,30) but not all (33) clinical trials when a TKI is combined with the anti-angiogenic monoclonal antibody Avastin (bevacizumab). The Avastin EGFR-TKI combinations have exhibited significant effectiveness in unselected NSCLC patients. For example Avastin combined with Tarceva improved progression free survival by 9-10 months when used as first or second line treatment for advanced EGFR + NSCLC. (19,20,30) However study looking specifically at individuals with exon 19 deletion or exon 21 L858R mutations found no benefit from the addition of Avastin. (33)
EGFR TKI Combined With Immunotherapy
The PD-1/PD-L1 checkpoint inhibitor precision cancer immunotherapies, Opdivo (nivolumab) and Keytruda (pembrolizumab) have become the standard of care for advanced NSCLC. Based on this reason, they are currently undergoing evaluation in combination with TKI's for EGFR + NSCLC as well.(21,22,23)
EGFR TKI Combined With Metformin
Combining a TKI with the diabetic medication Metformin may significantly improve survival. (31,32) Learn more...
Gilotrif
Gilotrif blocks the EGFR pathway as well as the ErbB family of receptors that are associated with the EGFR pathway, including HER2 (ErbB2) and HER4 (ErbB4). Afatinib may block the EGFR pathway more thoroughly than other targeted therapies. Initial treatment with the targeted drug afatinib also prolongs progression-free survival in patients with EGFR-positive advanced lung cancer when compared with standard chemotherapy.
In a study of 345 patients with advanced NSCLC who had EGFR mutations patients were treated with either afatinib or standard combination chemotherapy treatment. After a median follow-up of 8 months, afatinib delayed disease progression by more than 4 months over standard therapy—progression-free survival (PFS) was 11.1 months with afatinib, compared to 6.9 months with standard therapy.
Gilotrif was particularly beneficial to the 308 patients who had one of two common types of EGFR mutations (deletion 19 or L858R) that account of approximately 90 percent of all EGFR mutations. These patients experienced almost double the PFS—13.6 months in the afatinib group and 6.9 months in the standard chemotherapy group.
​Gilotrif Improves Outcomes in Lung Cancer
The targeted agent Gilotrif (afatinib) improves outcomes compared to Tarceva (erlotinib) among patients with squamous cell lung cancer. These results were recently published in TheLancet Oncology.
The epidermal growth factor receptor (EGFR) refers to a pathway in cells that is involved in cellular growth and spread. Some cancer cells have overactive EGFR pathways, causing cancer cells to replicate and spread to different sites in the body. These cancers are referred to as EGFR-positive.
Researchers conducted a clinical trial to compare two different agents that target the EGFR pathway in different ways. Patients in the trial were divided into two groups: one group was treated with Gilotrif and the other group was treated with erlotinib.
The trial included approximately 800 patients and included over 20 countries. All patients had advanced, squamous cell lung cancer, and had received prior treatment.
At the time of data analysis, median overall survival and progression-free survival was greater in the group of patients treated with afatinib than the group treated with Tarceva.
Control of disease was also greater in the group treated with Gilotrif than Tarceva.
The researchers concluded that Gilotrif appears to be an effective treatment option for patients with advanced squamous cell lung cancer.
References:
Yang JCH, Schuler MH, Yamamoto N, et al. LUX-lung 3: A randomized, open-label, phase III study of afatinib versus pemetrexed and cisplatin as first-line treatment for patients with advanced adenocarcinoma of the lung harboring EGFR-activating mutations. Presented at the 2012 annual meeting of the American Society of Clinical Oncology, June 1-5, 2012, Chicago, IL. Abstract LBA7500.
Jackman D, Pao W, Riely GJ, Engelman JA, Kris MG, Jänne PA, Lynch T, Johnson BE, Miller VA. Clinical definition of acquired resistance to epidermal growth factor receptor tyrosine kinase inhibitors in non-small-cell lung cancer. J Clin Oncol. 2010;28:357–60.
Arcila ME, Oxnard GR, Nafa K, Riely GJ, Solomon SB, Zakowski MF, Kris MG, Pao W, Miller VA, Ladanyi M, et al. Rebiopsy of lung cancer patients with acquired resistance to EGFR inhibitors and enhanced detection of the T790M mutation using a locked nucleic acid-based assay. Clin Cancer Res. 2011;17:1169–80.
Sequist LV, Soria JC, Goldman JW, Wakelee HA, Gadgeel SM, Varga A, Papadimitrakopoulou V, Solomon BJ, Oxnard GR, Dziadziuszko R, Aisner DL, Doebele RC, Galasso C, et al. Rociletinib in EGFR-mutated non-small-cell lung cancer. N Engl J Med. 2015;372:1700–9.
Janne PA, Yang JC, Kim DW, Planchard D, Ohe Y, Ramalingam SS, Ahn MJ, Kim SW, Su WC, Horn L, Haggstrom D, Felip E, Kim JH, et al. AZD 9291 in EGFR inhibitor-resistant non-small-cell lung cancer. N Engl J Med. 2015;372:1689–99.
Zhou W, Ercan D, Chen L, Yun CH, Li D, Capelletti M, Cortot AB, Chirieac L, Iacob RE, Padera R, Engen JR, Wong KK,Eck MJ, et al. Novel mutant-selective EGFR kinase inhibitors against EGFR T790M. Nature. 2009;462:1070–4.
Walter AO, Sjin RT, Haringsma HJ, Ohashi K, Sun J, Lee K, Dubrovskiy A, Labenski M, Zhu Z, Wang Z, Sheets M, St Martin T, Karp R, et al. Discovery of a mutant-selective covalent inhibitor of EGFR that overcomes T790M-mediated resistance in NSCLC. Cancer Discov. 2013;3:1404–15.
AstraZeneca. Tagrisso (osimertinib) package insert. Wilmington, DE: AstraZeneca.
Oxnard GR, Thress KS, Alden RS, Lawrance R, Paweletz CP, Cantarini M, Yang JC, Barrett JC, Jänne PA. Association between plasma genotyping and outcomes of treatment with osimertinib (AZD9291) in advanced non-small-cell lung cancer. J Clin Oncol. 2016;34:3375–82.
Mok TS, Wu YL, Ahn MJ, Garassino MC, Kim HR, Ramalingam SS, Shepherd FA, He Y, Akamatsu H, Theelen WS, Lee CK, Sebastian M, Templeton A, et al. Osimertinib or platinum–pemetrexed in EGFR T790M–positive lung cancer. N Engl J Med. 2017;376:629–640.
Planchard D, Loriot Y, André F, Gobert A, Auger N, Lacroix L, Soria JC. EGFR-independent mechanisms of acquired resistance to AZD9291 in EGFR T790M-positive NSCLC patients. Ann Oncol. 2015;26:2073–8.
Bersanelli M, Minari R, Bordi P, Gnetti L, Bozzetti C, Squadrilli A, Lagrasta CA, Bottarelli L, Osipova G, Capelletto E, Mor M, Tiseo M. L718Q mutation as new mechanism of acquired resistance to AZD9291 in EGFR-mutated NSCLC. J Thorac Oncol. 2016;11:e121–3.
Abstract LBA6_PR 'Tagrisso vs standard of care (SoC) EGFR-TKI as first-line treatment in patients with EGFR-TKI sensitising mutation (EGFRm) positive advanced non-small cell lung cancer (NSCLC): FLAURA Asian subset' will be presented by Byoung Chul Cho during the Mini Oral session Thoracic malignancies 2 on Sunday, 19 November 2017, 14:30 to 15:25 (SGT) in Room 310. Annals of Oncology, Volume 28, 2017 Supplement 10
Tagrisso in treatment-naïve EGFR mutation-positive advanced NSCLC (FLAURA)' S Ramalingam et al, The New England Journal of Medicine (NEJM), 10.1056/NEJMoa1713137.
Zhou C, Wu Y-L, Chen G et al. Erlotinib versus chemotherapy as first-line treatment for patients with advanced EGFR mutation-positive non-small-cell lung cancer (OPTIMAL, CTONG-0802): A multicentre, open-label, randomized, phase 3 study. Lancet Oncology. Early online publication July 22, 2011.
Wang S, Song Y, Liu D. EAI045: The fourth-generation EGFR inhibitor overcoming T790M and C797S resistance. Cancer Letters. 2017;385:51–54.
Wu YL, Lee JS, Thongprasert S, Zhang L, Ladrera G, Srimuninnimit V, Sriuranpong V, Sandoval-Tan J, Zhu Y, Liao M, Zhou C, Pan H, Lee V, et al. Intercalated combination of chemotherapy and erlotinib for patients with advanced stage non-small-cell lung cancer (FASTACT-2): a randomised, double-blind trial. Lancet Oncol. 2013;14:777–86.
Cheng Y, Murakami H, Yang PC, He J, Nakagawa K, Kang JH, Kim JH, Wang X, Enatsu S, Puri T, Orlando M, Yang JC. Randomized Phase II Trial of Gefitinib With and Without Pemetrexed as First-Line Therapy in Patients With Advanced Nonsquamous Non-Small-Cell Lung Cancer With Activating Epidermal Growth Factor Receptor Mutations. J Clin Oncol. 2016;34:3258–66.
Herbst RS, O'Neill VJ, Fehrenbacher L, Belani CP, Bonomi PD, Hart L, Melnyk O, Ramies D, Lin M, Sandler A. Phase II study of efficacy and safety of bevacizumab in combination with chemotherapy or erlotinib compared with chemotherapy alone for treatment of recurrent or refractory non small-cell lung cancer. J Clin Oncol. 2007;25:4743–50.
Herbst R, Stern H, Amler L. Biomarker evaluation in the phase III, placebo-controlled, randomized BeTa Trial of bevacizumab and erlotinib for patients with advanced non-small cell lung cancer (NSCLC) after failure of standard 1st-line chemotherapy: correlation with treatment outcomes. J Thorac Oncol. 2009;4 S323.
Borghaei H, Paz-Ares L, Horn L, Spigel DR, Steins M, Ready NE, Chow LQ, Vokes EE, Felip E, Holgado E, Barlesi F, Kohlhäufl M, Arrieta O, et al. Nivolumab versus docetaxel in advanced nonsquamous non-small-cell lung cancer. N Engl J Med. 2015;373:1627–39.
Garon EB, Rizvi NA, Hui R, Leighl N, Balmanoukian AS, Eder JP, Patnaik A, Aggarwal C, Gubens M, Horn L, Carcereny E, Ahn MJ, Felip E, et al. Pembrolizumab for the treatment of non-small-cell lung cancer. N Engl J Med. 2015;372:2018–28.
Soria J-C, Enriqueta F, Cobo M, et al. Afatinib versus erlotinib as second-line treatment of patients with advanced squamous cell carcinoma of the lung (LUX-Lung 8): an open-label randomised controlled phase 3 trial. TheLancet Oncology;16(8):897-907. Available [here](http://www.thelancet.com/journals/lanonc/article/PIIS1470-2045(15%2900006-6/abstract)
Keedy VL, Temin S, Somerfield MR et al. American Society of Clinical Oncology Provisional Clinical Opinion: Epidermal growth factor receptor (EGFR) mutation testing for patients with advanced non-small-cell lung cancer considering first-line EGFR tyrosine kinase inhibitor therapy. Journal of Clinical Oncology. 2011;29:2121-2127
Fukuoka M, Wu Y-L, Thongprasert S et al. Biomarker analysis and final overall survival results from a phase III, randomized, open-label, first-line study of gefitinib versus carboplatin/paclitaxel in clinically selected patients with advanced non-small-cell lung cancer in Asia (IPASS). Journal of Clinical Oncology. Early online publication June 11, 2011.
Marchetti A, Martella C, Felicioni L et al. EGFR mutations in non-small cell lung cancer: analysis of a large series of cases and development of a rapid and sensitive method for diagnostic screening with potential implications for pharmacologic treatment. Journal of Clinical Oncology. 2005;23:857-865.
Eberhard DA, Johnson BE, Amler LC et al. Mutations in the epidermal growth factor receptor and in KRAS are predictive and prognostic indicators in patients with non-small-cell lung cancer treated with chemotherapy alone and in combination with erlotinib. Journal of Clinical Oncology. 2005;23:5900-5909.
Spicer J, Tischer B, Peters M. EGFR Mutation Testing and Oncologist Treatment Choice in Advanced NSCLC: Global Trends and Differences. Presented at ELCC 2015, abstract number LBA2 PR.​
Jänne PA, et al. Abstract 9007. Presented at: ASCO Annual Meeting; May 31-June 4, 2019; Chicago.
ascopubs.org/doi/abs/10.1200/JCO.2018.36.15_suppl.9006
JAMA Oncol. 2019 Aug 8. Epub ahead of print
Castellano GM, Aisner J, Burley SK, et al. [A novel acquired exon 20 EGFR M766Q mutation in lung adenocarcinoma mediates osimertinib resistance but is sensitive to neratinib and poziotinib: a brief report](https://www.jto.org/article/S1556-0864(19%2930495-2/pdf) [published online June 26, 2019]. J Thorac Oncol. doi: 10.1016/j.jtho.2019.06.015
Lancet Oncol. 2020 Feb 3. Epub ahead of print.
US Food and Drug Administration. FDA approves ramucirumab plus erlotinib for first-line metastatic NSCLC. Updated June 1, 2020. www.fda.gov/drugs/drug-approvals-and-databases/fda-approves-ramucirumab-plus-erlotinib-first-line-metastatic-nsclc. Accessed June 1, 2020.