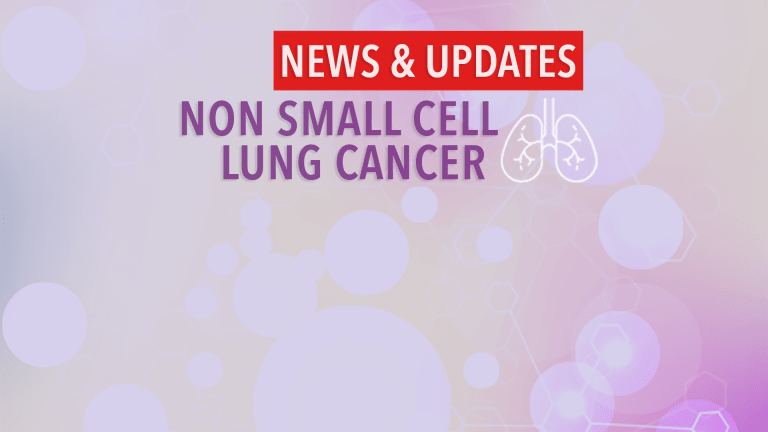 Imfinzi-Tremelimumab Combo Shows Promise in Non-Small Cell Lung Cancer
Immune-Targeting Drug Combo Shows Promise for Non-Small Cell Lung Cancer Patients
Lung cancer is the most common cause of cancer-related deaths in the United States resulting in more than 158,000 deaths each year. With a 5-year survival rate at only 18 percent, the development of new and improved treatment options is needed. 
Tumor cells develop mechanisms to evade detection by the immune system by expressing a protein called PD-L1. PD-L1 binds to its receptor PD-1 found on immune cells to down regulate their activity. Additionally, immune cells express a molecule called CTLA-4 that inhibits their activation.
Durvalumab and tremelimumab are drugs in clinical development that block the PD-1/PD-L1 and CTLA-4 pathways, respectively, and function to restimulate the immune system to target tumor cells. Both drugs have shown promising activity as single-agents in a variety of clinical studies in different tumor types, and it has been hypothesized that combining these two drugs may result in added clinical benefit.
About Tremelimumab

Tremelimumab is a human monoclonal antibody and potential new medicine that targets the activity of cytotoxic T-lymphocyte-associated protein 4 (CTLA-4). Tremelimumab blocks the activity of CTLA-4, contributing to T-cell activation, priming the immune response to cancer and fostering cancer cell death. Tremelimumab is being tested in a clinical trial programme in combination with Imfinzi in NSCLC, SCLC, bladder cancer and liver cancer.
About Imfinzi
Imfinzi (durvalumab) is a human monoclonal antibody that binds to PD-L1 and blocks the interaction of PD-L1 with PD-1 and CD80, countering the tumour's immune-evading tactics and releasing the inhibition of immune responses.
Researchers initially evaluated 102 patients with advanced non-small cell lung cancer in a phase 1b study to evaluate Imfinzi and tremelimumab combination therapy.  The researchers found that Imfinzi combined with tremelimumab resulted in manageable toxicity. The most common overall adverse events were diarrhea, fatigue, and itching, while the most common high grade adverse events were diarrhea, colitis, and altered pancreas activity. Most toxicities could be reversed by administration of immunosuppressive drugs.

Jonna's Body, Please Hold
Actress, playwright, and three-time cancer survivor Jonna Tamases celebrates life from center stage.
They also found that Imfinzi plus tremelimumab has anti-tumor activity in non-small cell lung cancer patients, with 23% of patients achieving either a complete or a partial response to treatment. The drug combination was active in patients with and without tumor expression of PD-L1.
Pivotal Trial Confirms Benefit
According to study results released at the September 2021 World Lung Congress, Imfinzi and tremelimumab, when added to platinum-based chemotherapy, demonstrated an improvement in overall survival and delayed cancer progression compared to chemotherapy alone when used as the initial treatment of Stage IV (metastatic) NSCLC.
About POSEIDON
The POSEIDON clinical trial directly compared Imfinzi plus platinum-based chemotherapy or Imfinzi, tremelimumab and chemotherapy to chemotherapy alone as the initial treatment of 1,013 patients with either non-squamous or squamous NSCLC. The trial excluded patients with certain epidermal growth factor receptor (EGFR) mutations or anaplastic lymphoma kinase (ALK) fusions.
Patients treated with a short course of five cycles of tremelimumab over 16 weeks in addition to Imfinzi and chemotherapy experienced an average survival duration of 14.0 months compared to 11.7 months for chemotherapy and 33% of patients survived greater than two years compared to only 22% for chemotherapy. The combination of Imfinzi plus chemotherapy without tremelimumab did not improve overall survival compared to chemotherapy alone.
About Moffitt Cancer Center Moffitt is dedicated to one lifesaving mission: to contribute to the prevention and cure of cancer. One of the three largest cancer centers in the United States based on patient volume, the Tampa-based facility is one of only 45 National Cancer Institute-designated Comprehensive Cancer Centers, a distinction that recognizes Moffitt's excellence in research, its contributions to clinical trials, prevention and cancer control. Moffitt is the top-ranked cancer hospital in Florida and has been listed in U.S. News & World Report as one of the "Best Hospitals" for cancer care since 1999. Moffitt devotes more than 2 million square feet to research and patient care. With more than 5,000 team members, Moffitt has an economic impact in the state of $1.9 billion. For more information, call 1-888-MOFFITT (1-888-663-3488), visit MOFFITT.org, and follow the Moffitt momentum onFacebook, Twitter and YouTube.
References
Moffitt Cancer Center news release. (2016.) Retrieved from:
Copyright © 2018 CancerConnect. All Rights Reserved.