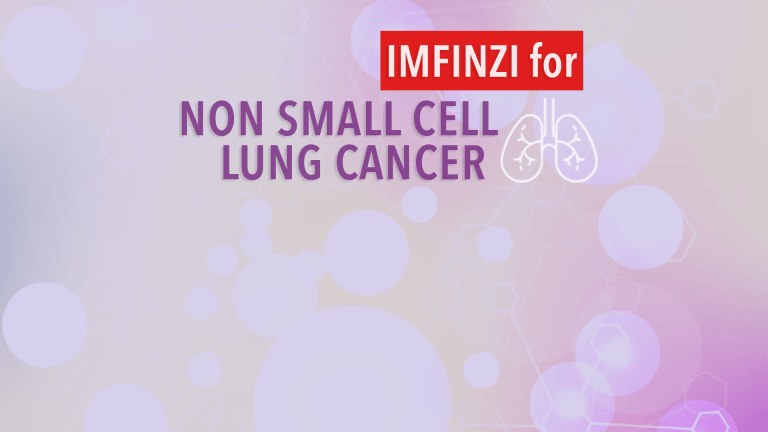 Imfinzi Treatment for Stage III NSCLC Reduces Recurrence & Prolongs Survival
Imfinzi immunotherapy significantly improves treatment of stage III NSCLC - 50% of patients survive 4 years .
by Dr. C.H. Weaver M.D. updated 9/2020
The US Food and Drug Administration (FDA) approved Imfinzi (durvalumab) for the treatment of patients with stage III non-small cell lung cancer (NSCLC) whose cancer is unresectable and has not progressed after chemoradiation based on results from the "Pacific" clinical trial because the addition of Imfinizi to chemoradiation further delayed cancer progression and prolonged survival. (2,3) Overall 50% of unresectable state III NSCLC patients survive 4 years from treatment with the addition of Imfinzi - a marked improvement over the historical standard of 15% to 20%.
About Stage III NSCLC
Stage III NSCLC represents approximately one third of NSCLC's and was estimated to affect around 100,000 individuals worldwide.(1) About half of these patients have cancers that cannot be removed by surgery. For patients with stage III lung cancer that cannot be removed surgically, the current standard treatment is chemoradiation. Although a small number of patients may be cured with the chemoradiation, the cancer will typically progress. New treatment approaches are needed in order to improved the outcome of these individuals.
About Imfinzi
Imfinzi is an investigational human monoclonal antibody directed against programmed death ligand-1 (PD-L1). PD-L1 can be expressed by tumors to evade detection by the immune system through binding to PD-1 on cytotoxic T lymphocytes. Imfinzi blocks the PD-L1 interaction with PD-1, countering the tumor's immune-evading tactics. Imfinzi is being developed, alongside other immunotherapies, to empower the patient's immune system and attack the cancer. Imfinzi is already FDA approved for certain patients with locally advanced or metastatic bladder cancer.
About The PACIFIC Clinical Trial
The PACIFIC clinical evaluated the use of Imfinzi as sequential treatment in patients with locally-advanced, unresectable, stage III NSCLC following treatment with chemotherapy and radiation. All patients were treated with 2 cycles of platinum based chemotherapy and radiation with the goal of making the cancer more sensitive to treatment with immunotherapy.

Cooking for Life
A new cookbook offers recipes bursting with flavor and health-boosting nutrients.
Patients then received treatment with either a placebo or sequential Imfinzi for up to 12 months if they had not progressed following standard platinum-based chemotherapy concurrent with radiation.(2,3)
Imfinzi was initially reported to significantly delay the time to cancer progression compared with placebo. Imfinzi treated patients survived on average 16.8 months without cancer progression compared to only 5.6 months for those treated with placebo. Trial results were updated in September 2020 at ESMO overall 50% of Imfinzi treated patients survived 4 years from treatment compared to 36% of those treated with chemoradiation without Imfinzi. The median survival duration was 47.5 months for Imfinzi versus 29.1 months for placebo. With a maximum treatment course of one year, an estimated 35.3% of patients treated with Imfinzi had not progressed four years after enrollment versus 19.5% for placebo.
References:
Kantar, other market research based on 2016 patient numbers; Globocan 2012. G7 countries include the US, Japan, Germany, the UK, France, Italy and Canada.
AstraZeneca news release. (2016.) Retrieved from: Durvalumab granted Breakthrough Therapy designation by US FDA for treatment of patients with PD-L1 positive urothelial bladder cancer
Imfinzi significantly improves overall survival in the Phase III PACIFIC trial for unresectable Stage III non-small cell lung cancer Antonia. N Engl J Med. 2018;379:2342