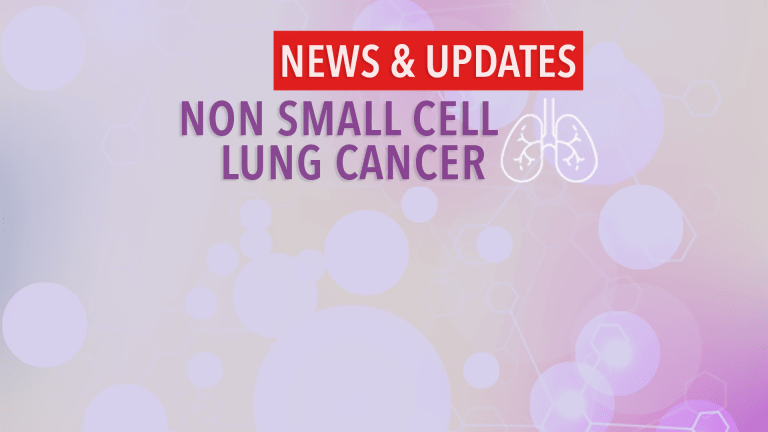 How Should Oligometastatic NSCLC be Treated?
Local ablative treatment combined with immunotherapy improves long term survival in oligometastatic NSCLC.
by Dr. C.H. Weaver M.D. 1/2021
A clinical state of "oligometastasis" occurs when cancer has spread to a limited number of organs and sites. Research suggests that oligometastatic disease may have a more indolent biology and aggressive therapy with local ablative treatment (LAT) and systemic treatment can achieve longer term survival in some individuals with non-small cell lung cancer (NSCLC).
Although patients with stage IV NSCLC are generally viewed as having incurable disease patients with a solitary brain or adrenal metastasis are treated with LAT with curative intent. Multiple reports have shown longer-term overall survival when LAT is combined with systemic therapy. Two and three-year survival rates have previously been reported to be 23% and 17% respectively with some patient surviving beyond 5 years.1-6
Immunotherapy post LAT Improves Survival of NSCLC
Keytruda (pembrolizumab) immunotherapy administered after completion of LAT appears to almost triple the average duration of survival without cancer progression according to study results published in JAMA Oncology. U Penn researchers treated 45 NSCLC patients with four or fewer metastatic sites with LAT followed by Keytruda. The average survival duration without cancer progression was 18.7 months and the treatment did not decrease quality of life.1
The authors observed that "combined techniques of surgical resection and radiation can be used to more effectively treat residual sites of disease and minimize toxicity, both of which can be individualized based on the size and location of the disease, as well as a patient's anatomical characteristics.
The U Penn results are consistent with other small studies. In a previously published study 94 stage IV NSCLC patients with ≤3 metastatic lesions were treated with either standard maintenance therapy or LAT with surgery, or radiation therapy followed by additional systemic therapy. At 39 months of follow-up the LAT treated patients survived without cancer progression on average 14.2 months compared to only 4.4 months if treated with maintenance or observation.2-4
In addition to the U Penn publication other studies evaluating oligometastatic disease and LAT other trials further demonstrate that adding LAT to systemic therapy for oligometastatic stage IV NSCLC can improve survival.5,6
SABR-COMET Clinical Trial
SBRT also known as stereotactic ablative radiotherapy (SABR) was evaluated in individuals with advanced oligometastatic NSCLC and after a follow-up of 27 months the duration of survival without cancer progression was twice that of those not treated with the comprehensive approach. Average overall survival was 28 months for individuals treated with standard therapy versus 41 months for those additionally treated with SABR. At 5 years, 46% of patients treated with SABR to all oligometastatic sites survived.6
Patients with oligometastatic NSCLC need to be aware that LAT plays an important role in their cancer management and the combination of LAT with current immunotherapy can provide meaningful long-term survival.
Dutch Trial Update
In 2012, Dirk De Ruysscher, MD, PhD, of the Netherlands initially reported that long-term survival in NSCLC patients with synchronous oligometastases treated with LAT was possible. With seven years of follow up there are patients from this original report surviving 6-7 years after treatment and less than 8% of patients experienced a local recurrence.5
References
Pembrolizumab After Completion of Locally Ablative Therapy for Oligometastatic Non–Small Cell Lung Cancer
Niibe Y, Hayakawa K. Oligometastases and oligo-recurrence: the new era of cancer therapy. Jpn J Clin Oncol 2010; 40:107.
De Ruysscher D, et al. [Radical treatment of nonsmall-cell lung cancer patients with synchronous oligometastases: long-term results of a prospective phase II trial (Nct01282450)](https://www.jto.org/article/S1556-0864(15%2932596-X/fulltext). J Thorac Oncol. 2012;7(10):1547-1555.
[Progression-Free Survival and Overall Survival Beyond 5 Years of NSCLC Patients With Synchronous Oligometastases Treated in a Prospective Phase II Trial (NCT 01282450)](https://www.jto.org/article/S1556-0864(18%2930935-3/abstract)
[Stereotactic ablative radiotherapy versus standard of care palliative treatment in patients with oligometastatic cancers (SABR-COMET): a randomised, phase 2, open-label trial](https://www.thelancet.com/journals/lancet/article/PIIS0140-6736(18%2932487-5/fulltext)