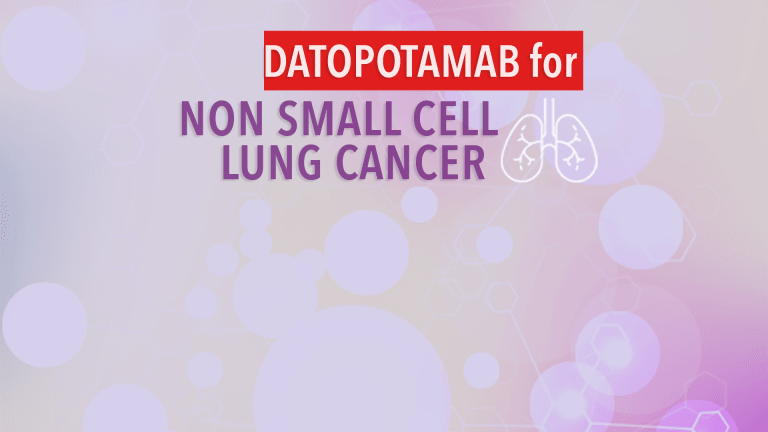 Datopotamab (Dato-Dxd) Treatment for Non-Small Cell Lung Cancer
Datopotamab is a novel precision medicine known as an antibody drug conjugate that targets HER2 + NSCLC
by Dr. C.H. Weaver M.D. updated 10/2021
Recently published study results suggest datopotamab deruxtecan a TROP2-directed antibody drug conjugate (ADC) is effective in treating certain patients with advanced, or metastatic, non-small cell lung cancer (NSCLC). Currently, there are no TROP2-directed medicines approved for the treatment of NSCLC.1
About Datopotamab Deruxtecan
Datopotamab deruxtecan is a precision cancer medicine known as an antibody drug conjugate (ADC). The anti-TROP2 (trophoblast cell-surface antigen 2) monoclonal antibody delivers topoisomerase I inhibitor cytotoxic chemotherapy ("payload") directly to cancer cells via a linker attached to the monoclonal antibody that binds to TROP2 on cancer cells. TROP2 is a transmembrane glycoprotein that is over expressed in many cancers and is associated with poor overall and disease-free survival in several cancers. TROP2 expression has been observed in up to 64% of adenocarcinoma and up to 75% of squamous cell carcinoma NSCLC.2-5  There are no TROP2-directed therapies or ADCs currently approved for the treatment of NSCLC.
About the TROPION-PanTumor01Clinical Trial
The TROPION-PanTumor01 clinical trial was designed to evaluate the safety, tolerability, and preliminary effectiveness of datopotamab deruxtecan in patients with advanced solid tumors, including NSCLC and triple-negative breast cancers (TNBC), that are refractory to or relapsed from standard treatment or for whom no standard treatment is available.
In the trial, objective response rates ranging from 21 to 25%, including complete response, were observed in 159 patients with advanced, or metastatic, NSCLC receiving different doses of datopotamab deruxtecan. A disease control rate ranging from 67 to 80% was observed, with a median progression-free survival ranging from 4.3 to 8.2 months across the three doses of datopotamab deruxtecan that were evaluated.
In a sub-analysis released at ESMO 2020 researchers reported that advanced NSCLC patients with various actionable genomic alterations responded to Dato-DXd.
In 34 evaluable NSCLC patients with actionable genomic alterations, the objective response rate was 35%. At a median follow-up of 13.4 months, the median duration of response was 9.5 months. Patients with EGFR exon19 deletions and L858R mutations responded to Dato-DXd even after treatment with Tagrisso.
The most commonly reported side effects of datopotamab deruxtecan were mucositis, fatigue, and anemia. Fourteen individuals (8%) developed a lung toxicity called interstitial lung disease (ILD), resulting in fatality in three patients. The majority of ILD cases (12/14) and the three deaths were reported at the highest dose evaluated.
Based on these findings, the better-tolerated 6mg/kg dose has been identified as the recommended dose to be studied further.
References:
Clinicaltrials.gov. DS-8201a in human epidermal growth factor receptor 2 (HER2)-expressing or -mutated non-small cell lung cancer (DESTINY-Lung01). Available here. Accessed January 2021.
Inamura K, et al. Association of tumor TROP2 expression with prognosis varies among lung cancer subtypes. Oncotarget. 2017;8(17):28725-28735.
Pak M, et al. Significance of EpCAM and TROP2 expression in non-small cell lung cancer. World J Surg Oncol. 2012;10:53.
Li Z, et al. TROP2 overexpression promotes proliferation and invasion of lung adenocarcinoma cells. Biochem Biophys Res Commun. 2016;470:197-204.
Liu T, et al. Overexpression of TROP2 predicts poor prognosis of patients with cervical cancer and promotes the proliferation and invasion of cervical cancer cells by regulating ERK signaling pathway. PLoS One. 2013;8:e75864.