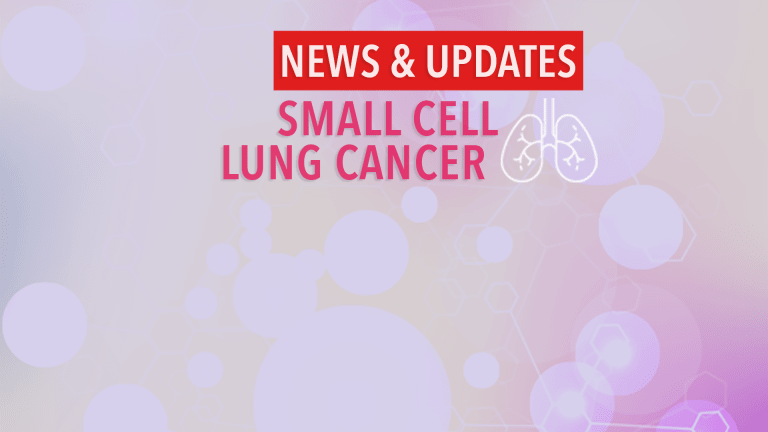 Checkpoint Inhibitor - Chemotherapy for Treatment of Small Cell Lung Cancer
Update on role of Tecentriq, Imfinzi, Opdivo, Keytruda and Adebrelimab for treatment of Small Cell Lung Cancer.
by Dr. C.H.Weaver M.D. 8/2022
About Small Cell Lung Cancer
Lung cancer remains the leading cause of cancer-related deaths worldwide. In the United States, SCLC accounts for 10-20% of all lung cancers. Although progress has been made in recent years, the majority of patients with advanced stage lung cancer still die from their disease. New treatments are needed.
Precision medicine continues to impact the lives of lung cancer patients and research into genomics and genetics have led to unprecedented progress in improving outcomes. Tailored treatments have emerged to match a person's genetic make­up or a tumor's genetic profile. As a result, patients with lung cancer now typically re­ceive molecular testing that guides their physicians in determining which therapies are more likely to boost the chances of survival while limiting the potential for adverse effects.
Results from several studies evaluating immunomodulatory approaches using anti-PD-1 and anti-PD-L1 antibodies have demonstrated anti-cancer activity and are advancing the standard of care for lung cancer. PD-1 is a protein that inhibits certain types of immune responses. Drugs that block PD-1 may enhance the ability of the immune system to fight cancer and are referred to as "checkpoint inhibitors" 1-3 Recent clinical trial results suggest that combining chemotherapy with a checkpoint inhibitor may be the most effective approach.12
About Tecentriq (atezolizumab)
The U.S. Food and Drug Administration (FDA) approved Tecentriq® (atezolizumab), in combination with carboplatin and etoposide (chemotherapy), for the initial treatment of extensive-disease small cell lung cancer (ED-SCLC) in 2018.4
Tecentriq is a monoclonal antibody designed to target and bind to a protein called PD-L1 (programmed death-ligand 1), which is expressed on cancer cells and cancer-infiltrating immune cells. PD-L1 interacts with PD-1 and B7.1, both found on the surface of T cells, causing inhibition of T cells. By blocking this interaction, Tecentriq enables the activation of T cells, restoring their ability to effectively detect and attack cancer cells.4,5
Adebrelimab Improves Survival 
The addition of adebrelimab to standard treatment with carboplatin and etoposide chemotherapy significantly improves survival and exhibits a manageable safety profile for the first-line treatment of patients with ED-SCLC.  The CAPSTONE clinical trial enrolled and evaluated 462 previously untreated patients with ED-SCLC from 75 tertiary hospitals in China to treatment with carboplatin and etoposide with or without adebrelimab and adebrelimab maintenance. With a median follow-up of 13.5 months overall survival was inmproved from 12.8 to 15.3 months in the with adebrelimab. The study authors staged "Adding adebrelimab to chemotherapy significantly improved overall survival with an acceptable safety profile in patients with [extensive-stage] SCLC, supporting this combination as a new first-line treatment option for this population." 11
IMPower133
FDA approval is based on results from the IMpower133 clinical trial which were initially presented at the 2018 World Conference on Lung Cancer (WCLC) and published in The New England Journal of Medicine in late 2018. IMpower133 directly compared Tecentriq in combination with chemotherapy (carboplatin and etoposide) to chemotherapy alone in 403 patients with newly diagnosed ED-SCLC. Tecentriq in combination with chemotherapy helped people live longer compared to chemotherapy alone (12.3 vs 10.3 months)
About Imfinzi (durvalamab)
Imfinzi (durvalumab) is a human monoclonal antibody that binds to PD-L1 and blocks the interaction of PD-L1 with PD-1 and CD80, countering the tumor's immune-evading tactics and releasing the inhibition of immune responses. Similar results for Imfinizi were presented at the 2019 Lung Cancer meetings showing an approximate 3 month improvement, ultimately leading to FDA approval in March of 2020.6-8
CASPIAN
Detailed results from an updated analysis of the Phase III CASPIAN clinical trial were presented during the 2020 American Society of Clinical Oncology ASCO20 Virtual Scientific Program and showed that Imfinzi in combination with a choice of chemotherapies, etoposide plus either carboplatin or cisplatin, demonstrated a sustained, clinically meaningful overall survival benefit for adults with ED-SCLC. The CASPIAN trial reduced the risk of death by 27% which formed the basis of the US FDA approval Updated average survival was 12.9 months versus 10.5 for chemotherapy. An estimated 22.2% of patients treated with Imfinzi plus chemotherapy survived 2 years from treatment compared to 14.4% for chemotherapy.
Keytruda® (pembrolizumab)
The US Food and Drug Administration initially granted Keytruda an accelerated approval for the treatment of third line SCLC in 2019. That approval was based on results from the KEYNOTE-158 and KEYNOTE-028 trials, which showed that Keytruda monotherapy led to a 19% objective response rate in SCLC patients whose cancer had progressed despite prior therapies. Continued approval was dependent on a post-marketing study demonstrating superiority of Keytruda as determined by overall survival and Keytruda failed to meet this requirement in the KEYNOTE-604 trial.9

Long-term follow-up results presented at the IASLC World Conference on Lung Cancer 2022 in Vienna show that Keytruda plus the etoposide, platinum chemotherapy (EP) combination improved overall survival when used as initial therapy in previously untreated extensive stage small cell lung cancer. The three-year overall survival was 15.5% for Keytruda treated patients compared to 5.9% for those treated with EP alone.  Additional studies are evaluating are evaluating pembrolizumab in combination with the anti-TIGIT therapy vibostolimab (MK-7684) and is currently recruiting patients.12
About Opdivo
The U.S. Food and Drug Administration approved Opdivo (nivolumab) for the treatment of metastatic small cell lung cancer whose cancer has progressed after platinum-based chemotherapy and at least one other line of therapy.11 Opdivo was the first new treatment approved for SCLC in over 20 years.
Opdivo is also a PD-1 checkpoint inhibitor that helps the immune system recognize and attack cancer. The approval of Opdivo was based on data provided to the FDA from the ongoing CheckMate -032 study evaluating Opdivo in patients who experienced disease progression after platinum-based chemotherapy.1Twelve percent of SCLC patients treated with Opdivo after platinum-based chemotherapy responded to treatment and among these responders, the average duration of response was 1 and a half years.
About Precision Cancer Medicine
Not all cancer cells are alike: Cancer cells may differ from one another based on what genes have mutations. Precision cancer medicine utilizes molecular diagnostic testing, including DNA sequencing, to identify cancer-driving abnormalities in a cancer's genome. This "genomic testing" is performed on a biopsy sample of the cancer and increasingly in the blood using a "liquid biopsy"Once a genetic abnormality is identified, a specific precision cancer medicine or targeted therapy can be designed to attack a specific mutation or other cancer-related change in the DNA programming of the cancer cells. Precision cancer medicine uses targeted drugs and immunotherapies engineered to directly attack the cancer cells with specific abnormalities, leaving normal cells largely unharmed.
Opdivo directly attacks the PD 1 ligand enhancing the immune system to work better. Another target is the poly ADP-ribose polymerase (PARP) enzyme which plays a role in DNA repair, including the repair of DNA damage from chemotherapy. Precision cancer medicines that target and inhibit this enzyme may contribute to cancer cell death and increased sensitivity to chemotherapy and are called PARP inhibitors. By blocking this enzyme, DNA inside the cancerous cells is less likely to be repaired, leading to cell death and possibly a slow-down or stoppage of tumor growth.
Doctors from MD Anderson Cancer Center enrolled 104 patients with relapsed SCLC from seven centers across the country. Patients were treated with either the PARP inhibitor veliparib combined with a standard oral chemotherapy regimen or the chemotherapy alone and directly compared. Overall the combination therapy was well tolerated, and the researchers found that, the overall response to treatment was almost was three times higher in patients treated with the PARP inhibitor plus chemotherapy compared to chemotherapy alone.Researchers also investigated biomarkers that might predict a response to PARP inhibitors and found that patients whose tumors expressed the elevated levels of SLFN11 experienced significantly delayed cancer progression and improved survival.
The doctors are now further evaluating PARP inhibitors as initial treatment and in higher doses. Advances in identifying precision cancer medicines have recently improved the outcomes in many kinds of cancer and now perhaps these advances will benefit individuals with SCLC, patients should inquire about the role of these newer medicines with the treating cancer physician. (12)
References:
World Health Organization. International Agency for Research on Cancer. Available at http://gco.iarc.fr/today/data/factsheets/cancers/15-Lung-fact-sheet.pdf. Accessed May 2020.
World Health Organization. GLOBOCAN 2018; Lung Cancer: Estimated cancer incidence, mortality and prevalence worldwide. [Internet]: Lung fact sheet. Accessed January 2019.
Alvarado-Luna G and Morales-Espinosa D. Treatment for small cell lung cancer, where are we now?- a review. Transl Lung Cancer Res. 2016;5(1):26-38
Horn L et al. First-line atezolizumab plus chemotherapy in extensive-stage small-cell lung cancer. N Engl J Med. 2018; DOI: 10.1056/NEJMoa1809064.
FDA approves Roche's Tecentriq in combination with chemotherapy for the initial treatment of adults with extensive-stage small cell lung cancer
Paz-Ares L, Chen Y, Reinmuth N, et al. Overall survival with durvalumab plus etoposide-platinum in first-line extensive-stage SCLC: results from the CASPIAN study. Presented at: IASLC 2019 World Conference on Lung Cancer hosted by the International Association for the Study of Lung Cancer; September 7-10, 2019; Barcelona, Spain. Abstract PL02.11.
International Association for the Study of Lung Cancer. Durvalumab combined with chemotherapy improves overall survival in patients with extensive stage small-cell lung cancer; first-line treatment reduced mortality risk by 27 percent. Published September 9, 2019. Accessed September 9, 2019.
Ott P, Felip E, Hiret S, et al. Pembrolizumab in Patients with Extensive-Stage Small Cell Lung Cancer: Updated Survival Results from KEYNOTE-028. Presented at the 17th World Conference on Lung Cancer. December 4-7, 2016. Vienna, Austria. Abstract #OA05.01.
J Clin Oncol. 2020 May 29. Epub ahead of print.
Wang J, Zhou C, Yao W, et al. Adebrelimab or placebo plus carboplatin and etoposide as first-line treatment for extensive-stage small-cell lung cancer (CAPSTONE-1): a multicentre, randomised, double-blind, placebo-controlled, phase 3 trial. Lancet Oncol. 2022 May 13;S1470-2045(22)00224-8. doi:10.1016/S1470-2045(22)00224-8.