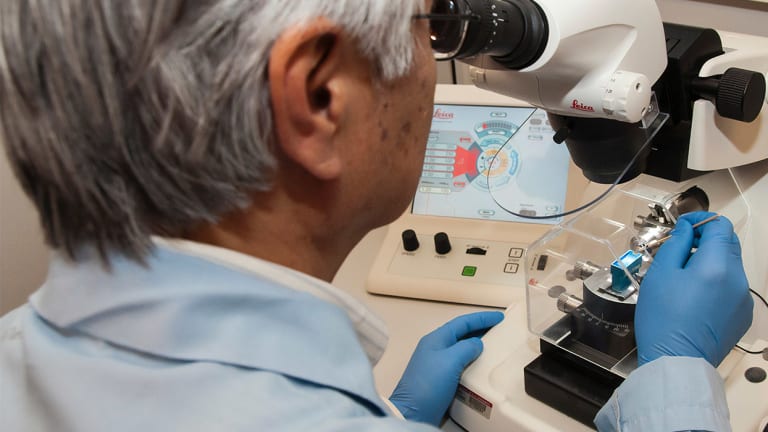 CAR T Cells for Lung Cancer?
Mesothelin-targeted CAR T-cell therapy has shown early evidence of effectiveness in patients with NSCLC.
by Dr. C.H. Weaver M.D. 10/2019
Mesothelin-target chimeric antigen receptor (CAR) T-cell therapy has shown early evidence of effectiveness in patients with non–small cell lung cancer (NSCLC).
About CAR T cell therapy
CAR therapies utilize T-cells (CAR T) which are a patient's own immune cells that are re-programmed to recognize and kill cancer cells throughout the body. The process involves the removal of some T cells from a patient, and through laboratory processes these T cells are re-programmed to identify a patient's cancer cells.
Once the T cells have been programmed to identify a patient's cancer cells, they are replicated in the laboratory in very large numbers and infused back into the patient. The re-programmed T cells circulate throughout the body where the identify cancer cells and facilitate an immune attack against them. Simultaneously, the T cells are also replicating within the body, so that more of the immune cells can identify and attack the cancer cells.
Mesothelin is a cell-surface tumor-differentiation antigen that is frequently highly expressed in several cancers, including 65% of non-small cell lung cancer. Importantly, mesothelin is not commonly expressed on normal other lung cells which makes it an attractive therapeutic target.2
Researchers are evaluating the safety and maximum tolerated dose of CAR T cells designed to attack the cell-surface protein mesothelin, which is expressed in the majority of cancer cells in mesothelioma and many individuals with NSCLC.
No significant CAR T-cell therapy-related side effects were observed and there were no cases of neurotoxicity or cytokine release syndrome which have been reported to occur with some CAR T cell treatments. Researchers specifically monitored patients for on-targeted, off-tumor side effects but found no evidence of toxicity.
Thirteen patients at the time of reporting had detectable CAR T cells in their peripheral blood from day 1 to 38 weeks after infusion. T-cell persistence appeared associated with a 50% or greater serial serum soluble mesothelin-related peptide levels and evidence of tumor regression.
More about the treatment of advanced NSCLC.
Keep Current with Advances in Lung Cancer Treatment Here.
References:
Morello A, Sadelain M, Adusumilli PS. Mesothelin-targeted CARs: driving T cells to solid tumors. Cancer Discov. 2016;6(2):133-146. doi: 10.1158/2159-8290.CD-15-0583.
Adusumilli PS, Cherkassky L, Villena-Vargas J, et al. Regional delivery of mesothelin-targeted CAR T cell therapy generates potent and long-lasting CD4-dependent tumor immunity. Sci Transl Med. 2014;6(261):261ra151. doi: 10.1126/scitranslmed.3010162.
Adusumilli PS, Zauderer M, Rusch V, et al: A phase I clinical trial of malignant pleural disease treated with regionally delivered autologous mesothelin-targeted CAR-T cells. 2019 AACR Annual Meeting. Abstract CT036. Presented March 31, 2019.