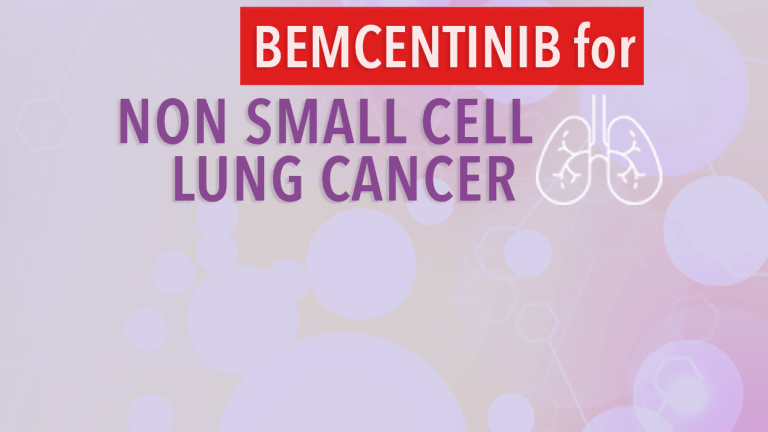 Bemcentinib - Keytruda Combination in NSCLC
FDA Grants Fast Track Designation to Bemcentinib Combo in Advanced NSCLC
On November 9, 2021, the FDA granted Fast Track designation for bemcentinib in combination with an anti-PD-L1 agent for patients with STK11 altered advanced or metastatic non-small cell lung cancer (NSCLC) without actionable mutations.
About Bemcentinib
Bemcentinib is a selective AXL inhibitor which results in the expansion of tumor-associated T-cells and restored the therapeutic response to anti-PD-L1 checkpoint inhibition-a standard treatment for NSCLC. Evidence from both preclinical and translational research efforts have indicated that AXL inhibition could prove to be synergistic with checkpoint inhibitors, targeted therapies, and chemotherapy agents.2
Although not implicated as an oncogenic driver itself, AXL, a member of the TYRO3, AXL, and MERTK family of receptor tyrosine kinases and is over expressed in NSCLC. Evidence suggests that AXL over-expression drives wide-ranging processes, including tumour angiogenesis, resistance to chemotherapeutic and targeted agents, and decreased anti-tumor immune response. As a result, AXL is an attractive candidate as a target for anticancer therapies.
About Keytruda Checkpoint Inhibitors
Keytruda is a precision cancer medicine that belongs to a class of medicines called "checkpoint inhibitors." Checkpoint inhibitors are a novel precision cancer immunotherapy that helps to restore the body's immune system in fighting cancer by releasing checkpoints that cancer uses to shut down the immune system. PD-1 and PD-L1 are proteins that inhibit certain types of immune responses, allowing cancer cells to evade detection and attack by certain immune cells in the body. A checkpoint inhibitor can block the PD-1 and PD-L1 pathway and enhance the ability of the immune system to fight cancer. By blocking the binding of the PD-L1 ligand these drugs restore an immune cells' ability to recognize and fight the colon cancer cells. A diagnostic test to measure the level of PD-L1 is available.

Preliminary data from a phase 2 trial of bemcentinib and Keytruda (pembrolizumab) as a combination treatment in advanced NSCLC showed that 3 of 3 evaluable patients with identified STK11 or LKB1 mutations demonstrated objective clinical response or clinical benefit to the combination of this AXL inhibitor combination.
These encouraging results led the US FDA to give "Fast Track" designation to the bemcentinib - Keytruda combination.
Fast Track designation is intended to facilitate the development and review of drugs used to treat serious conditions and to fill an unmet medical need. Fast Track designation enables the company to have more frequent interactions with the FDA throughout the drug development process, so that an approved product can reach the market expeditiously.
References