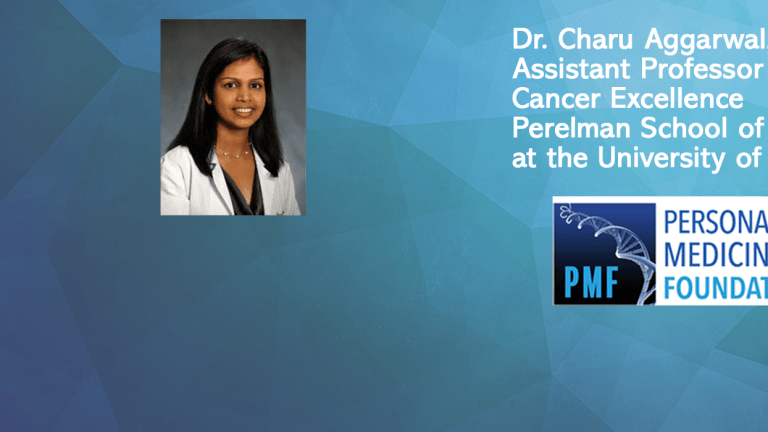 Ask Dr. Charu Aggarwal About the Management of Lung Cancer
Ask The Expert:Dr Aggarwal - University of Pennsylvania answered your questions about Lung Cancer
The Personalized Medicine Foundation and Cancer Connect are pleased to provide patients and caregivers the opportunity to ask questions about the management of lung cancer and about the COVID-19 pandemic with Dr. Charu Aggarwal, MD FACP Assistant Professor for Lung Cancer Excellence Perelman School of Medicine at the University of Pennsylvania. Dr. Aggarwal is an expert on the use of precision cancer medicines and immunotherapy for the treatment of lung cancers.
Answers to submitted questions. Patients and Caregivers can post additional questions in the Cancer Connect Lung Cancer Community
Answers to Submitted Questions About Advanced Lung Cancer
Q. I have stage 4 nsclc with Mets to the bone. I started Keytruda last September with only mild side effects except weight gain. I'm thinking some could be from quickly stopping smoking. Prior to cancer I had stenosis which impairs any exercise. Are there any recommended vitamins besides calcium for bones. Also is there anything that help with losing weight at this point. Are there any other immune drugs if Keytruda is no longer effective. Is there other genetic testing recommended.
Calcium and vitamin D are the mainstay for bones, its not a bad idea to take a multi-vitamin, especially if you are having difficulty maintaining nutrition. With bone mets Xgeva is quite helpful for maintaining bone health. Weight loss is a common problem and may results from the cancer itself of loss of appetite. Smoothies, protein drinks, ensure are all good ways to help maintain weight. There are also appetite stimulants that you should discuss with your doctor. New immunotherapy medications and precision medicines are being moved through the clinical trials process on an ongoing basis - should your cancer recur it makes sense to undergo evaluation again at a major cancer center that has access to newer medication through the clinical trials process.
Q. Is the Car T cell therapy now feasible for stage 3b NSCLC cancer, with minimal side effects as reported. I'm looking at going thru Durvalumab, which appears to be very toxic. Would love your thoughts.
CART cell therapy can be well managed and doctors now have a good understanding of the side effects and how to control them. CAR T cell therapy is not being offered for stage 3 lung cancers and is currently being evaluated at a few cancer programs for more advanced disease. Should your cancer recur you might be eligible to participate in CAR T or other clinical trials.
Q. Does CEA from 11 to 37 rise mean progression?
CEA is an antigen (small protein) that is found on the surface of many types of cancer cells and high levels of CEA can be detected in the blood of some patients with cancer and the developing fetus. The CEA is measured in the blood and the normal range is <2.5 ng/ml in an adult non-smoker and <5.0 ng/ml in a smoker. The most common cancers that elevate CEA are in the colon and rectum but it can be elevated with gastric, ovarian and other cancers. If your CEA was high when you were diagnosed and then initially decreased before rising again it may be a useful marker to follow your cancer. It could also be entirely unrelated to your lung cancer - you should discuss these results with your doctor.
Q. Stage IIIb Adeno ca had 3 cycles of carbo+Alimta with XRT. My doctor wants to start Durvalumab soon. Can Durva be combined with chemo?
Data from randomized clinical trial show an improvement in overall survival for patients receiving durvalumab after chemotherapy and radiation with Stage III NSCLC. These clinical trials did not combine chemotherapy with durvalumab, therefore, there is no direct evidence that combining chemotherapy with durvalumab will be beneficial.
Q. Sister has stage 4 nsclc. Just got ONCODEEP testing done. She is currently on Docetaxel and cyrmza after failing 10 months of Keytruda. According to ONCODEEP testing her mutations are CCND3, MDM2, CKK4, MSH6 and RBM10. Any targeted medicatan for these mutations?
The list of mutations do not currently have FDA approved drugs that can be applied towards clinical management here.
Q. I am in remission for NSCLC and tested positive for COVID-19. Once you've had COVID-19 can you get it again?
We are actively learning about covid-19. At this time, data are very limited, it would depend on the level of immunity generated by the initial infection but it does appear as though you can get covid more than once.
Q. I have Stage IV NSCLC, Adenocarcinoma, PDL 1 of 75%. Currently on DPX Survivac clinical Trial receiving Keytruda since Feb 14. My scans show progression of my lung tumors and lymph nodes though bone mets are shrinking. My doctor wants to start chemo. Today is my one year "cancerversary".
Is it possible that there is another gene mutation?
Should I get tested for any other biomarkers? I am -negative for EGFR, ALK, ROS1.
Is there another immunotherapy drug that could be used instead of resorting to chemotherapy?
The question for NGS testing for other markers would be better answered in the context of what kind of testing was performed at the time of initial diagnosis. What kind of panel was tested? Were other clinical mutations tested- including KRAS G12C? If a limited panel was performed for only the three listed genes, then it would be good to test for the other treatable mutations, namely KRAS, NTRK, MET, and BRAF.
There are other immunotherapy drugs that are in clinical trials that are being evaluated, which can be considered before proceeding with chemotherapy. There are many different clinical trials, so it would be best to speak with your physician about them.
Q. I am 71 years old and have stage 4 EGFR positive NSCLC diagnosed 1/18. I took Iressa for 17 months before progression and switched to Tagrisso 80 mg 11/2019. It made me very sick, I could not eat and my doctor stopped if for 15 days, then restarted on 40 mg. I am not sure how effective the 40 will be but if I have progression but can I gradually increase the dose back toward 80?Do you have other dosing or treatment recommendations if I fail Tagrisso?
Q. What are some treatment options after first-line Tagrisso progression?
It is important to understand the reasons for a dose reduction. The most common side effects of diarrhea and acneiform rash can and do respond well to treatment holds. In most cases, we are able to restart Tagrisso at 80 mg with supportive measures such as anti-diarrheals, and measures for rash/dermatitis. If patients can tolerate 40 mg, consideration should be made to increase dosing to 80 mg. In cases, where full dose is infeasible to administer due to side effects, it is reasonable to consider a dose reduction to 40 mg. While a large body of literature on efficacy of reduced dosing does not exist, retrospective reports demonstrate equivalent efficacy to the full dose.
Ongoing clinical trials are evaluating next generation tyrosine kinase inhibitors, either alone, or in combination with Tagrisso. Radiation may be another reasonable alternative, in case of isolated area of progression.
Chemotherapy remains a viable option in case Tagrisso stops working
Q. I am taking Crizotinib and Tagrisso. I recently started the combination of both drugs. I am having a hard time with diarrhea, nausea and vision problems. I am taking Crizotinib twice a day (250 mg each time), and Tagrisso (80mg) once a day. Are these common side effects?
Although not traditional, there are certain instances, where we combine crizotinib with CAD risk so. This is especially true for patients that have an EGFR mutation, and then developed a met mutation. There is no doubt that combination therapy with 2 drugs is more challenging than 1 drug alone. Crizotinib is usually associated with vision changes, and some cases of nausea have been reported. Diarrhea can be seen with osimertinib. These are common side effects, and are very expected. When we use these drugs in combination, we recommend monitoring, dose adjustments for toxicity such as excess diarrhea and evaluation on an as needed basis. Nausea is usually managed with supportive medications.
Q. I have been on Keytruda for advanced non-cell Lung cancer stage four, how long should I stay on treatment and how long does it usually extend someone's life?
For metastatic Non-Small Cell Lung Cancer, we recommend use of Keytruda for as long as there is clinical benefit for up to 2 years. Keytruda when administered alone or in combination with chemotherapy has shown a survival advantage of about 16 months in addition to what we would achieve with chemotherapy alone.
Q. I am on Gilotrif and the skin rash is horrible can Accutane be used to treeat a TKI rash? Doxycycline didn't work for me.
Rash is a common side effect of these therapies. These rashes usually appear on the face, and the trunk. Sometimes the scalp can also be involved. We usually use topical antibiotics, and steroids for control of these symptoms. If in case the rash becomes worse, oral antibiotics can be used. If doxycycline is not effective, other antibiotics like minocycline can be used. Accutane is not very effective, and other oral antibiotics like minocycline should be tried.
Q. I am 64 and pretty healthy and was just diagnosed with Stage IV NSCLC. One doctor recommended Keytruda, the other Keytruda plus chemotherapy. Is there any advantage to getting chemo in addition to the Keytruda?
Chemo immunotherapy, and immunotherapy with Keytruda alone are both currently recommended for the treatment of stage IV non-small cell lung cancer. At this time, we base decisions on the results of a protein receptor called PDL1. If PDL1 is greater than 50%, there is an advantage to use immunotherapy alone, and avoid the side effects from chemotherapy. If however PDL1 is less than 50%, we usually combine chemotherapy with Keytruda. In certain circumstances, even for patients with PDL1 greater than 50%, we recommended a combination of chemo immunotherapy, this is usually true for case of patients that have a lot of symptoms, or disease involving more than two organs.
Q. I am stage IV NSCLC on Tagrisso 80, I am wondering if adding Metformin would provide additional benefit?
There have been at least 2 studies that have been reported with the use of metformin in combination with Tagrisso, one of which showed an advantage, and the other one did not. Currently there is no evidence that metformin improves the efficacy of Tagrisso. We do know that it can add side effects such as diarrhea, and nausea. At this time, we are not routinely adding metformin to standard of care in patients that are receiving tagrisso, but can be entertained in the setting of a clinical trial.
Q. Is it ok to proceed to surgery for stage III NSCLC following 2 months of chemo given the current pandemic? I am 78 and have lost a bit of weight so far.
During this pandemic, decisions regarding surgery, and use of chemotherapy prior to surgery are being made on an individualized case by case basis. Without going into further details regarding your surgery, or planned chemotherapy-- we would state that in general terms, it would be reasonable to consider chemotherapy in advance of surgery.
The Ask The Expert Series is made possible by support from The Personalized Medicine Foundation, Lilly Oncology and CancerConnect.
Other Ask The Expert Programs
with Megan Myers Genetic counselor in the Cancer Risk Program at the UCSF Helen Diller Family Comprehensive Cancer Center
Memorial Sloan Kettering Cancer Center exercise and nutrition experts, Lee Jones, PhD and Cara Anselmo, MS, RDN, discussed the impact of exercise and nutrition on cancer
Panel of experts from Memorial Sloan Kettering Cancer Center discuss fertility options
Panel of experts from Memorial Sloan Kettering Cancer Center: Allison Applebaum PhD, Director of the Caregivers Clinic at the Counseling Center at MSK, Philip Bialer MD & Andrew Epstein MD
Breast Cancer
with Dr. Heather Parsons of the Dana Farber Cancer Institute
with Dr. Jennifer Garber, Director of the Center for Cancer Genetics and Prevention at Dana-Farber Cancer Institute and the Susan F. Smith Center for Women's Cancers
with Dr. Bhuvanesware Ramaswamy of the Arthur James Cancer Hospital at The Ohio State University
with Dr. Laurie Kirstein of Memorial Sloan Kettering Cancer Center
with Drs. Fassl and Edge of Roswell Park Cancer Institute
with Dr. Andrea L. Pusic, MD, MHS Plastic Surgeon at Memorial Sloan Kettering Cancer Center
with Dr. Jennifer A. Ligibel, MD, of the Susan F. Smith Center for Women's Cancers at Dana-Farber Cancer Institute
Brain Tumors & GBM
with Dr. Eudocia Q. Lee, MD, MPH Neuro-oncologist asttheCenter for Neuro-Oncologyat Dana-Farber Cancer Institute.
with Dr. Lakshmi Nayak M. D. neuro-oncologist at the Center for Neuro-Oncology, Dana-Farber Cancer Inst. ​
Colo-Rectal Cancer
with Megan Myers Genetic counselor in the Cancer Risk Program at the UCSF Helen Diller Family Comprehensive Cancer Center
with Dr. Kimberly Perez M.D. Dana-Farber Cancer Institute.Gastrointestinal Disease Center and CenterforCancer Genetics and Prevention
Head & Neck Cancers
with Dr. Stephen Kang M.D. of The Ohio State University - James Cancer Hospital and Solove Research Institute
Leukemia - Lymphomas
with Dr. Jacqueline Barrientos, MD North Shore-LIJ Cancer Institute's CLL Research and Treatment Program
Lung Cancer
with Dr. David Jackman M.D. Dana-Farber Cancer Institute
Multiple Myeloma
with Dr. James Hofmeister M.D. Associate Professor Hematology at the Ohio State University Solvay Comprehensive Cancer Center
with Dr. Sarah Holstein, MD, PhD from Roswell Park Cancer Institute
Myeloproliferative Neoplasms (PV, ET, MF)
Ask The Expert About Management of Myeloproliferative Neoplasmswith Dr. Ruben Mesa Dr. Director, UT Health San Antonio Cancer Center
Ovarian Cancer
with Dr. Susan Stollings, PhD, Counseling Psychologist and clinical team member with University of Pittsburgh Medical Center Cancer Center
with Dr. Michael Birrer M.D. Director of Gynecologic Medical Oncology at Massachusetts General Hospital and the Gynecologic Oncology Research Program
Pancreatic Cancer
with Dr. James Moser M.D. Dr. Co-Director of The Pancreas Institute-Beth Israel Medical Center, associate professor at Harvard Medical School
Sarcoma
with Dr. Edmond Bartlett soft tissue sarcoma and melanoma surgeon at Memorial Sloan Kettering Cancer Center
The Ask The Expert Series is made possible by support fromThe Personalized Medicine Foundation, Incyte Oncology, Abbvie, and CancerConnect. The "Ask The Expert" series is not medical advice nor is it a substitute for your doctor. It should serve as a guide to facilitate access to additional information and enhancement of a shared decision making process with your treating physician.