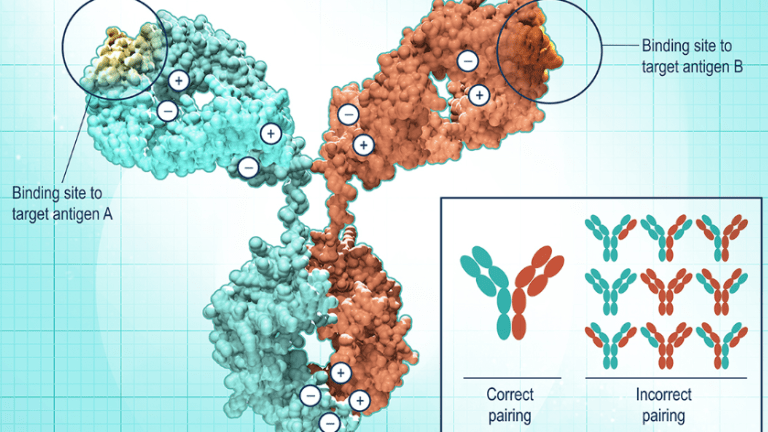 Are BiTE Antibodies The Next Treatment for EGFR + NSCLC?
BiTE antibody construct development moving forward in EGFR + NSCLC. JNJ-372 Gets FDA Breakthrough Therapy designation.
by Dr. C.H. Weaver M.D. updated 3/2020
While tyrosine kinase inhibitors (TKIs) are the current standard treatment for EGFR-driven advanced non-small cell lung cancer (NSCLC) BiTE antibodies are showing promise as a potential new treatment strategy1-4 and the JNJ-632 Bite Antibody construct received FDA Breakthrough Therapy designation in March 2020.
The BiTE® antibody construct represent an innovative immunotherapy approach that helps the body's immune system target cancer cells and appears very promising for the treatment of lymphomas, multiple myeloma, and now NSCLC.5-7
BiTE is short for "bispecific T cell engager". BiTEs are antibodies with two arms. One arm of the drug attaches to a specific protein on the tumor cell. The other arm of the BiTE activates immune cells in the patient to kill the cancer cells. BiTE antibodies are a new way to kill cancer cells and are not specifically designed to treat an EGFR resistance mechanism.
JNJ-372, an EGFR and MET bispecific antibody, and U3-1402, a HER3-directed antibody-drug conjugate (ADC), have demonstrated acceptable safety and preliminary anticancer activity in phase 1clinical trials whose results were presented at the annual 2019 American Society of Clinical Oncology meeting.1,3
The JNJ-372 bispecific antibody has preclinical data consistent with several proposed mechanisms of action, including inhibition of EGFR and cMet signaling, receptor degradation, and antibody-dependent cellular cytotoxicity. In the phase 1 study of JNJ-372 performed n NSCLC patients with diverse EGFR mutations, 32 out of 108 patients (30%) responded to treatment. Responses were seen in patients with mutations that represent areas of high unmet need, including those with EGFR C797S-mediated or cMet-mediated resistance to the third-generation TKI Tagrisso (osimertinib), and those with TKI-naïve EGFR exon 20 insertions. These patients had all progressed after receiving an average of three lines of standard treatment, including two lines of EGFR–TKI therapy.
There was evidence of a response to treatment in patients with the primary mutations of exon 21 L858R, exon 19 deletion, exon 20 insertion, exon 20 T790M, and exon 18 G719A, as well as those with a secondary T790M or C797S mutation, or cMet amplification.
Of the 58 patients who had progression after treatment with Tagrisso 28% had a partial response, including eight patients with a C797S mutation, three with cMet amplification, and five with no known EGFR or cMet resistance mutation.In addition, 30% of the 27 patients with an exon 20 insertion EGFR mutation had a partial response, including one patient who also had cMet amplification.
U3-1402 is an ADC that may also have a place in the management of EGFR + NSCLC. U3-1402 consists of a fully human HER3-targeted antibody linked to a topoisomerase I inhibitor which can interrupt DNA replication in the cancer cells once delivered. (2,4)
U3-1402 targets HER3, the lesser-known of the four members of the EGFR tyrosine kinase family and may overcome multiple resistance mechanisms. 60% of EGFR-mutant NSCLCs have at least some level of HER3 expression. In the phase 1 study the response rate following U3-1402 treatment was about 31%, or 5 out of 16 patients, including 4 confirmed partial responses.
Taken together, findings for U3-1402 and JNJ-372 show that there may be room for other approaches beyond TKIs to address the need for new therapies to overcome resistance, Dr. Bauman said in her commentary on these studies.
References:
Haura EB, et al. ASCO 2019. Abstract 9009
Jänne PA, et al. ASCO 2019. Abstract 9010
s
https://oncologypro.esmo.org/Meeting-Resources/ESMO-2018-Congress/JNJ-61186372-JNJ-372-an-EGFR-cMET-Bispecific-Antibody-in-Advanced-Non-Small-Cell-Lung-Cancer-NSCLC-An-Update-on-Phase-1-Result
Image from Amgen - a leader in BiTE development: